Bruce Weitz
By Regan Cellura on June 24, 2009
Here's the Scoop! 06.24.09
This Dominic character…
so all the RUMORS said he was Dante. At first glance I thought no way he's too old as the actor is thirty. But after a lengthy debate with our very own Luke about the industry norm of playing much younger than you actually are, I've since changed my mind. Now, was that Bensonhurst drop a little too obvious? And really no offense to Mr.
Zamprogna
but with all the hoopla surrounding
Tom Pelphrey
and GH's desire to land him in the role of Dante how do you go from a soap stud to someone most fans know nothing about? I've read up on Mr. Zamprogna and his resume is impressive so I do not doubt that he has the chops to pull it off and lately the casting department has done a decent job with these newbies but IF this is Dante, it's quite a switch from the big name they were going for.
READ MORE
By Regan Cellura on May 15, 2009
Here's the Scoop! 05.15.09
Has all the Emmy drama died down? Congrats to the GH stars who were nominated. Now onto the SCOOP!

Michael's awake… no memory of what happened to him and a little peeved his parents weren't there. Edward and Monica tell Sonny they're not going to let him hurt Michael again. Who jumps to Sonny's defense? Who's been his biggest cheerleader lately despite not wanting her own son around him? Olivia. She tells the Q's to back off. But Edward wants his great grandson in the family fold and Michael MAY be toying with the old man. He's also not going to be very nice to his mother as we've been dishing and it LOOKS like Michael dishes to Lulu just how mad he is at him momma.
More Lulu… She's with Michael and there's also this Ethan mess. Tracy, for whatever reason, admits to her step-daughter that she did mess with the test but did she see the real results or just fix them to make sure Luke isn't the father? But why dish to Lulu? To keep her from committing maybe incest? Lulu is also battling her brother over their maybe half-brother. READ MORE
By Regan Cellura on February 18, 2009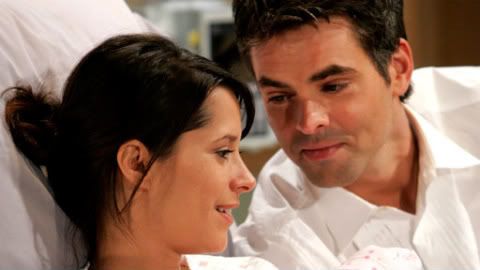 Here's the Scoop! 02.18.09
Robin and Patrick and the Post Partum Depression… It appears that Robin had a breakthrough and she even mentioned that she felt like herself again. Is the PPD storyline over and out? No. As I mentioned, Robin should be having another breakdown of sorts when Emma won't settle down, leaving the crying baby with Patrick. Robin wants to return to work. Will the Scorpio – Drakes be in the market for a nanny? Will Robin seek treatment for her Post Partum? SPOILERS say she and Patrick will discuss it.
Rebecca… Nikolas wants to know all he can, Rebecca is creeped out by Nikolas and Tracy isn't so sure the Q's should be involved with the Emily look-a-like. I've already dished on the possible Lucky-Rebecca stuff, she'll be much comfortable with Lucky. Will we see another quad with Nikolas-Rebecca-Lucky-Elizabeth? All reports say LL2 is the story but they will be involved in the Nikolas-Rebecca storyline. READ MORE
By Regan Cellura on February 13, 2009
Is
Bruce Weitz
(Anthony "ZaCrazy" Zacchara) leaving Port Charles behind? According to today's
Suds Report
, the fantastic Weitz is leaving
General Hospital
. Love or hate the character, there is no denying that Bruce Weitz is one hell of an actor.
There was some speculation that Weitz would be vacating the role and that Claudia (Sarah Brown) would be the only true Zacchara left in PC. No worries Johnny (Brandon Barash) fans, this goes along with the RUMORS that Trevor Lansing (Stephen Macht) is Johnny Zacchara's true father. Macht ends his days as Trevor this week.
By Jillian Bowe on October 12, 2008
Deathbed confessions, vows of revenge, declarations of love. All of these are cornerstones of soap operas. They can move you to tears or cause you to want someone's head on a stick. Bottom line, the lines our soap characters utter keep us coming back for more.
This week, mob king pin Anthony Zacchara hasn't let his revelation of being able to walk, dull his ability to drop zingers.
Anthony to Ric discussing Johnny's descent to the dark side:
Anthony: "Its understandable that Johnny's volatile right now. His little Lulu cracked like a coconut smacking cement".
By Belinda on May 27, 2008
Big shout out to the maniac with the mostest, General Hospital's resident homicidal mob boss; Anthony Zacchara, whose portrayer Bruce Weitz celebrates his birthday today. A short-term role as a rollicking, full blown lunatic on most soaps used to mean a short run and a bad end but not anymore! Happy Birthday Animal and best of luck!
"Weitz's big break came when he landed the role of the vaguely maniacal Mick Belker on Steven Bochco's landmark police-drama "Hill Street Blues" (NBC, 1981-87)." (According to his Hollywood.com bio) "His scruffy little undercover cop endeared himself to viewers by sometimes biting offenders, barking at dogs or terrorizing surly criminals ("Would you like to sit down, hairball, or would you prefer internal bleeding?"), earning him a 1984 Emmy as Outstanding Supporting Actor in a Drama Series as well as five other nominations. Since that series' demise, Weitz has stayed busy primarily on the small screen, acting frequently in movies and episodic TV, although he has occasionally performed on stage as in the Off-Broadway production of "Frankie and Johnny in the Claire de Lune" (1988). He returned as a series regular playing a newspaper columnist for one season (1991-92) on the ABC sitcom "Anything But Love" and reunited with Bochco as a psychiatrist counseling a family transplanted in Hawaii in the short-lived "The Byrds of Paradise" (ABC, 1994). He also appeared in the feature films "Deep Impact" (1998) and "Half Past Dead" (2002)."