Bryton McClure
By Jamey Giddens on April 06, 2009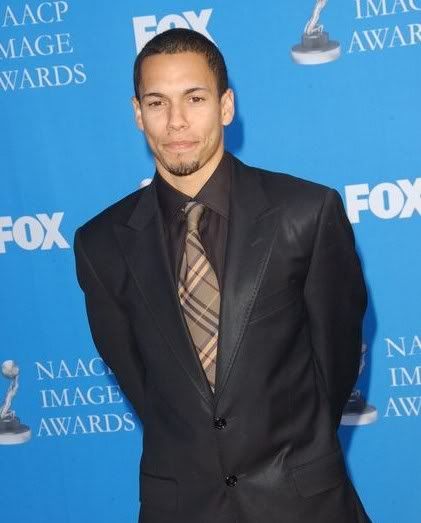 TV Guide Canada
's
Nelson Branco
is reporting that Emmy-winner
Bryton McClure
has been taken off contract at
The Young and the Restless
. Okay, so
Eva Marcille
and the hamtastic
Judith Chapman
are keepers? Well, there goes my last reason to keep from fast-forwarding through the Winters family storyline.
By Jamey Giddens on December 07, 2008
Ever since the return of
Tonya Lee Williams
as Dr. Olivia Barber Hastings Winters on
The Young and the Restless
was first announced, soap fans have been speculating about whether or not Liv's son, Nate could be far behind. Liv has mentioned Nate—the child she conceived with her deceased first husband Nathan and later raised with second husband Malcolm Winters (
Shemar Moore
)—several times since arriving back in Genoa City. According to the storyline, Lily(
Christel Khalil
)'s older cousin is away at medical school. I say its time Nate transferred to a university closer to Genoa City and I have the perfect person to play him–
Robert Ri'chard
.
Like Bryton McClure and Tatiyana Ali, Ri'chard grew up on our screens in such sitcoms as Cousin Skeeter and One on One, and would bring with him a built-in audience. In recent years he played Paris Hilton's love interest in the camptasically-bad horror flick House of Wax. READ MORE
By Jamey Giddens on November 23, 2008
America's Next Top Model
diva-turned-
Young and Restless
star
Eva Marcille
has definitely come along way since she premiered as Tyra, the never-before-mentioned bio aunt of Devon (
Bryton McClure
), however Y&R's black storyline as a whole is the only weak link in an otherwise miraculous recovery for the CBS sudser.
Daytime's Answer to The Huxtables

What made Y&R's black characters so refreshing and popular for the better part of two decades was that they always seemed real. Before the Barber sisters and the Winters brothers arrived in the 90's, blacks on soaps were typically written as either saintly and heroic or dangerous and menacing. Characters like Drucilla (Victoria Rowell), Liv (Tonya Lee Williams), Neil (Kristoff St. John) and Malcolm (Shemar Moore) proved that (gasp!) black people came in all shapes, forms and yes, colors. READ MORE
By Jillian Bowe on September 29, 2008

Michael Damian isn't the only one heading back to Genoa City, so are Devon's (Bryton McClure) long lost relatives. That's right, the mother daughter duo of Tyra (Eva Marcille) and Ana Hamilton (Jamia Simone Nash) are headed back to their adoptive city starting Oct. 15.
Other Y&R Comings & Goings: Fashion editor George Kotsiopoulos and model Ruby Aldridge make cameo appearances as themselves on Oct. 1 along with former Fresh Prince of Bel-Air star, Tatyana Ali (Roxanne) and designer Martyn Lawrence Bullard come Oct. 2.
By Daytime Confidential on September 10, 2008
(Editor's Note: This episode of Daytime Confidential featuring Victoria Rowell [ex-Drucilla Winters, The Young and the Restless] was set to air as our special 300th episode however, after completing the interview, we realized we couldn't sit on it. Download it now to find out why!)
From her unforgettable debut in 1990 as Drucilla Barber, the street smart niece of Mamie the Abbott maid on The Young and the Restless, through today as a world-recognized advocate for foster children and a New York Times Best Selling author, few actresses in the history of daytime television have made the kind of impact of Victoria Rowell. Who better then than Rowell to help Daytime Confidential celebrate our 300th episode?
Rowell speaks to Luke and Jamey from Atlanta, GA, where she is busy doing press for her hugely successful memoir The Women Who Raised Me, as well as writing her juicy first novel–Secrets of a Soap Opera Diva.
Rowell talks about the experience of being out on the road for the past 17 months "pressing flesh" with the droves of fans who have adored watching her on the big (Distinguished Gentlemen, Eve's Bayou) and small screen (Y&R, Diagnosis Murder) for the past 25 years.
She talks passionately about her work with foster children via the foundation she started almost 20 years ago, the Rowell Foster Children's Positive Plan (RFCPP). She elaborates on how her other passion, ballet, helped her carve a niche for herself in the world as a 17-year-old girl, fresh from the foster care system and why the RFCPP strongly utilizes the arts to teach its students discipline.
Rowell then provides a revealing and sometimes shocking glimpse into her time on The Young and the Restless, where she rose to fame as the insurmountable Dru. She remembers how it felt to work with the legendary Bill Bell, whom she shares she was as "thick as thieves" with. She tells how the daytime pioneer allowed her to help shape many storylines for the Barber-Winters family over the years, including Dru's ballet storyline, the Congressionally-recognized foster care storyline which helped win Bryton McClure (Devon) the Emmy, and how that spirit of collaboration and trust died with Bell.
She reveals how it feels to have never won the Emmy herself (she was nominated twice and boasts 11 NAACP Image Awards) and why she feels a "gang mentality" exists among much of the cast of daytime's number one show in terms of Emmy voting. She tells how on set popularity is measured above actual talent when it comes to making the all-important list of pre-nominees.
Rowell goes on to respond to remarks made by former Y&R costar Peter Bergman (Jack Abbott) in an interview with TV Guide Canada's Nelson Branco. Rowell reveals just why she feels Bergman is absolutely right, she wasn't "playing with a full deck", but, not in terms of her sanity, in terms of onset equality.
She talks about what it was like working opposite Michelle Stafford (Phyllis Newman) and why an onset violation resulted in Sony Pictures Studios (which co-owns the CBS soap with Bell Dramatic Serial Company) having to get involved to facilitate an apology.
She answers a Daytime Confidential reader's question about why Lily (Christel Khalil) doesn't seem to have her mother's spirit and responds to questions about when and if she will ever return to Y&R. It's only fitting that this, our 300th episode, is Daytime Confidential's most revealing, poignant, jaw-dropping, interview ever.
To register for the Sail The High Seas with Victoria Rowell Cruise, visit Advantage International or call 877-238-6843 to speak with Gene or Ja-Vonne Harley. The Sail The High Seas with Victoria Rowell Cruise takes place May 3 - 10, 2009.

Visit these Victoria Rowell related links: Victoria Rowell Official Website l Rowell Foster Children's Positive Plan l Advantage International

READ MORE
By Luke Kerr on April 30, 2008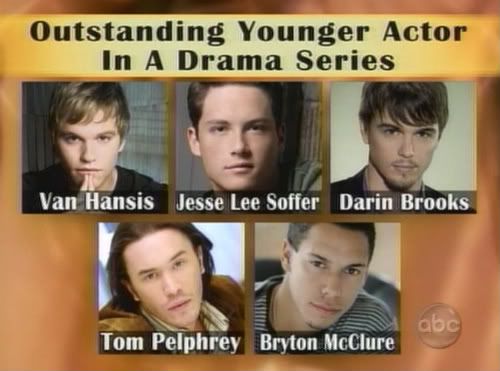 Congrats to the Oustanding Younger Actor Nominees Van Hansis, Jesse Lee Soffer, Darin Brooks, Tom Pelphrey and Bryton McClure! May the best man win.
Now that we finally have our five nominees for the Younger Actor category lets discuss who didn't make it. This category sort of played out as I expected it with the exception of Darin Brooks and that like all the other Days of Our Lives nominations has nothing to do with Days of Our Lives' talent as much as the fact I didn't expect anyone from the show to get nominations. So much for me being able to predict nominations.
Looking at the Pre-Nominations list below and comparing it to the nominees above is there anyone who you feel is missing from this list or who should be on it instead of someone else?
Outstanding Younger Actor Pre-Nominees
ATWT: Van Hansis, Jake Siberman, and Jesse Lee Sofer
DAYS: Blake Berris, Darin Brooks, and Matthew Florida
GH: Dylan Cash and Josh Duhon
GL: Lawrence Saint-Victor, Tom Pelphrey, and John Driscoll
OLTL: Brandon Buddy, Edward Alderson, and Jason Tam
Passions: Adrian Bellani and Blair Redford
Y&R: Hunter Allen and Bryton McClure
Be sure to tune in for our Daytime Emmy Nominations podcast episode with should air on Thursday or Friday.