Catherine Hickland
By J Bernard Jones on October 03, 2008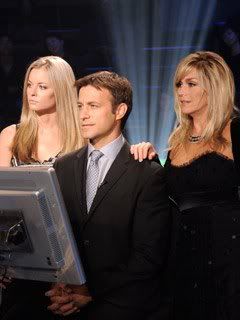 Every once in a while a soap produces a story arc that renews one's faith in the genre.
One Life to Live's "Who Wants to Be Shane Morasco's Father?" may have been a stunt but they were also episodes that managed to do right just about everything the 40th anniversary episodes got wrong.
In the bargain, they did everything the anniversary episodes did right just a few notches better. I know this kind of thing is not everyone's cup of tea, but I'll take this little detour the way Star Trek's Captain Picard likes his Earl Grey: Hot!
Borrowing the Who Wants to be a Millionaire? set, OLTL took what was rapidly becoming a hoary cliche — the near death out of body experience — and instantly breathed new life into it. While Viki's latest visit to "heaven" here and the shared Chris/Allison/Aaron Fellini-esque versions on As the World Turns were done very well, the staging and production of Rex's game show experience lent the entire sequence an air of immediacy that a cheesy in-house set would have been unable to accomplish. READ MORE
By Regan Cellura on September 26, 2008
We haven't done these in awhile and like I've said, I'm a bit behind on my One Life to Live, so bear with me.
Here's the Scoop!
Love Lindsay? We do and the RUMOR mill says she may not be in Llanview much longer. Catherine Hickland is a Daytime Confidential favorite and Lindsay will be sorely missed. Supposedly there will be one more meeting for Bo and Lindsay, but that footage may hit the cutting room floor. Expect Bo to start flirting with Dallas,TPTB are attempting to see if real life chemistry can translate to reel life. However, Dallas is also rumored to be one of the murders coming soon, so fan response will dictate.

How does Clint react to Bo and Dallas? Not well and this should cause some friction for Nora. Clint has other issues coming up as well.

Have you seen the Fall Preview? Interesting tease of an Antonio - Jessica reunion or was the tease a Cristian - Jessica reunion?
READ MORE
By Regan Cellura on June 23, 2008
Here's the Scoop! 06.23.08
Bo and Lindsay are taking a trip down the aisle. SPOILERS say Rex's words at Nash's funeral is what brings Bo to Lindsay on bended knee. Nora is not thrilled. RUMORS say Nora jumps into action before the couple can say "I Do" and is all ready to expose Lindsay's guilt thanks to a letter from RJ. What's it say? Lindsay faked her breakdown. Bo, thinking he can now trust Lindsay, tells his bride-to-be that David Vickers is his brother.
Tess is back and she is not happy that Jess lost her husband. Will she play nice to keep up appearances? SPOILERS say Tess, pretending to be Jessica, forgives Natalie and Jared but is really making plans to get her revenge. Remember, something is done to Natalie's car that "sends" Viki to "heaven." It looks like Viki winds up behind the wheel of the tampered with car.
Jess/Tess at the funeral. Jessica prepares to say goodbye to her husband and puts on a simple black dress for Nash's wake. Tess shows up at Nash's funeral in the same floral number she was wearing when she and Nash first met. Will Jessica's family realize she's had a relapse? RUMORS say no. READ MORE
By Luke Kerr on April 30, 2008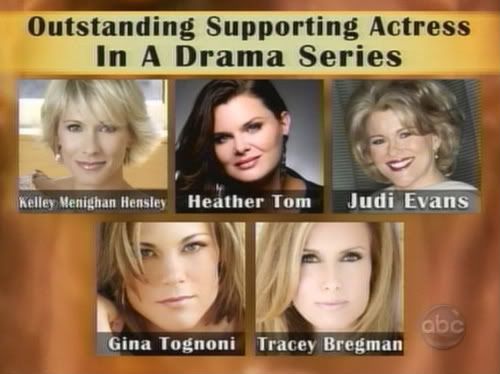 Congrats to Kelly Menighan Hensley, Heather Tom, Judi Evans, Gina Tognoni and Tracey Bregman. May be best supporting actress win but I wouldn't envy being in this category. Not when this was probably this year's most competitive category.
Before I continue I want to give a shout out to Judi Evans. I have loved your work since Another World and to see you nominated nearly 10 years after that great show ended is satisfying.
I am still in shock from this category. Not that any of these actress are undeserving, because each is a consummate actress. However, the fact that Kathy Brier or Catherine Hickland didn't receive a nomination for their work on One Life to Live is a crying shame. After losing the award to Genie Francis last year I sort of expected to see the Bold & Beautiful's Lesli Kay nominated, even if it was a sympathy nomination. I really wish there was some way to include both of Guiding Light's Gina Tognoni and Marcy Rylan in this category. Both had great a great year. Then we have General Hospital. Unlike some actresses who were obviously leads on their respective show Carolyn Hennesy is the definition of a supporting actress and while Rebecca Herbst's status as a supporting actress is questionable considering how much air time she receives the fact that she wasn't nominated for the scenes surrounding Emily's death is striking.
Looking at the prenominations list below and comparing it to the nominees above is there anyone who you feel is missing from this list or who should be on it instead of someone else?
Outstanding Supporting Actress Pre-Nominees:
AMC: Alicia Minshew and Sabine Singh
ATWT: Kelley Menighan Hensley, Colleen Zenk Pinter, and Marie Wilson
B&B: Jennifer Gareis, Lesli Kay, and Heather Tom
DAYS: Judi Evans, Martha Madison, and Mary-Beth Evans
GH: Rebecca Herbst, Carolyn Hennesy, and Kimberly McCullough
GL: Beth Chamberlin, Marcy Rylan, and Gina Tognoni
OLTL: Kathy Brier, Catherine Hickland, and Bree Williamson
Passions: Erin Cardillo and Melinda Sward
Y&R: Tracey E. Bregman, Judith Chapman, and Adrienne Frantz
Be sure to tune in for our Daytime Emmy Nominations podcast episode with should air on Thursday or Friday.
By Luke Kerr on April 30, 2008
Hey all! It's Emmy Nomination morning and I'm coming to you as "live" as I can with up to the minute updates from today's Emmy Nominations. If you are watching the Emmy's as they are announced on The View you can comment on this thread to share your thoughts.
We'll see how this goes so thanks in advance for being patient with me!
Luke
9am: It's 9am central and we only have 60 minutes more to wait before the 35th Annual Emmy Nominations are announced LIVE on The View.
9:15am: While you're waiting enjoy this great clip of All My Children's Susan Lucci finally winning her Emmy.

9:20am:
New to Daytime Confidential or haven't been following the Daytime Emmy Nominations? Check out our
Emmy
page and our full list of
Emmy Prenominations
.
By Luke Kerr on April 14, 2008
We brought you
screencaps
of Crystal Hunt's (f. Guiding Light) new online show
The Hicks
in March. Now we've got a clip from the online show.
General Hospital's
Sonya Eddy has some hilarious and as always
One Life to Live's
Catherine Hickland nails her scenes. Of course, Tom Pelphrey fans get more than one sighting in the clip so eat your heart out Jammy fans.