Chris Stack
By Jillian Bowe on August 15, 2011
ABC Soaps In Depth is confirming reports of One Life To Live alums Kathy Brier (Marcie) and Chris Stack (Michael) heading back to Llanview. Soap Opera Network originally broke the story. The two return onscreen in October. So far the show is keeping mum on how long the pair will stick around.
By Luke Kerr on November 06, 2009
Current and former
One Life to Live
stars spoofed the genre will all know and love this past Nov. 1 in
"Queen Bea": A Soapsical,
at the Laurie Beecham Theare in New York .
Bree Williamson
,
Mark Lawson
,
BethAnn Bonner
and
Chris Stack
starred in the musical comedy about a down and out soap diva.
Renee Elise Goldsberry,
Melissa Archer
,
John Brotherton
and
Jason Tam
were also in attendance.
See more photos of your favorite current and former One Life to Live stars at "Queen Bea": A Soapsical after the jump. READ MORE
By J Bernard Jones on June 18, 2009
My absence from Daytime Confidential lately has not been due to the usual business of family and work taking up a lot of my time, but rather a certain lack energy to post about practically any of the daytime serials that clog up my DVR from day to day. This is neither a positive nor a negative thing because there are frequent periods throughout the year when shows kind of coast along and do their their thing, usually between sweeps.
At these times, there is little for the viewer — if that viewer is me — to get all worked up about this plot twist, that character's action, some couple or another or even a whole show's direction. Normally, this state of affairs hits one or two shows at a time. Every once in a while like the last couple of weeks, the stars align and all the serials get caught in the same momentum of drift. All that is required of us is to watch and see where it all goes.
In that spirit, my brain plays a little game of soap opera hopscotch, taking in odds and ends big and small. There is no great elaboration on anything here, just a quick rundown of things I like and not like so much. Your mileage may vary... READ MORE
By J Bernard Jones on May 30, 2009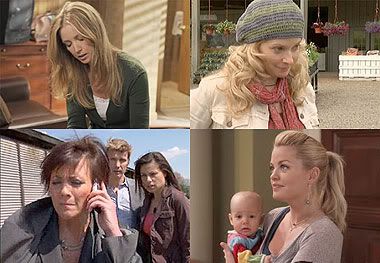 AUTHOR'S DISCLAIMER: The title of this blog entry is solely a reference to the writing styles of the shows mentioned and nothing more.
"The effect of drinking a Pan Galactic Gargle Blaster is like having your brains smashed out with a slice of lemon wrapped round a large gold brick." — The Hitchhiker's Guide to the Galaxy, Douglas Adams
That description of what is known as the best fictional alcoholic drink in the known universe is exactly how I feel watching a few of my favorite daytime dramas these days. Unlike that improbable drinky drink, this is hardly a compliment. There is something really odd going on all over the soap dial with the ham fisted lack of subtlety and general narrative blundering going on.
In a couple of recent entries, I pointed out how All My Children's "Who Killed Stuart (Not Adam) Chandler?" murder mystery has been marred by a lack of, well, mystery. As I said, what had the potential to be a great whodunit has been turned into the soap opera equivalent of Clue, one which is losing my interest very rapidly, especially when compared to increasingly delicious and twisted "Who Killed Edmund Winslow?" whodunit concurrently airing on Guiding Light. The latter show is peeling back layers and layers of motive and opportunity, while the former is peeling like an onion: it is making me cry. As it happens, AMC isn't the only egregious offender of hitting us over the head with the narrative equivalent of a slice of lemon wrapped around a large gold brick these days: the other two are As the World Turns and, shockingly and in some circles blasphemously, One Life to Live. READ MORE
By Jillian Bowe on March 31, 2009
It looks like Marcie (
Kathy Brier
) won't be leaving Llanview by herself.
Soaps.com
is now reporting that Brier's onscreen hubby
Chris Stack
(Michael McBain) is also being let go by
One Life to Live
. According to the web site, the good people at
OLTL
contacted the duo last week and told them that they do not have anything more that they can write for them... *Scratching Head* No word yet on their last air date.
RELATED: Kathy Brier Leaving One Life to Live