Connie Fletcher Staton
By Luke Kerr on October 18, 2010
Former All My Children star and Imaginary Bitches regular Connie Fletcher Staton and hubby Aaron Staton (Mad Men) welcomed a bundle of joy on June 29th, according to ABC Soaps in Depth. The boy, whose name is Beckett, is now just over three months old. Congratulations to the couple.
By Jamey Giddens on September 17, 2009
My girls are BACK!
Catherine
and
Heather
straight BROUGHT IT on tonight's Very Special Episode of
Imaginary Bitches
, and Mrs. Garrett wasn't even there to help them accept why some girls are tomboys! Those other yahoos (
Eden Riegel, Elizabeth Hendrickson, Brooke Nevin, Connie Fletcher Staton, Jessalyn Gilsig, Roger Newcomb
and
Damon Jacobs
) didn't do half bad either. Oh who am I kidding, for once C and H's flesh and designer dressed costars actually held their own! Especially Riegel
and Gilsig in the best catfight since Krystal Carrington beat Alexis Colby's ass in a fashion design studio during the
Dynasty
reunion movie!
READ MORE
By Jamey Giddens on September 17, 2009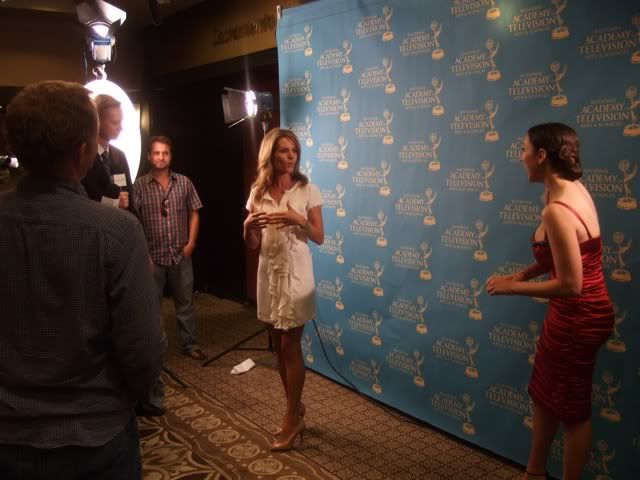 Thursdays are an imaginary bitch, well, at least tonight they are! The bad boy of webisodic TV, Andrew Miller and his lovely leading lady Catherine, er Eden Riegel, are back tonight for a Very Special Episode of
Imaginary Bitches
at 9 pm ET! This six-minute installment of IB will be immediately followed by a
chat
with Eden, Catherine and Heather.

Filmed at the recent Creative Arts Daytime Emmy Awards, this episode of IB

features all our faves, Catherine, Heather and Eden, along with Elizabeth Hendrickson, Connie Fletcher Staton, Brooke Nevin and Glee's Jessalyn Gilsig.The episode will also boast the viral television debut of the Batman and Robin of soap opera blogging, We Love Soaps' Roger Newcomb and Damon Jacobs, who play nasty, vicious, tabloid journalists in the episode. Talk about typecasting! I caught up with Eden, Andrew and the We Love Soaps boys to get a sneak peek at tonight's show.
READ MORE
By Jamey Giddens on May 14, 2009

It looks like every cloud has a silver web series. I am rescending
Opposites Day
to sincerely, and totally on purpose congratulate the cast and crew of my favorite 2008 series
Imaginary Bitches
on
their very first Daytime Emmy nomination. No, seriously, IB
is
my favorite show, has been since the moment I saw that one guy call
Eden Riegel
"bat shit crazy". Opposites Day is over people. Let's move on!
"We couldn't be more thrilled," says Imaginary Bitches creator Andrew Miller. "Even Catherine and Heather are walking around with smiles on their faces!"
IB is nominated in the New Approaches in Daytime Entertainment category opposite fellow You Tube series I Met The Walrus. TAC. TV, The New York Times Magazine Screen Tests and All My Children are also nominated. READ MORE
By Jamey Giddens on March 25, 2009
The hottest web series online last year is getting the big screen treatment.
TV Guide Canada
's
Nelson Branco
reveals
Imaginary Bitches
, the smash You Tube dramedy from creator
Andrew Miller
, and starring his main squeeze, no, not Heather,
Eden Riegel
,
is being turned into a feature film. Congrats to the cast and crew behind this amazing show!
By Jamey Giddens on November 11, 2008
Even bitches believe in equality. Webisodic television's most infamously difficult starlets,
Catherine
and
Heather
from
Imaginary Bitches,
just released a press release announcing that $.88 from every sale of
Imaginary Bitches: The Complete First Season DVD
, will go to "No on 8" the campaign to fight California's recent gay marriage ban.
"This was totally Catherine and Heather's idea to raise as much money and awareness as imaginable, and you know how big our imaginations are around here!" says IB creator Andrew Miller.
Click here to do your part by purchasing a copy of this amazing DVD collection of last summer's You Tube smash. To check out Catherine, Heather and some girl named Eden doing their part for "No on 8" go here.