Cornelius Smith, JR
By Jillian Bowe on January 13, 2011
All My Children fan favorites Debbi Morgan and Darnell Williams are among those nominated for the 42nd NAACP Image Awards for acting in a daytime drama series. Check out the complete list of nominees after the jump. READ MORE
All My Children supercouple Debbi Morgan and Darnell Williams discuss their upcoming storyline this June. On-screen family members Cornelius Smith Jr. and Denise Vasi also discuss their family dynamic. READ MORE
By Jamey Giddens on March 04, 2010
We Love Soaps TV
has a batch of new interviews up with the men and women of
All My Children
. Hosted by
Stephen Seidel
, who starred in
Roger Newcomb
's sudsy flick
Manhattanites
, the interviews feature such Pine Valley dwellers as
Bobbie Eakes
,
Julia Barr
,
Denise Vasi
,
Shannon Kane
,
Natalie Hall
,
Brittany Allen
,
Jamie Luner
.
Vincent Irizarry
,
Jacob Young
,
Cornelius Smith Jr
.,
Walt Willey
and
Adam Mayfield
. See the revealing chats after the jump!
READ MORE
By Luke Kerr on January 06, 2010
The NAACP Image Awards announced their 41st annual nominees today. All My Children's Debbi Morgan, One Life to Live's Terrel Tilford and The Young and the Restless' Eva Marcille were among the daytime nominees. CBS picked up six acting nominations while ABC landed four. See the full list of daytime acting nominations below.
Outstanding Actor in a Daytime Drama Series
Bryton James – The Young and The Restless
Cassius Willis – The Young and The Restless
Cornelius Smith, Jr. – All My Children
Terrell Tilford – One Life To Live
Texas Battle – The Bold and the Beautiful READ MORE
By J Bernard Jones on June 18, 2009
My absence from Daytime Confidential lately has not been due to the usual business of family and work taking up a lot of my time, but rather a certain lack energy to post about practically any of the daytime serials that clog up my DVR from day to day. This is neither a positive nor a negative thing because there are frequent periods throughout the year when shows kind of coast along and do their their thing, usually between sweeps.
At these times, there is little for the viewer — if that viewer is me — to get all worked up about this plot twist, that character's action, some couple or another or even a whole show's direction. Normally, this state of affairs hits one or two shows at a time. Every once in a while like the last couple of weeks, the stars align and all the serials get caught in the same momentum of drift. All that is required of us is to watch and see where it all goes.
In that spirit, my brain plays a little game of soap opera hopscotch, taking in odds and ends big and small. There is no great elaboration on anything here, just a quick rundown of things I like and not like so much. Your mileage may vary... READ MORE
By Jamey Giddens on June 05, 2009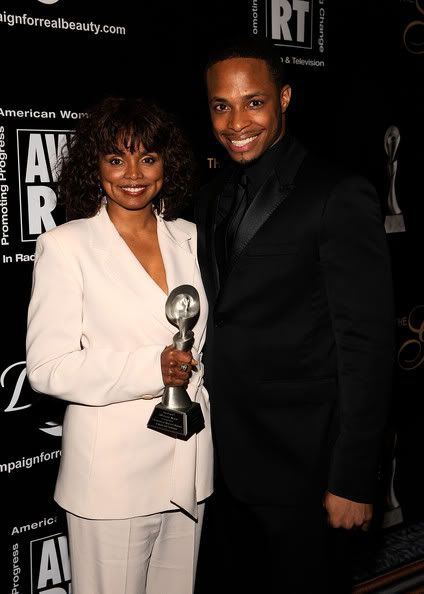 All My Children
's fantastic mother-son combo
Debbi Morgan
(Angie) and
Cornelius Smith
Jr. (Frankie) were in attendance at the 34 Annual Gracie Awards Wednesday night in New York. Morgan picked up one of the evening's honors. Photo by Getty Images.