Daniel Cosgrove
By Daytime Confidential on November 18, 2009
On today's CBS and Days of our Lives Daytime Confidential episode Luke, Jamey, Jillian, Melodie and Mike discuss the latest in storylines and news from the previous week, including:
Daniel Cosgrove joins As the World Turns. What impact might his character have on Luke and Noah's story? Tom Pelphrey arrived in Oakdale promising youth to those that would listen. Where is this story headed and should ATWT stop while they are ahead? Katie continues to mourn Brad as Jack goes on a quest for redemption.
Steffy kisses Bill on The Bold and The Beautiful before he marries Katie. Bill and Katie's wedding was a simple affair, but did it mean the brides maids needed to look so bad? Luke thinks Bill looked like Burt Reynolds' Boss Hogg from The Dukes of Hazzard movie. Jamey thinks he looked like a pimp. What is Sandy's deal and what could she be hiding?
Crystall Chappell has "Chappelled" Taylor Spreitler in their scenes together, but before there was a "Chappell" there was a "Sorel." Is Mia Carly's daughter? Louise Sorel is back as Vivian and since this the first CBS/Days podcast Jamey's been back on since her return he shares his reaction to her comeback. Nicole's house of cards is crumbling around her as Sami confronts her.
Thom Bierdz speaks out about his departure from The Young and the Restless. Deacon and Phyllis have smokin' hot chemistry, should Y&R pursue it or will they just stick to their playbook? Daniel and Amber get married. Mac decides to carry Cane and Lily's baby. Does this mean it will be that much easier to fast forward the show?
Help support and improve the Daytime Confidential podcast: Take a few minutes to fill out the two Daytime Confidential listener surveys: Listener Survey A l
Be sure to leave your comments on all the latest goings on in the world of soaps by calling the Daytime Confidential comment line by calling 917-677-9757.
Listen to Daytime Confidential by clicking on the Daytime Confidential Player at the bottom of this post or Download us for FREE via iTunes. Vote for us on Podcast Alley. Add us as a Friend on MySpace and Facebook.

READ MORE
By Jillian Bowe on November 12, 2009

Soap Opera Digest is reporting ex- Guding Light star, Daniel Cosgrove has been cast on As The World Turns. The show is keeping mum on what role the actor will be playing. Cosgrove's airdate is slated for early 2010.
By Mike Jubinville on October 26, 2009
Fans came out in droves to the Hyatt Regency in Pittsburgh this weekend for the So Long Springfield event, saluting 72 years of
The Guiding Light
. Since the event was sold out, it was clear that it would be crowded, but I certainly wasn't prepared for the amount of people who turned out to say goodbye to something that they hold so close to their hearts.
READ MORE
By Jillian Bowe on October 21, 2009
Seems like the gang over at
Venice
are playing a game of Red Rover.
Soap Opera Digest
is reporting
Jeff Branson
is out as Owen in
Venice
and now
Days of our Lives
screen gem
Galen Gering
has been tapped to take over the role. A few months ago,
Daniel Cosgrove
was slated to play the role in
Crystal Chappell's
web series, but had to pull out due to a scheduling conflict, resulting in Branson taking on the role.
By Mike Jubinville on September 30, 2009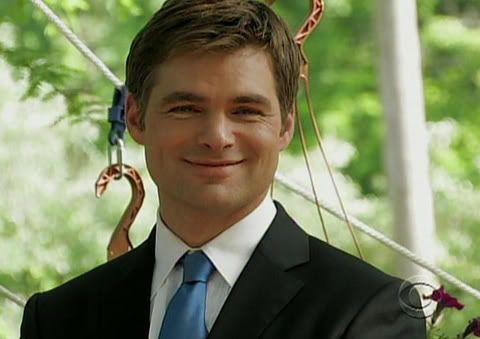 Wow, look what happens when you read the newspaper. Six stars from
Guiding Light
will make appearances at Panera stores around the Pittsburgh area to kick off Breast Cancer Awareness Month on Thursday, October 1...that's
tomorrow
soap fans! Catch KDKA's
Pittsburgh Live,
then hit the road with your best suds buds. More information after the jump.
READ MORE
By Jillian Bowe on September 29, 2009
Daniel Cosgrove
will not make the first season of former co-star
Crystal Chappell's
web series
Venice
. On
Twitter
, the actress tweeted,
I have some bad news. Danny C is unavailable to work in October. Busy actor! He sends love and regards to Venice. And promises to jump aboard next season!
Fear not fans! Chappell snagged another former co-star from Guiding Light, Jeff Branson! Says Chappell,

We have Jeff Branson! And I cant tell you how happy that beauty, Emmy winner is with us.! Jeff's a friend!