Daniel Goddard
By Jillian Bowe on May 10, 2009

Take me to the river.... Lane fans get ready for the duo's big day!
By Luke Kerr on May 07, 2009
Take your best Caption This shot at this preview of tomorrow's episode of
The Young and the Restless
.
By Jillian Bowe on May 06, 2009
Cane (
Daniel Goddard
) and Lily (
Christel Khalil
) fans the moment you've been waiting for has arrived! The duo finally ease on down to the chapel and get hitched on
The Young and the Restless
. For some of you that can't wait to see here's a lil' something that I snagged for the fans. *Sigh* If Dru could see her baby girl now...
By Jamey Giddens on April 21, 2009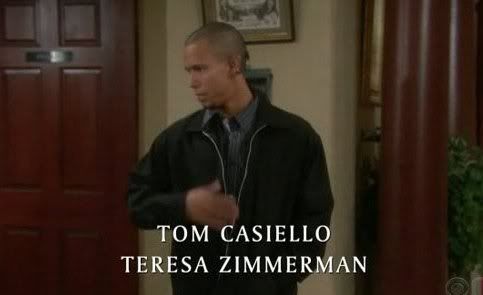 Picture it. Genoa City, Wisconsin. Monday, April 20, 2009. A foster child/custody storyline so boring, so polarizing, so utterly pointless, by comparison it makes
Ryan Seacrest
on the red carpet seem like edge-of-your-seat entertainment, is finally, mercifully climaxing on CBS Daytime's
The Young and the Restless
.
While I knew weeks ago that yesterday would be the day when Neil Winters (Kristoff St. John) and his wife Karen (Nia Peeples) would face off in court with Tyra (Eva Marcille) over the custodial fate of Sally Sing-A-Lot aka Ana. I also knew this episode would be important for another reason. It would be the first air show since officially rejoining the soap opera writing community for former Days of Our Lives scribe Tom Casiello, whose My Space blog became a soap fanboy/girl's wet dream during the 2007-2008 Writers' Strike. Talk about pressure. For his first show, Casiello would have to help breathe life into the only storyline stinker left on the soap opera since the Dream Team of Maria Arena Bell, Paul Rauch and Hogan Sheffer began masterfully restoring The Young and the Restless, following the destructive tenure of Lynn Marie Latham. READ MORE
By Jillian Bowe on April 20, 2009

Lane fans rejoice and start doing the cupid shuffle. Damn I kinda feel sorry for big red. I said KINDA not all the way!
By Jillian Bowe on April 13, 2009
Fans of Lane (Cane and Lily) get ready to throw some rice. A little birdie told me on May 15, Cane (
Daniel Goddard
) and Lily (
Christel Khalil
) will finally tie the knot. The scenes, from what my snitch er birdie has told me, are being shot right now. I guess this means that Lily either gets Cane to fold on his idea of taking Delia away from Billy and Chloe, or she will decide to jump on his quest to claim the tyke. Meanwhile, the birdie also says Murphy (
Michael Fairman
) and Katherine (
Jeanne Cooper
) will get hitched on May 1. Hmm... Could this be the reason why Nina (
Tricia Cast
) will be back in Genoa City? Stay tuned kids!