David Chisum
By Jillian Bowe on February 11, 2010
In part three of his interview with
All My Children
creator
Agnes Nixon
,
Scott K
of
US Townhall
has the legendary scribe confirming
David Canary
's exit. Nixon also speaks about when some of the actors,
Susan Lucci
in particular, got the news of the big move to Tinsel Town. Hmm, seems like our cracker jack scoopster
Jamey
was right about some things... For the entire interview with Nixon
click here
By Belinda on May 09, 2008
How many times have we sat in our forums and devised better plots than what we see playing out on our screens? More than we can count, certainly. Well with Ron Carliavati at the helm of One Life to Live we may feel that way LESS often but that doesn't mean that fans aren't the most creative and fun people I know. Now we havea chance to show what kind of creative stuff we are made of and here is how it works.
Before the writer's strike we were told that Miles Laurence has a secret. Now that the big boss man, our main man Ron C (Ron, Ron, He's our man; if he can't do it NO ONE CAN) is back in the saddle he is going to revisit that secret, except; it isn't written yet! Thats where the fun comes in!
The Miles Laurence "Write In and Win" contest asks: What do you think Miles' secret is? The fan who has the best concept for what Miles has been keeping to himself all of these months will receive a personal phone call from David – and a free year subscription to his fan club! What if you're already a member… then you'll be given a lifetime membership!
Deadline to enter is May 31, 2008 to enter, as many times as you want, making sure each entry is formatted like so…
Name:
Address:
Area code and Phone Number:
I think Miles' secret is:
Once you've included all the required information above on a card, be sure to address your envelope to:
David Chisum
c/o ABC TV studios
56 W 66th Street
New York, NY 10023
Attention: Mile's Secret
The lucky winner of this neat contest will be chosen through a random drawing on Saturday, June 7, 2008, at which time David's camp will schedule your personal phone call. If you have any questions, feel free to contact David's fan club president, Jeania, at chisumfan@aol.com.
By Daytime Confidential on March 17, 2008
On today's edition of Daytime Confidential Luke and Tina visit with One Life to Live's David Chisum about his role as Miles Lawrence. What is the connection between Miles Lawrence and Addie Cramer? What does he think of Roxie's crush on Miles and how he'd like to see Miles grow as a character.
We discuss his work in primetime TV and his work on the upcoming movie "The Clique" and his role in the soon to be released on DVD "The Onion Movie" (You must watch the hilarious trailer).
We discuss his role as a celebrity spokesman for the charity Vision Walk, his participation in the 2008 ABC Salutes Broadway Cares Equity Fights Aids gala, and his support of The Gabriel Project.
Jeania his fan club president joins us and we talk about the importance of fan support for actors who portray minor characters.
Be sure to drop by David's Official MySpace Profile and drop him a comment. READ MORE
By Luke Kerr on March 12, 2008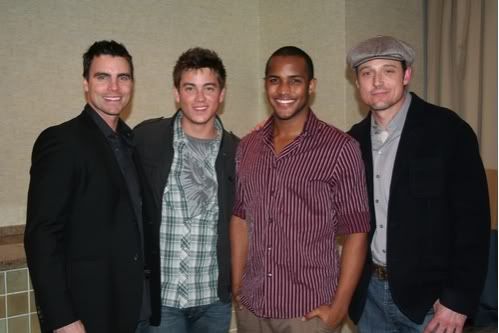 All My Children's Colin Egglesfield, One Life to Live's Brandon Buddy, All My Children's Sterling Suliema and One Life to Live's David Chisum.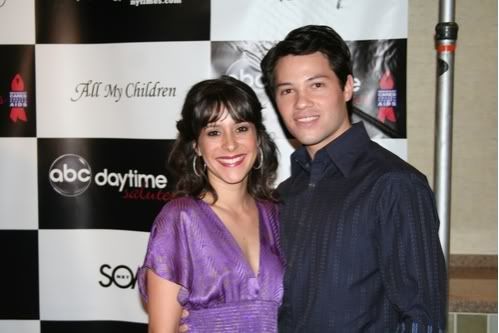 General Hospital's Kimberly McCullough and One Life to Live's Jason Tam at "ABC Daytime Salutes Broadway Cares/Equity Fights AIDS."
Photo Credit: Broadway.com
By Luke Kerr on February 13, 2008
On today's show ABC soap super fan Jeania from FanFare Inc returns to Daytime Confidential to talk about what she and her stars have been up to since we last talked, including Kamar de los Reyes and The Gabriel Project, BethAnn Bonner and the Antalia pairing, Tobias Truvillion and Tika Sumpter, Sean Ringgold, David Chisum's appearance on Good Morning America and role as spokesman for Vision Walk , Marcus Patrick's new movie "Descent", NAACP nominations, Broadway Cares Equity Fights Aids, and how the ABC soaps are more diverse now than they were a year ago.
Be sure to drop by Jeania's Myspace Profile and leave her a message or comment and check out all the these Official Forums, including the Beth Ann Bonner Official Message Board, Kamar de los Reyes' Salsa Lounge, the Antalia Message Board The Precinct, Sean Ringgold's The Block, Tika Sumpter's Talk about Tika, David Chisum Official Message Board,
Listen to Daytime Confidential by clicking on the Daytime Confidential Player at the top of the page or Download us for FREE via iTunes. Vote for us on Podcast Alley. Add us as a Friend on MySpace. Drop by our sister site TV Fan Online and visit with other soap fans in the TV Fan Online Forums.
By Daytime Confidential on February 05, 2008
Daytime Confidential Podcast contributor Belinda had the opportunity to talk to David Chisum who plays Miles on OLTL and he gives a great interview. Be sure to check it out, we know you'll enjoy it at Eye On Soaps. Here is an excerpt:
DD: With Miles and Marty's short lived, forced marriage over if you could impact the direction of your character where would Miles go from here? Who do you see as potential love interests for Miles?
DC: Well after Marty's death any hope of impressing Marty and perhaps having some kind of understanding between them has gone. I believe Miles really loved Marty and wanted to be a good husband to her but was terribly ill equipped. I think Miles has been slowly redeemed and needs to shed the guilt while moving forward with his life. And like any life opportunities for relationships, careers and hobbies are all around us. Miles is a unique character in that he is limitless in the potential storylines. The beauty in playing the character is that he can be unpredictable and naïve. I would like to know what Miles fans and 1 lifer's want from Miles. I'm interested to know what fans are interested in seeing Miles experience.
Belinda also posted posted a poll on our TV Fan Online Forums with some questions for him. We hope you'll drop by and add your two cents and we can send them on to him. Oh, and today is his birthday, so Happy Birthday David!!