David Lago
By Luke Kerr on October 25, 2008
David Lago
in one of his Emmy scene submissions with the amazingly talented
Lauren Woodland
(Brittany Hodges). Boy do I miss those days on
The Young and the Restless
.
It's really to bad that Lauren wasn't snapped up by another soap after leaving Y&R. This may come as a surprise to many regular readers or listeners, but after Rebecca Budig left All My Children the first time and word broke that the role of Greenlee might be recast, Woodland was one of the only people I would have wanted to see as a Greenlee recast. Who knows, maybe General Hospital could hire her as Elizabeth's sister Sarah. Just throwing it out there.
Related: David Lago Emmy Speech l David Lago on Soap Talk
By Luke Kerr on October 25, 2008
By Luke Kerr on October 25, 2008
I was talking with Belinda (The View From the Recliners Edge) about the arrival of David Lago on General Hospital as Sonny's son and I realized that unlike those of us who watch soaps on all three networks, fans who only watch ABC shows may not know much about Lago. With this in mind I'll be posting some clips of David from The Young and the Restless so that those who want can learn more about him.
The clip in this post is of David accepting his Emmy award in 2005.
By Regan Cellura on October 24, 2008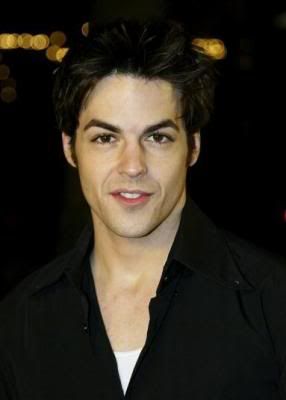 Lots of speculation and one
Tom Pelphrey
rumor later,
David Lago
(ex-Raul,
Young and the Restless
) has been cast as Sonny (
Maurice Benard
) and Olivia's (
Lisa LoCicero
) son Dante on
General Hospital
.
Nelson Branco
has the news in his latest
Suds Report
.
According to SPOILERS, Dante SHOULD appear towards the end of Sweeps.