Eileen Herlie
By Luke Kerr on April 04, 2013
TOLN isn't leaving anything to chance with its new promo telling All My Children fans to get ready for the soap's return on April 29. The network has released a promo that heavily features classic scenes of beloved characters, such as Bianca (Eden Riegel), Angie (Debbi Morgan), Jesse (Darnell Williams), Zach (Thorsten Kaye), Brooke (Julia Barr), Adam (David Canary), Dixie (Cady McClain), Joe (Ray MacDonnell), Tad (Michel E. Knight), Myrtle (Eileen Herlie) and the dastardly David Hayward (Vincent Irizarry).
I couldn't help but choke up rewatching Bianca's coming out to Erica (Susan Lucci). The first nine minutes are a wonderful reminder of All My Children's past, while the last minute gives viewers a taste of what's to come. Prospect Park's All My Children premieres on iTunes and Hulu on April 29. Watch the promo after the jump! READ MORE
By Jamey Giddens on March 04, 2009
Regan asked you guys earlier if you were ready for a Rendall Redux and from the
looks of things
, DC readers aren't trying to feel a reunion between Ryan and Kendall on
All My Children
, but I sure am! Those promos are taking me right back to the magic that was Rendall!
Alicia Minshew
and
Cameron Mathison
have always sparkled together onscreen, and they still do.
It was an abyssmal mistake to ever inject Green-Me (
Rebecca Budig
) into Ryan and Kendall's orbit. As for Zach (
Thorsten Kaye
), my ability to tolerate The Cambias That Ate Pine Valley died with Myrtle Fairgate (the late
Eileen Herlie
).
Zach is a Grade-A jackass, who thinks he should never pay for anything he does! He shot Kendall's poor, unaborted brother through the head and showed about as much remorse as a celebutante after her sex tape is "leaked". READ MORE
By Luke Kerr on December 19, 2008
I don't know about you all but I had a hard time getting through
All My Children's
tribute to
Eileen Herlie
. I truly wish I were older in order to be able to remember some of the wonderful moments as depicted in the crystal ball. Share your favorite Myrtle or Eileen Herlie memories after the jump.
READ MORE
By Mike Jubinville on December 18, 2008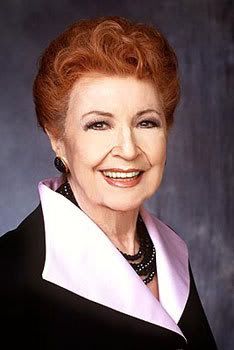 Just a reminder for anyone who ever watched
All My Children.
The soap will air it's tribute to the late
Eileen Herlie
on Friday, December 19. Herlie played the much loved Myrtle Fargate from 1976 until her death on October 8.
By Jamey Giddens on November 07, 2008
Sigh. Another star who once reaped the rewards of a gig in daytime is now dissing the medium.
All My Children
alum
Lauren Holly
, she of such big screen gems as
Dumb and Dumber
, revealed to our pal
TV Guide Canada
's
Nelson Branco
that she feels the soap opera genre, which has been hugely successful for much of it's 70-plus years in broadcasting and could very well be again if certain execs got out of the way, is basically designed to well, suck. Hmm, tell that to fans of late
Doug Marland
, the late
Bill Bell
,
Claire Labine
and of course,
Agnes Nixon
who created
All My Kids
.
Here's Holly's defeatest quote:

I know you love the genre, Nelson, but nothing good can come from daytime TV. The entire medium is set up to work against good writing and acting."
By Luke Kerr on November 05, 2008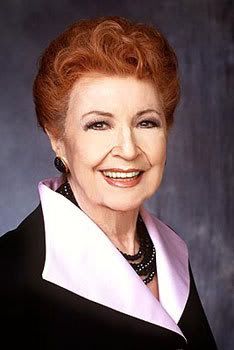 All My Children
has set the date for
Eileen Herlie's
tribute episode.
Soap Opera Digest
is reporting that the episode will air on December 19, 2008.