Elizabeth Hubbard
By J Bernard Jones on September 16, 2010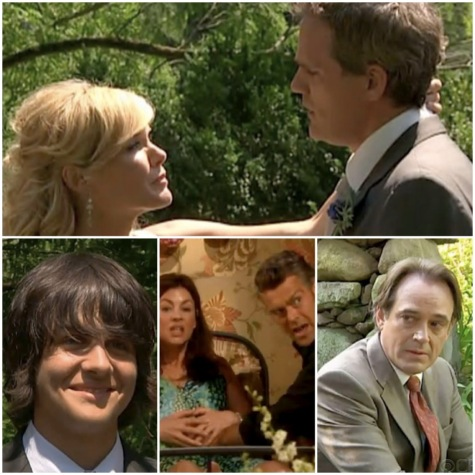 Several days ago, I posted an entry about the fallout from the death of Dr. Reid Oliver (Eric Sheffer Stevens) on As The World Turns. There were three central ideas in that piece. First, despite the very legitimate complaints that any given fan might have, ATWT is providing great human drama here at the end of its run. Second, Reid's tragic passing and donation of his heart to Chris (Daniel Cosgrove) encapsulated that goal mainly by thrusting the Hughes'— the show's core family since its very debut— front and center toward its conclusion. Third, given the soap opera wrapped production months ago, the idea of kicking a dead horse with unrelenting criticism isn't going to make it win the Kentucky Derby.
I have not budged one iota from any of those positions and I am about to incur the wrath of a whole lot more of you by making what I know will be a very controversial statement to many: I believe that in these final days, executive producer Christopher Goutman has made mostly the right decisions.
By J Bernard Jones on September 07, 2010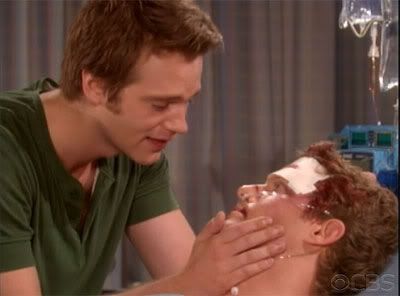 Before I get to today's stunning episode of As the World Turns, in which Dr. Reid Oliver dies and donates his heart to his professional nemesis/colleague Dr. Chris Hughes, I have a few thoughts about not only the serial's final days on the air, but also —in a broader sense—fan perceptions about what a soap's last days should be like, themes that will be carried forward as we look toward ATWT's final hours.
First, with less than two weeks to go before its final fade to black, ATWT is ending its 54 year history in perhaps better dramatic shape than almost any serial since the cancellation of NBC's Texas in 1982, a specific observation I will expand upon in a few days. Of course, there is lots to gripe and nitpick about the woulda-coulda-shoulda's of how the show might have wrapped things up. Many of those ideas are quite good and some are downright ludicrous, but in the final turn of events, all of that stuff is moot. The last scenes were shot, the sets have been struck, and the actors all went along different paths weeks ago. READ MORE
By Jillian Bowe on August 17, 2010

Elizabeth Hubbard
discussed with
TV Guide's
Michael Logan
her thoughts on
As the World Turns
leaving the airwaves in favor of the chat show,
The Talk.

TV Guide Magazine: Thoughts on the cancellation?
Hubbard: What can one say? I am told ATWT has been replaced by a talk show, something along the lines of The View only all the people will be talking about their babies. Really? Not everybody wants to hear about babies, do they? I think you want to hear about that stuff when you have a problem, but people need something that takes you into a different world, which is what the soaps have always done so beautifully. I've been so lucky playing Lucinda — a character who could do anything. She could lie, break the law, she didn't have to be good and she always had that checkbook ready. Always!
Hubbard also revealed how she landed a recurring role on a Dutch soap. READ MORE
By Mark on August 02, 2010
Elizabeth Hubbard spoke about the end of As the World Turns in the Dutch media. Hubbard chatted with Leeuwarder Courant and even gave the newspaper a spoiler about Lucinda's ending on ATWT.
I'm not falling into a black hole. That's not how it works for me. On the last day the sets were dismantled and my colleagues were taking things with them as a souvenir. I would've loved taking that beautiful silver desk from Lucinda, but a producer had already taken it. I don't want the rest of her stuff. I didn't even like the clothes she was wearing. By the way, do you know where Lucinda ends up in the last episode? In Amsterdam!
Elizabeth also appeared on gossip and entertainment show RTL Boulevard. Watch the clip after the jump.
By Mark on July 16, 2010
On next week's As the World Turns mother Lucinda (Elizabeth Hubbard) and daughter Sierra (Mary Beth Evans) are reunited. Sarah Glendening is also coming back as Lucy. Henry (Trent Dawson) asks Katie (Terri Colombino) to tell him where Barbara is. At the same time Vienna (Ewa Da Cruz) is desperate and asks Casey's (Billy Magnussen) help. On the other side of town Carly (Maura West) sees Lily (Noelle Beck) and Craig (Jon Lindstrom) kissing and is horrified. Watch the promo after the jump! READ MORE
By J Bernard Jones on July 01, 2010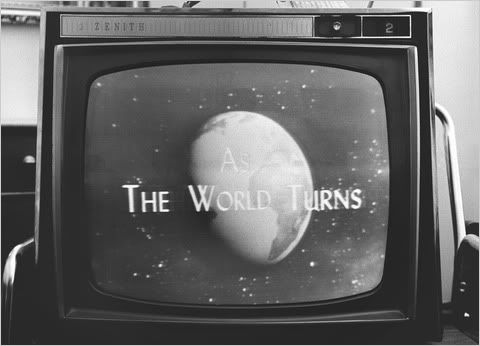 Wednesday, June 23, 2010 was the last production day for As the World Turns.
There seems to be no more appropriate time to begin the 54-year-old series' final reviews before the globe stops spinning on September 17.
This first entry in that effort actually is an overview of where I, as a reviewer & fan, see ATWT's standing first and foremost as a soap opera. The politics, recriminations, ratings analysis, and the business decisions leading to its demise are not my primary concern. Instead, I want to focus on the trials and shenanigans of Oakdale because, in my opinion, this venerable daytime serial — which once held the slot as the number one daytime drama for 20 years! — deserves no less. READ MORE