Elizabeth Hubbard
By J Bernard Jones on February 20, 2009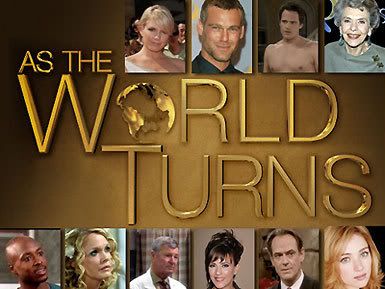 As the World Turns is something of a mystery to me these days. I haven't been blogging regularly about the show because, honestly, I am kind of flummoxed about what to actually write about from day to day.
I love ATWT. The show is blessed with some of daytime's strongest actors. In this age of massive cost cutting, ATWT found an arguably better production alternative than Procter & Gamble sister show Guiding Light. Speaking for myself, I find most days, most characters, most stories and most events to be sufficiently captivating to keep me coming back.
Nonetheless, something is badly amiss in Oakdale. The usual criticisms of ATWT are all-too-familiar: far too many recasts, underused vets, storylines that turn on a dime, compressed storytelling and ever shrinking production values to name a few. While those issues are real and important, they are only symptons of several larger problems that encapsulate the issues that I, other Daytime Confidential bloggers and commentators all over the internet have found themselves dismayed about over the last several months. After trying to put a finger on these issues while attempting to "figure out" what's going on at ATWT from a larger perspective, several things have jumped out as serious structural flaws, like a cracked foundation in a beloved old home. READ MORE
By J Bernard Jones on January 14, 2009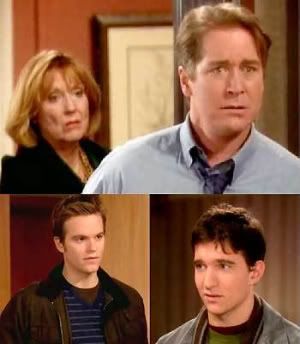 Not unlike other stories on daytime, there has been a great deal if handwringing, head-scratching, second guessing and outright criticism about the story of Luke's step-grandfather puttin' the moves on him while married to grandmother Lucinda on As the World Turns. I believe the words "icky" and "eww" were used by both fans and serious critics alike. In all honesty, the good folks at ATWT didn't make things any easier with their own "new" production model of producing more episodic like daily shows on what appears to be a 3-2 schedule (front burner stories air 3+ days a week, B stories air 2 days a week, and everything else gets in where it can fit in).
The result of this production model is that front burner stories don't flow well, supporting stories stagger drunkenly along, and lots of characters get the short shrift, the bum's rush and, more often than not, the premature heave-ho. Adding additional complication is the often lamented fact that ATWT has also adopted a Road Runner/Speedy Gonzales approach to narrative and all stories suffer as a result of being rushed at a breakneck pace.
Nonetheless, I'm going to do something for head writer Jean Passanante that is as rare as Simon Cowell not getting a woody over a pretty but marginally talented American Idol contestant in a bikini: I'm going give Ms. Passanante a little bit of praise. READ MORE
By Mark on January 05, 2009
By Mark on December 29, 2008
This week's promo for As the World Turns.
By Mark on December 06, 2008
By Mark on November 30, 2008
Elizabeth Hubbard was one of the surprise guests during yesterday's 12-hour marathon episode of Mooi! Weer De Leeuw, celebrating the 25th Anniversary of Dutch TV host Paul de Leeuw.
Paul de Leeuw is a fan of As the World Turns and that's why Elizabeth was there. She congratulated Paul with his anniversary and they talked a little about the show. She mentioned Van Hansis and the Luke and Noah storyline. Paul told her he wanted Lucinda to have a guy in her life again and she told him she has one a guy in the US episodes (On Dutch TV episodes from May 2007 are airing right now). But soap opera's have changed, she told him, because he's more interested in her grandson. READ MORE