Elizabeth Hubbard
By J Bernard Jones on October 06, 2008
I wasn't going to comment on today's episode of As the World Turns because I've been extremely busy, but two segments were so incredibly good that I couldn't help myself.
The first segment was Chris' goodbye scenes with Kim. Beautifully written and heartfelt, these are the kinds of scenes that the ATWT writers should be penning all the time. READ MORE
By Mark on September 29, 2008
The nominations for the 2008 Sentinel for Health Awards were announced earlier this month and As the World Turns is nominated for Barbara's (Colleen Zenk Pinter) oral cancer storyline. The fact that Colleen Zenk Pinter had the same illness in real life made this story extra special for me. One of my favorite moments is the conversation Barbara had with Lucinda (Elizabeth Hubbard) who had cancer herself in 2005 (watch those scenes in the clip above). My only complaint about the story was that the airtime it got was pretty nonexistent.
The awards take place in Los Angeles on Thursday, October 2. For more information go to The Norman Lear Center.
By Luke Kerr on July 30, 2008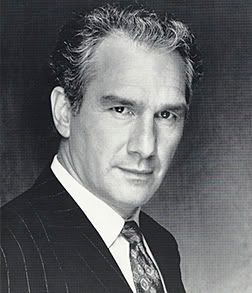 We Love Soaps
is reporting that
Anthony Hererra
is returning to
As the World Turns
as the dastardly
James Stenbeck
. He will first appear on August 27.
Personally, I cannot wait. For me James Stenbeck is right up there with Constance Towers' Helena Cassadine and Joe Mascolo's Stefano DiMera. I never watched any of the Roger Thorpe era so for me these three my favorite daytime villains.
I've posted a classic James Stenbeck and Lucinda Walsh clip below for everyone to enjoy. It really doesn't get much better than watching these two actors together.
By Jamey Giddens on July 24, 2008
On the heels of reprising his signature role as Greg Nelson for Jesse and Angie's wedding on
All My Children
, veteran soap actor Laurence Lau (ex-Jamie Frame,
Another World
; ex-Sam Rappaport,
One Life to Live
) has booked a role on
As The World Turns
as a new love interest for Oakdale barracuda Lucinda Walsh (Elizabeth Hubbard). Brian will be the director of the new foundation Luke sets up with his Grimaldi millions (Couldn't he have used just a smidge of the money to, I don't know, buy an townhome so he can boink his boyfriend without fear of Emma or her shotgun?).
ATWT is on fire right now and this news makes me even more secure in my decision to put ATWT back on my DVR's recording schedule. Lucinda is one of my favorite characters, I couldn't get enough of her chemistry with Tom Eplin's Jake and I adored Lau on AW as Jamie so this will be quite the treat for this fan, as Jake and Jamie were bitter enemies on AW.
Who knows, maybe ATWT will cast Lau's former Bay City mom Victoria Wyndham (ex-Rachel, AW) as his disapproving mother? Okay, okay, that last part was just wishful casting! Thanks MarkDutchViewer for the tip!

By Luke Kerr on July 14, 2008
I just love Lucinda. She sweeps into a room, takes charge of every scene and bestows her wonderful wisdom to all that will listen. Such was the case on today's episode when Luke received notice that his father had approved the transfer of a large chunk of his inheritance to him.
Of course, Luke being Lily's son he doesn't want anything to do with the money and Lily certainly doesn't want him to accept it out of principal. Then there is wonderfully-wise Lucinda who cuts to the chase telling Luke he could do a lot of good work with it and that "it is in Euros for goodness sake."
Leave it to Lucinda to bring the realities of the U.S. dollar being worth little in comparison to the Euro. In fact it's almost half the value. The fact that Luke is inheriting such a large sum in Euros could definitely change Luke's life and Lucinda doesn't want him to miss such a wonderful opportunity.
Stick to your guns Lucinda.


By Mike Jubinville on June 06, 2008
Dear Elizabeth Hubbard,
Lucinda blew into Oakdale with her adopted daughter Lily in 1984. With revenge on her mind and secrets to hold, she immediately became a force to be reckoned with. You gave Lucinda her strength, her ruthlessness, her business savvy, her everything. How could any fan of As the World Turns not enjoy watching every moment you were on? Lucinda's early days focused on her fierce protection of Lily from the Snyders, especially Holden and Iva. She was always meddlesome, but never a bore. She found love with John Dixon and she found her lost family when she explored her past. When she was diagnosed with cancer, her inner strength came through once again and she survived. Was there ever any doubt? I enjoyed every moment and as the years passed I savored those fewer times I could catch her...until now.
As a soap viewer, Tivo is my second best friend. Nothing can replace my fast-forward button and that is the reason for this apology. Luke and Noah should have a groundbreaking story, but they don't. One would think that being young and gay in a small midwestern city would give the writers plenty of storyline opportunities, but instead Luke and Noah are mired in mediocrity. Luke, Noah, Ameera and what's-his-name-dad are involved in something I know nothing about. That's where my best friend comes in. I don't know where they are, who they are with, or what they are doing. They move at light speed, so fast in fact that I almost missed her. I stopped and there she was. Lucinda, outside, doing something. I waited, listened and sadly moved on. So, I'm sorry Elizabeth Hubbard for fast-forwarding through your scenes, my first after more than two decades. I'm sorry that your character cannot elevate the convoluted, full of crap storyline from fast-forward to play. I want so much more for Lucinda, as I'm sure many do. Please go back to Oakdale and claim your life. Call up your inner-Lucinda and head down to Paul Ryan's office at Worldwide, grab him by the neck and throw him through the glass window to the streets below. I promise that if you do that, I will never fast-forward through you again. I may even rewind, replay, and save it.
Respectfully,
Mike