Ellen Wheeler
By J Bernard Jones on September 15, 2009
The second in a highly personal, non-objective series highlighting various aspects of the last episodes of Guiding Light, which will end its 72 year run on September 18th.
Let me begin by making an audacious claim. In my opinion, the September 15, 2009 episode of Guiding Light — the fourth from its last broadcast ever — may just go down as one of the series' greatest episodes of all time. This is not hyperbole; maybe not top five, but certainly top twenty.
Picking up immediately after the magnificent double wedding, the expertly paced episode had everything: the heartfelt engagement of Phillip & Beth; Josh's bittersweet decision to leave Springfield and find himself; the advancement of the romances of the teenaged James & Daisy and the smoking hot Mel & Cyrus; the ongoing tease of a courtship between Frank & Blake; and the long overdue reconciliation of Lizzie and Sarah, as Jonathan gave the Spaulding heiress shared custody of their daughter.
Every actor was spot on, including the sometimes over-the-top Tom Pelphrey. However, if Monday's episode belonged to Tina Sloan (Lillian), Tuesday's honors were split between Robert Newman (Josh) and Ron Raines (Alan). READ MORE
By J Bernard Jones on September 13, 2009
On Sunday evening, 60 Minutes paid magnificent tribute to Guiding Light.
Viewers were treated to a retrospective segment featuring brief interviews with Tina Sloan, Frank Dicopolous, Ron Raines, Grant Aleksander, Michael O'Leary, Peter Simon, Beth Chamberlin, and of course, Robert Newman & Kim Zimmer. There was also a sure-to-be lambasted short sit down with Ellen Wheeler and GL's last de facto headwriter Jill Lorie Hurst, which will probably send ex-headwriter David Kriezman (now at As the World Turns) into a soap-style catatonic state. READ MORE
By J Bernard Jones on September 10, 2009
In what one hopes will be the first of many, daytime's legendary and most outspoken actress
Kim Zimmer
granted
Nelson Branco
of TVGuide.ca
an interview guaranteed to drop jaws
! While the insightful and often hilarious talk covers everything from Ms. Zimmer's new TV-movie gig to her desire to be on
Dancing with the Stars
(
Maksim
, watch out!), it is her views on
Guiding Light
and its demise that are sure to raise eyebrows. Among La Zimmer's many quotables, this one stands out:
... if I was in

Ellen Wheeler

's position, I would have said, "You are raping the show. No, I won't produce GL this way." I give Ellen credit for trying to be the second coming. [Laughs] I had a really hard time with the new production model because it affected how the writers wrote our show — and that killed us in the end.
If that wasn't enough, Zimmer's perspective adds an additional extra dimension to what killed GL: READ MORE
By Jillian Bowe on September 08, 2009
1. Will soaps come back in style like 80's clothing?
2. When will fans see "love in the afternoon" again?
3. Why won't Bob Guza and Co. beg Vanessa to give them one more chance?
4. What happened to the corporate raid with Jabot/Newman/Chancellor?
5. Doesn't it annoy you to see Meg Snyder being Oakdale's man eater? READ MORE
By Jillian Bowe on September 07, 2009
Shot through the heart, and you're to blame, Ellen and Co., you give soaps a bad name. Showbiz411.com's
Roger Friedman
has offered up a blistering
article
, blasting current and past
Guiding Light
showrunners for the demise of broadcasting's longest running program.
Friedman takes no prisoners, calling out former GL executive producers Jill Farren Phelps and Paul Rauch, for allowing the sudser to start tanking on their watch, and also scolded those love em' and leave em' folks over at Procter and Gamble.
In response to The New York Times article featuring GL's last Idiot in Charge, Ellen Wheeler, Friedman lays the ultimate blame on the show's disastrous shift to a scaled down production model. READ MORE
By J Bernard Jones on September 06, 2009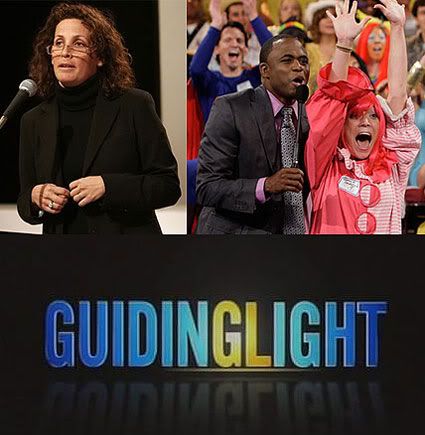 Dear Ms. Bloom,
On October 5, 2009, your network — CBS — will premiere a new version of the classic game show Let's Make a Deal as a replacement for the now canceled Guiding Light. To put it bluntly, I will not be watching.
You might be surprised by my reasons. Though in the grand scheme of things, you might not care. As a 44 year old Black man, I don't fit any demos that CBS or its advertisers care one whit about — though you ought to care about every viewer in these trying times for the networks. Nonetheless, you should know that I do not share the pitchfork & torches anger of the more vociferous Guiding Light's fans, who have vowed to never watch CBS daytime, or any show on the entire network, ever again. READ MORE