Fiona Hutchison
By J Bernard Jones on August 14, 2009
For the first time in ages, and certainly since I've been blogging for Daytime Confidential, I am absolutely furious and utterly appalled over a bit of business that happened on today's episode of Guiding Light in scenes involving Buzz (Justin Deas) and Cyrus (Murray Bartlett) set on location in New York City.
While tracking down a lead to a clue that the late Jenna (Fiona Hutchinson) left in a hotel room, Buzz and Cyrus wound up at the real CBS Broadcast Center in Manhattan. Once inside the building, they spoke to a page (think 30 Rock's Kenneth) who awkwardly and painfully informed them that The Price is Right films in California and gave them the actual phone number to would be contestants in the studio audience. Things didn't stop there. The page then told them As the World Turns tapes in Brooklyn and airs at 2PM. I am not making this up. READ MORE
By Luke Kerr on July 09, 2009
Fiona Hutchison
is returning to
Guiding Light
as ghost Jenna on July 29, according to
PGP Classic
blog. Take a trip down memory lane with more clips of Jenna after the jump. My favorite quote from the clips is when Buzz (
Justin Deas
) tells Jenna "Honey, you don't know what I've done for you."
READ MORE
By Luke Kerr on March 18, 2009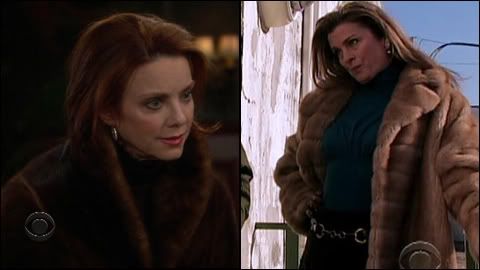 Who wears it best?: Gloria Bardwell vs. Jenna Bradshaw Cooper
By Daytime Confidential on February 18, 2009
On today's special Guiding Light "Phillip Spaulding Super Sized" Daytime Confidential episode Luke, Mike, Jamey, Melodie and Nicki discuss the return of Grant Aleksander to Springfield.
They share their initial reactions to Phillip's return and choose the things they liked and disliked about the highly promoted event. They go in depth with their thoughts on Buzz (Justin Deas) locking Coop (John Driscoll) up, Jenna's (Fiona Hutchison) Ghostly return, Phillip's rescue of Coop after the crash, Phillip interrupting Beth (Beth Chamberlin) and Alan's wedding, Phillip and Alan at Phillip's headstone, the hospitalization of Coop, Phillip and Rick and the Josh/Reva/Jeffery/Shayne/Dinah factor.
After picking the best and worst moments of the anticipated week the gang discusses the production values and what did and didn't work.
Finally, they look to the future. Melodie shares some of her latest spoilers before Luke poses the all important questions: Is Phillip's return enough to help Guiding Light avoid cancellation? Has the return of Aleksander as Phillip made the unthinkable six months ago - Guiding Light surviving without Reva if Kim Zimmer ever decided to leave - a realistic possibility?
All this and much more on today's special Guiding Light episode.
Help support and improve the Daytime Confidential podcast: Take a few minutes to fill out the two Daytime Confidential listener surveys: Listener Survey A l
Be sure to leave your comments on all the latest goings on in the world of soaps by calling the Daytime Confidential comment line by calling 917-677-9757.
Listen to Daytime Confidential by clicking on the Daytime Confidential Player at the bottom of this post or Download us for FREE via iTunes. Vote for us on Podcast Alley. Add us as a Friend on MySpace and Facebook.

READ MORE
By Luke Kerr on February 17, 2009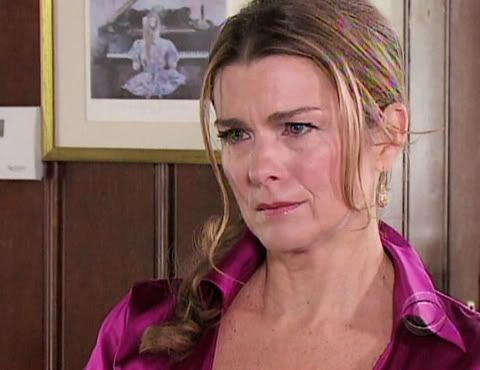 Fiona Hutchison
returned to
Guiding Light
today, but I missed the first ten to fifteen minutes of the episode. Because of this I couldn't tell if Buzz (
Justin Deas
) was having a dream induced flashback or if he was being haunted by Jenna once again. Either way, unlike last week's more
dubious attire
, this week Jenna looked much more refined and put together. More pictures after the jump.
READ MORE
By Luke Kerr on February 09, 2009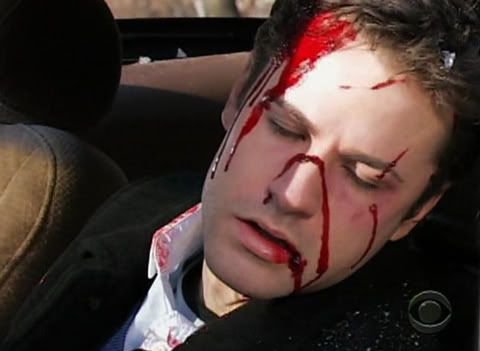 Henry Cooper "Coop" Bradshaw (
John Driscoll
) is about to be ushered home on the angelic wings of his mother Jenna Bradshaw (
Fiona Hutchison
) and not even the savior of Springfield Phillip Spaulding (
Grant Aleksander
) will be able to save him.
Will you miss Coop?