Frank Dicopoulos
By J Bernard Jones on September 15, 2009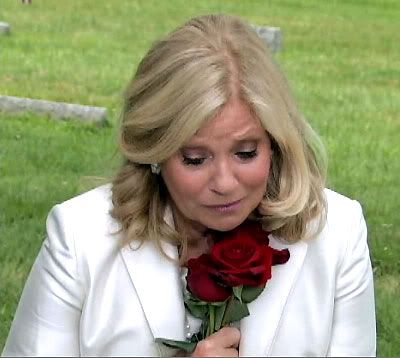 The first in a highly personal, non-objective series highlighting various aspects of the last episodes of Guiding Light, which will end its 72 year run on September 18th.
These final weeks of Guiding Light have been pure torture to watch. I don't mean "the new production model" (a phrase I never hope to hear again in my lifetime) or Bonnie Dennison's (Daisy) futile attempts to remember her lines. No, what has been extraordinarily difficult for me as a viewer — who vividly remembers when Roger (Michael Zaslow) kidnapped Holly (Maureen Garrett) in the Caribbean and Ed (then Mart Hulswit) threw him off a cliff — is watching the series' stories come to their inevitable conclusions. READ MORE
By J Bernard Jones on September 13, 2009
On Sunday evening, 60 Minutes paid magnificent tribute to Guiding Light.
Viewers were treated to a retrospective segment featuring brief interviews with Tina Sloan, Frank Dicopolous, Ron Raines, Grant Aleksander, Michael O'Leary, Peter Simon, Beth Chamberlin, and of course, Robert Newman & Kim Zimmer. There was also a sure-to-be lambasted short sit down with Ellen Wheeler and GL's last de facto headwriter Jill Lorie Hurst, which will probably send ex-headwriter David Kriezman (now at As the World Turns) into a soap-style catatonic state. READ MORE
By Melodie on August 30, 2009
If anyone has read my
Live Blogging of the Daytime Emmys
, you already know my feelings on the
Guiding Light
Tribute. Apparently, I'm not alone in my feelings.
Frank Dicopoulos
who portrays Frank Cooper was live
Tweeting
from the Emmys and this was his response to the tribute.
Well, They Cut Us Off...Great

It was just disrespectful!
By Melodie on August 11, 2009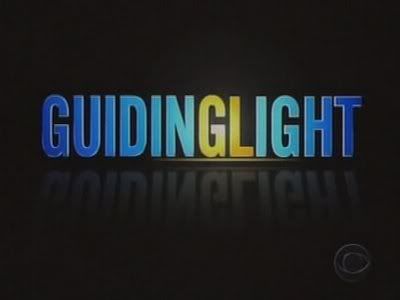 After 72 years in show business,
Guiding Light
officially films its last episode ever today in Peapack, New Jersey.
Crystal Chappell
(Olivia Spencer),
Frank Dicopoulos (Frank Cooper)
,
Tina Sloan (Lillian Raines)
, and
Liz Keifer (Blake Marler)
, have all been live updating their Twitters from the set. Be sure to check all those out and also join into the Guiding Light
Twitter
Party( hashtag #guidinglightforever).
By J Bernard Jones on July 15, 2009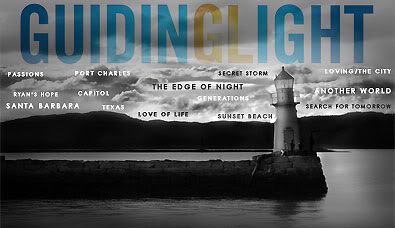 One of the hardest tasks in all of television must be bringing a daytime drama to a close. In other realms of entertainment, plays and musicals can be resurrected through countless revivals. Primetime TV shows can come and go, yet have the potential to be re-imagined or rebooted for the small or big screen. The biggest box office disasters can live on via countless direct-to-DVD sequels. Radio hosts and their dubiously talented sidekicks can be fired for the most hateful commentary, yet live on with the same formats other stations to be spiteful for another day.
With the exception of Dark Shadows, once a soap opera is canceled it is gone forever. During my time I've watched some of my favorites disappear: The City, Port Charles, Generations, Texas, and — in my opinion — two of the genre's titans, Santa Barbara and The Edge of Night. Many of you are still missing your own beloved shows over the last three decades as well. Fans of Capitol, Love of Life, Sunset Beach, Passions, Search for Tomorrow, and the still mourned Another World among others express their loss as if there yet remains a certain kind of grief that has not yet abated after all these years. Soon we will lose another giant among soaps: in less than ten short weeks, Guiding Light will shine for the last time on CBS. READ MORE
By Melodie on June 22, 2009
I hope all you Otalia fans are sitting down! Sources are telling Daytime Confidential Springfield's most buzzed about couple could soon be hearing the patter of little feet.
"Soon Natalia will throw up and later discover she is pregnant with Frank's baby," says the mole. "It will all happen in a few weeks."
How will Olivia deal with Frank and Natalia possibly sharing a child? Keep checking back to Daytime Confidential as this scandalous story develops!