Frank Dicopoulos
By J Bernard Jones on June 18, 2009
My absence from Daytime Confidential lately has not been due to the usual business of family and work taking up a lot of my time, but rather a certain lack energy to post about practically any of the daytime serials that clog up my DVR from day to day. This is neither a positive nor a negative thing because there are frequent periods throughout the year when shows kind of coast along and do their their thing, usually between sweeps.
At these times, there is little for the viewer — if that viewer is me — to get all worked up about this plot twist, that character's action, some couple or another or even a whole show's direction. Normally, this state of affairs hits one or two shows at a time. Every once in a while like the last couple of weeks, the stars align and all the serials get caught in the same momentum of drift. All that is required of us is to watch and see where it all goes.
In that spirit, my brain plays a little game of soap opera hopscotch, taking in odds and ends big and small. There is no great elaboration on anything here, just a quick rundown of things I like and not like so much. Your mileage may vary... READ MORE
By Melodie on May 27, 2009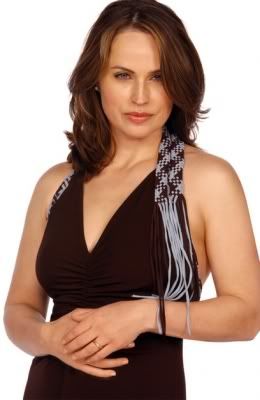 Have you ever wanted to know what soap actors are thinking on the set? Well, here is your chance.
Crystal Chappell,
who portrays Olivia Spencer on
Guiding Light,
decided to use the power of the internet and
Twitter
live from the Bauer Barbecue today. So far, there have been guest appearances from
Beth Chamberlin
,
Frank Dicoopoulos
,
Paul Anthony Stewart
,
Nancy St. Alban
, and
Tina Sloan
. I'm sure there is much more to come. Check it out!
By J Bernard Jones on April 18, 2009
She'd been teased and mocked for years, no more so than in her competition with other, younger and, some would say, prettier hopefuls. Her appearance had been derided as "downmarket." She obviously couldn't afford fancy stylists and didn't have the finesse of her peers, but when she revealed the depths of her talents she left viewers and critics quaking in their boots.
I'm not talking about Susan Boyle, the YouTube and Britain's Got Talent overnight sensation. I'm talking about the magnificent week of high octane, balls to the wall drama that has been Guiding Light.
I'm glad I waited before posting anything about the extraordinary week that has transpired on GL as the Olivia/Natalia love story played out before my astonished eyes. Temptation tested me in the aftermath of Olivia's shattering graveyard soliloqy to her heart donor Gus and, later, her heartstopping confession of love to Natalia, in what is quite possibly destined to become remembered as one of the greatest performances in daytime of the last decade. My fingers fidgeted over my keyboard during one of the most gloriously tortured daytime weddings in recent memory. My mind raced with superlatives about Natalia's struggle at the altar and her tearful confession of love for Olivia mixed with guilt about Frank. While the week belonged to Otalia (which I will get to in a moment), the entire show was, to borrow a phrase, a towering inferno of greatness. Let us count the ways: READ MORE
By Mark on April 13, 2009
By Melodie on March 31, 2009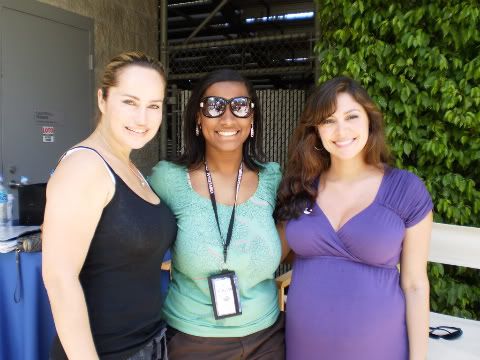 Crystal Chappell, Melodie Aikels and Jessica Leccia
During the Guiding Light location shoot in Florida, I had a chance to chat with Frank Dicopolous, Crystal Chappell, and Jessica Leccia about their current storyline featuring Otalia. All three actors were very excited about being apart of such a different story for daytime. They also were very surprised by the fan response to the storyline and didn't expect it to be so huge. The Otalia line for autographs was almost as long as Josh and Reva's line. To me, that spoke volumes, so when I saw a group of Otalia fans gathered chatting about their couple, I grabbed one for an interview. Brenda was so kind to tell me all about her Big Purple Fever for Otalia.
Daytime Confidential: What brought you to Otalia? Why do you like them?
Brenda: Well, back in October I heard they were gonna move in together, but then I read where the idea of them being a couple was shot down so then I didn't watch it. But then I saw them kiss on the CBS website, and I thought, "Well let me give this a chance". So, I went toYou Tube and watched all the clips and saw the slow buildup, the old fashioned storytelling like it used to be. It was like Bo and Hope or Patch and Kayla on Days of Our Lives and other couples, and it was just beautifully written. It was subtle, slow, and just told in a normal light and not sensationalized like All My Children did with Bianca and the wedding, and then they break them up the next day.
DC: "Our lesbians are better than yours" READ MORE
By Luke Kerr on February 25, 2009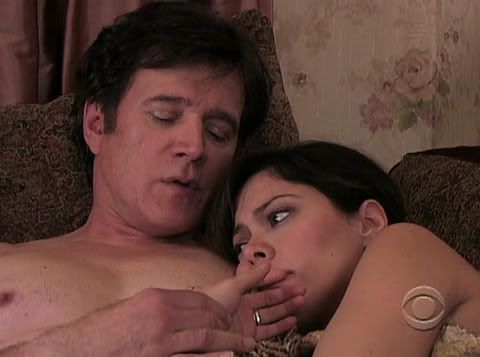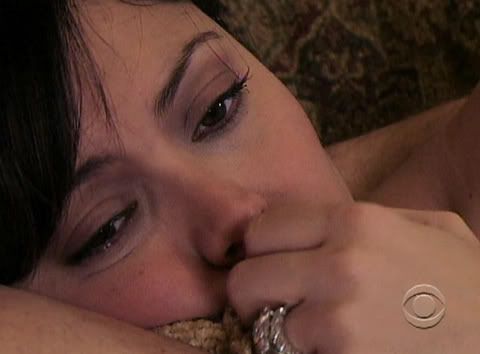 It's been a long time since I've watched a soap character look as truly horrified after having sex as Natalia (
Jessica Leccia
) did after sleeping with Frank (
Frank Dicopoulos
) on today's episode. I'm not sure if the expression was spawned by Natalia having straight sex or if Frank is just that bad in bed. If it is the latter, it sure does explain why he can't seem to keep a woman around as of late, but I digress.
I like Otalia as a couple, but I'm still having a hard time grappling with the once-devout Natalia, who quoted scripture and religious morals to Alan and Gus, possibly being a lesbian. One thing I do know, I'd love to see Olivia (Crystal Chappell) give Frank a good smack down. She will steam roll him. READ MORE