Genie Francis
By Luke Kerr on October 26, 2009
Jonathan Jackson
returns as Lucky Spencer tomorrow, so in honor of his return I dug up some classic clips from YouTube. I started watching
General Hospital
in 1998, so many of these scenes and storylines are what helped to hook me on the show. After the jump, you'll find clips of Lucky finding out from Nicholas that Luke raped his mother, Lucky confronting Laura about the rape, Lucky visiting Tammy the hooker, Lucky and Elizabeth dealing with her rape, Lucky and Elizabeth promos and even one or two fan-made music montages. It is a trip down memory lane for GH fans who watched back then and hopefully will be helpful to newer viewers who have never watched Jonathan Jackson. Enjoy!
READ MORE
By Regan Cellura on October 02, 2009
Here's the Scoop! 10.02.09
I dropped a few comments on things this AM. One being that Rachel Ames aka Audrey Webber is set to come out of retirement to help her granddaughter Elizabeth out of jam. Is the jam Helena created? Was that the big return? No, Audrey has been living off camera ever since Ames retired. It's been RUMORED a few times that Audrey would be popping back into PC with some fans even campaigning for the character's death. A little morbid IMO to campaign for a longtime character's death but hey to each their own. An Audrey appearance, Jonathan Jackson's return and an affair with her ex's brother… looks like Elizabeth Webber is off the backburner. Thankfully she wasn't there too long. I know, I know, my fan affiliation is showing but then again, I've never tried to hide it. READ MORE
By Jillian Bowe on September 08, 2009
1. Will soaps come back in style like 80's clothing?
2. When will fans see "love in the afternoon" again?
3. Why won't Bob Guza and Co. beg Vanessa to give them one more chance?
4. What happened to the corporate raid with Jabot/Newman/Chancellor?
5. Doesn't it annoy you to see Meg Snyder being Oakdale's man eater? READ MORE
By Jamey Giddens on February 17, 2009
EW.com released a list of
26 True (Fictional) Lovers: Best Pop Culture Lovers
. Among them are names like Rhett and Scarlett, Lancelot and Guinivere, Carrie and Big and...Luke and Laura. To borrow from Chandler Bing, could there
be
any more reasons for
Brian Frons
to get over his "Chicks over 40 ain't hot" crap and beg
Genie Francis
to return fulltime? Seriously, what more does the mainstream media have to do to drive home the point that this woman helped save the damn genre, put her face on
Time
magazine? I mean she's no
Elisabeth Hasselbeck
(but then who is?) but from what I hear she once helped cause a few people to watch
General Hospital
.
By Jamey Giddens on January 30, 2009
Daytime legend
Genie Francis
spoke to TV Guide.com
's
Matt Mitovich
about reprising her role in the sequel to her hit Hallmark movie
The Note
, for
The Note II: Taking a Chance on Love
(airing this Sat. at 9 pm ET), and of course the subject of her signature role as
General Hospital
's Laura Spencer came up, as well as a rather frank discussion about the state of daytime as a whole. Here's what Francis had to say about the firings of her former
Days
leading man
Drake Hogestyn
and
Deidre Hall,
and her one-time AMC costar
Susan Lucci's
paycut being made public:
READ MORE
By Regan Cellura on January 14, 2009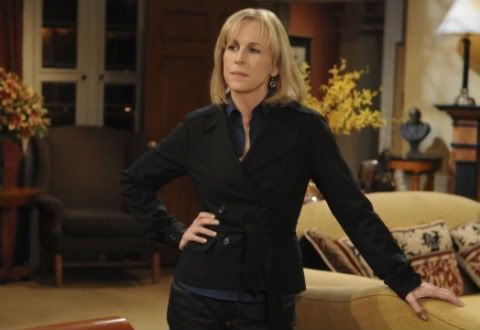 The sequel to
Genie Francis' Hallmark Channel
movie
The Note
,
The Note II: Taking a Chance on Love
premieres on Saturday, January 31. With the success of
The Note
, a second installment turns this into a franchise for Genie and a way to move on from her iconic role as Laura Spencer on
General Hospital
. In a
recent interview
, Francis speaks about her time on
General Hospital
and the opening paragraph seems to insinuate that a return to Port Charles is not likely.
Genie Francis figures the time has come for everyone to leave Laura Spencer behind and face the fact that the little teenager who captured the heart of America in the late '70s and early '80s is gone and is never coming back – but that a 46-year-old actress named Genie Francis is ready for her close up, Mr. DeMille. READ MORE