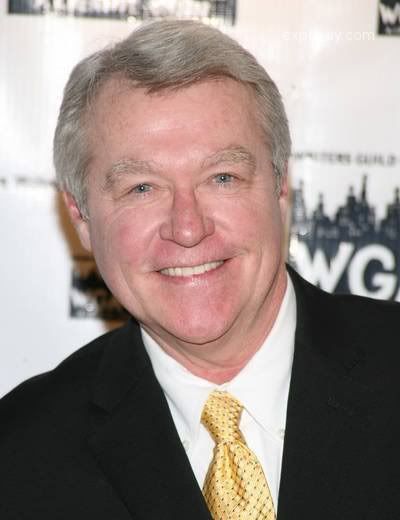 We're hearing rumblings that
Jerry Ver Dorn
has been taken off contract at
One Life to Live
. We can't say this surprises us. We've been hearing for months that a Bo and Nora redux is a "done deal"—thank you Soap Gods— and Viki already has Charlie. It's too bad OLTL decided to bust up Clint and Dorian, since
Robin Strasser
and Ver Dorn had amazing chemistry. I would much rather watch a full-on Clint/Dorian/Cruz Castillo, er Ray Montez love triangle than see Ver Dorn and
Hillary B. Smith
put me to sleep in their scenes. But to be completely honest, what I really want to see is Ver Dorn reprise his role as Ross Marler on
Guiding Light
. Now I don't know how smart it would actually be to give up a recurring gig at a soap that is on steadier footing to return to the role you made famous, but a boy can Wishfully Cast, can't he?
If, and I say if, what TV Week is reporting is true, and GL's writers may soon be needing to wrap up storylines, I would like nothing better than for it to be revealed that Edmund or Alan was holding Ross hostage in some foreign prison. Dinah (Gina Tognoni) and Phillip (Grant Aleksander) team up to rescue him, with Beth (Beth Chamberlin) and Shayne (Jeff Branson) along for the ride, with tons of romance and adventure along the way. They don't tell Blake (Liz Kiefer) what they're doing, because they don't want to get her hopes up.
Imagine, the ferocity of emotion the brazilliant Tognoni would display as Dinah discovers a beaten and broken Ross is indeed still alive. Just think of the scenes where they spirit him back to Springfield on the Spaulding Jet, where he then reunites with his beloved Blake and their kids.
GL could then bring back Fletcher (Jay Hammer), Ed (Peter Simon) and Holly (Maureen Garrett) to celebrate in Ross's return and a double wedding for Bill and Lizzie and Phillip and Beth. Okay, enough fan fic. What do you think, should Ver Dorn be happy to stick it out on recurring on a surer bet like OLTL, or return to help salvage and/or wrap up Guiding Light?