Grant Aleksander
By Melodie on January 29, 2009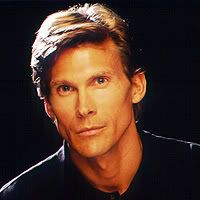 Check out this
promo
of Phillip's explosive return! I don't want to give too much away, but Coop is in the car.
By Melodie on January 20, 2009


Check out this clip of Marcy Rylan discussing Phillip's Return. Thanks to Revafan001 for the tip!
By Daytime Confidential on January 08, 2009
On today's CBS and Days of Our Lives Daytime Confidential episode Luke, Mike, Jamey and Melodie discuss the latest news and recaps for As the World Turns, The Bold and the Beautiful, Days of Our Lives, Guiding Light and The Young and the Restless including...
Predictions on how much Grant Alexsander's return will bump ratings up or down. Melodie has an update on her spoilers from December. It's not Kim Zimmer's fault that Guiding Light has gone down hill, should she have to take a pay cut during this next go around? Could GL survive without Reva if Zimmer didn't accept pay cuts and left the show?
As the Recasts Turns is systematically breaking Douglas Marland's rules on how not to wreck a soap and it's making it hard to watch so many new faces.
Who knew that all it took to have a successful fashion show was Donna in a knit bikini? Mike goes ballistic and isn't going to take it from The Bold and the Beautiful anymore. Kyle Lowder and Ronn Moss pop up on The Soup. Rick and Steffy are so cliche it hurts.
What is up with The Young and the Restless trying to put almost every boring character in one scene? Neil's wedding featured Karen and Victoria, not to mention a the character castrated JT all in one scene. Gloria discovers Katherine in jail. Jamey thinks that Maria Arena Bell has a check list of all of LML's debacles and is fixing everything one, by one by one.
Could Daniel and Chloe be the next big Days of Our Lives couple? Jamey seems to think so. Imagine if Dena Higley was writing your life ala Stranger Than Fiction?
Help support and improve the Daytime Confidential podcast: Take a few minutes to fill out the two Daytime Confidential listener surveys: Listener Survey A l Listener Survey B
Be sure to leave your comments on all the latest goings on in the world of soaps by calling the Daytime Confidential comment line by calling 917-677-9757.
Listen to Daytime Confidential by clicking on the Daytime Confidential Player at the bottom of this post or Download us for FREE via iTunes. Vote for us on Podcast Alley. Add us as a Friend on MySpace and Facebook.

By Melodie on January 06, 2009


Thank the Soap Gods for whoever is doing Guding Light's Promo's these days.
By Jillian Bowe on December 25, 2008

This promo has this former Guiding Light viewer deciding to end her 14-year sabbatical....
By J Bernard Jones on December 11, 2008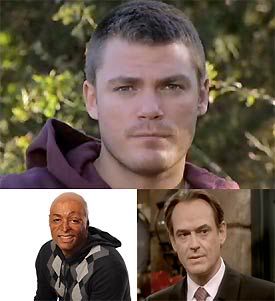 Despite gloom and doom about the state of daytime in almost all of its aspects, fans have been treated to some good soap opera lately.
The Young and the Restless
is the Must See Soap right now.
One Life to Live
has regained it's glory and
Guiding Light
is steadily improving. Some of daytime's best actors are giving some of the performances of their lives. With that in mind, there are three performers new to their respective shows deserving of special mention who I think are doing a bang up job.
JR MARTINEZ (Brot Monroe, All My Children)
Introduced amid a publicity blitz, JR Martinez came aboard AMC with a fascinating, real life backstory: an Iraq War veteran seriously injured and disfigured by explosives, eventually becoming a noted inspirational speaker for and on behalf of veterans coping with their life altering injuries. His addition to AMC's canvas was purposeful and deliberate. The show wanted a real life injured vet to play Brot, former love of newcomer Taylor (Beth Ehlers).
AMC has received much justly deserved praise for casting Martinez, but make no mistake, this was as much a bit of stunt casting as it was groundbreaking decision. READ MORE