Grant Aleksander
By Jamey Giddens on November 26, 2008
Okay you knew it was coming. Now that the Idiots In Charge of The-Soap-Opera-Formerly-Known-as-Days-of-Our-Lives have let the phenomenal
Blake Berris
go, I decided to start out doing a Wishful Casting about where Berris should end up, but it turned into more of an analysis of which soaps are managing to set things up for their next generation the right way, and which ones are getting it wrong, dead wrong.
Much of the daytime industry is experiencing a serious drought in terms of talented, young stars who can actually, you know, act. Save for The Young and the Restless, One Life to Live and General Hospital, the under 30 set at most soaps is pretty much comprised of rejects from the Pamela Anderson School of Acting and Pantomime. I'll start with the soaps in most need of help and work my way up. READ MORE
By Luke Kerr on November 13, 2008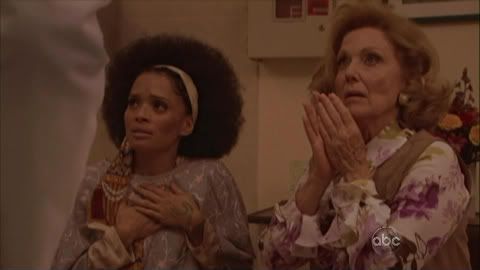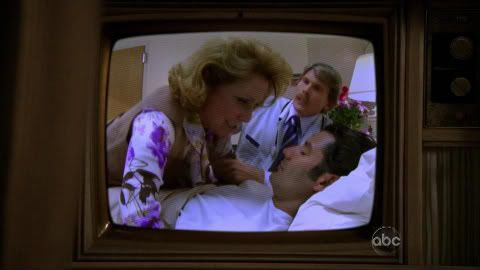 Check out the wonderful
Elizabeth Hubbard's
cameo on ABC's
Life on Mars
. A screencap of
Guiding Light's
Grant Aleksander
coming shortly.
By Jamey Giddens on November 13, 2008
Fans of
Guiding Light
's
Grant Aleksander
and his trademark character, troubled Spaulding scion Phillip, have none other than co-head writer
Jill Lorie Hurst
to thank for the actor agreeing to reprise the role he made famous and notoriously vacated four years ago. In the new issue of
Soap Opera Weekly
, Aleksander reveals how Hurst, an old friend of his, put in a call letting Aleksander know how missed he was. Someone should give Hurst the key to Peapack. For more on how Hurst helped facilitate Aleksander's return check out the new SOW on newstand's now.
By Jamey Giddens on November 13, 2008
Set your DVRS soap nuts.
All My Children
's vacationing vixen
Alicia Minshew
,
Guiding Light
'
s newly-returned, hopeful
soap-ssiah
Grant Aleksander
and
As The World Turns
diva du jour
Elizabeth Hubbard
will all be spoofing soap stars on tonight's episode of
Life on Mars
, when the crime drama's main character tune's in to watch his favorite show, according to
Soap Opera Digest
. Also look for Hubbard's former costar,
Jennifer Ferrin
(ex-Jenn, ATWT) to make a small appearance.
Life on Mars
airs on ABC. Check your local listings beeyouches and
thanks ssjohn for the tip
!
By J Bernard Jones on November 12, 2008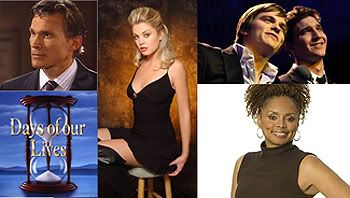 At the risk of indulging an age-old cliché or perhaps inventing a new one, real life is the soap opera that interrupts our daytime dramas.
I've been away for the last couple of weeks caring for my partner who was seriously ill for a little while (all is better now); dealing with the challenges of running a business and maintaining my livelihood in a faltering economy; consoling friends over unexpected loss in their lives and reveling in the result of a Presidential election which has left me elated and joyous in an event that I, as a Black man, never thought I would see in my lifetime. This time has been filled with hospital vigils and prayers (all answered in the affirmative), nail biting suspense, and a dash of personal intrigue. In short, the last two weeks have been a period of belief and disbelief. READ MORE
By Jamey Giddens on November 10, 2008
First they bring back
Eileen Davidson
as Ashley and get rid of that awful Eden (
Erin Sanders
) on
The Young and the Restless
, now comes news that CBS and Proctor and Gamble have convinced the phenomenal
Grant Aleksander
to return as
Guiding Light
's Phillip Spaulding! What are they trying to do make us love them again? Let's just hope Phillip returns as the dashing, heroic character fans fell in love with and not the psycho nut job the character was reduced to before Aleksander left the soap. For more on Aleksander's return, pick up the Nov. 25 issue of
Soap Opera Digest
.