Hayden Panettiere
By Luke Kerr on February 17, 2009
Us Magazine is reporting that Heroes' Hayden Panettiere (ex-Lizzie, Guiding Light) and Milo Ventimiglia have broken up. Apparently the parting of ways came because of a "lifestyle conflict."
"It was a lifestyle conflict… (She) is young. She likes to go out in the Hollywood scene and that's not his style. (Ventimiglia) has been concentrating on work, on his production company," an Us Magazine insider has revealed.
Let's hope the Hollywood scene doesn't entice Hayden to much. She's a good actress, but I'd hate to see her end up like Lindsay Lohan or Mischa Barton.
At 19, Hayden is 12 years younger than the 31-year old Milo.
By Luke Kerr on November 25, 2008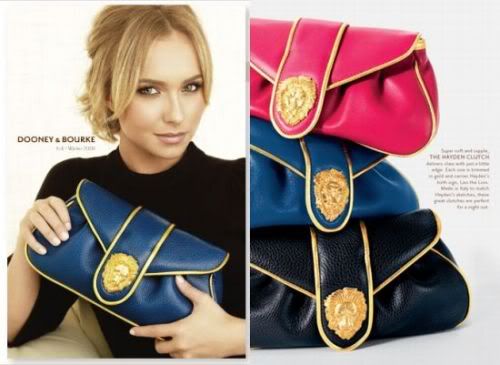 First she pimped
Candie's
and now
Hayden
has The Hayden Clutch by Dooney & Bourke.
The Hayden Clutch is made from Italian calfskin and comes with a 24-carat gold plated lion head, inspired by the Heroes star's zodiac sign, the Leo. You can pick it up at your neighborhood Dooney & Bourke store next month, for the oh so cheap price tag of $295.
By Luke Kerr on November 04, 2008
Love it or Hate it?

By Luke Kerr on October 20, 2008
Following in the footsteps of her hilarious
Muzzler PSA
with
Jessica Alba
encouraging people to vote,
Hayden Panettiere
is back with a new PSA. This one "encourages" people to vote for John McCain.
Warning: If you're a John McCain fan you may want to avoid watching this clip.
By Jamey Giddens on October 17, 2008
The gossip blogs are ablaze with reports that
Heroes
starlet
Hayden Panittiere
(ex-Lizzie,
Guiding Light
; ex-Sarah,
One Life to Live)
was spotted flirting and exchanging digits with Los Angeles Lakers player
Lamar Odom
after a
Jay-Z
concert at the Palladium this past Wednesday. Now of course this could all be innocent. No need for Panittiere's beau/co-star
Milo Ventimiglia
to panic. Maybe she just wants a little help with her jump shot?
By Luke Kerr on October 03, 2008
Ok, now this is hilarious.
Jessica Alba
,
Heroes'
Hayden Panettiere
and
90210's
Tristan Wilds
are encouraging people young people to vote in this, did I say this already, hilarious infommercial/PSA for the The Muzzler.