Hogan Sheffer
By Jillian Bowe on June 19, 2012

For a few months now, viewers of The Young and the Restless have been subjected to the once popular and beloved character of Sharon Collins Newman (Sharon Case) having decided to delve into an icky romance with her former father-in-law, Victor Newman (Eric Braeden). Fans have been none too amused over Sharon making this skeevy choice — to plunge head first into a relationship with a man she once considered a father figure. The plot twist has been all the more maddening, following years of Sharon's character being utterly assassinated, via one ill-conceived storyline and/or romance after another. READ MORE
By Jillian Bowe on December 11, 2011
Forget watching Twilight: Breaking Dawn. The Young and the Restless' Joshua Morrow and Michael Muhney have decided to put the issue of Edward (Robert Pattinson), Bella (Kristen Stewart) and Jacob's (Taylor Lautner) fantasy triangle to rest in Twi-Lame. Watch the duo–along with Y&R hairstylist George Guzman and a special cameo by Jeanne Cooper –after the jump! READ MORE
By Jillian Bowe on February 20, 2010
Congratulations goes out to the writing crew of The Young and the Restless for winning the Writers Guild of America award for best daytime serial. According to Deadline.com, both the Writers Guild of America, East (WGAE) and the the Writers Guild of America, West (WGAW) held their award ceremony simultaneously on their respective coasts, where Y&R's writing crew took home the gold. The following writers from the sudser scored a big win:
Amanda L. Beall, Tom Casiello, Lisa Connor, Janice Ferri Esser, Eric Freiwald, Jay Gibson, Scott Hamner, Marla Kanelos, Beth Milstein, Natalie Minardi Slater, Melissa Salmons, Linda Schreiber, James Stanley, Sandra Weintraub, Teresa Zimmerman.
Maria Arena Bell , along with Hogan Sheffer, were not listed because they were ineligible because of going fi-core during the 2007-2008 WGA strike.
By J Bernard Jones on August 05, 2009
Perhaps someone passed along my
Open Letter to Christopher Goutman
. Perhaps
Barbara Bloom
took a good look at the plummeting ratings and decided that everyone should not lighten up after all. Perhaps head writer
Jean Passanante
took an extended vacation to Buenos Aires. Whatever has been happening over the last few weeks, let me step out on a limb and utter the words that many fans thought might not ever be said again or even believe:
As the World Turns
is, at long last, improving.
I fully expect the comments section to be full of invective and angry fist shaking about how ATWT is still "the worst soap on the air," how the vets are misused, and how the "Vortex of Suck" continues to, well, suck. In addition, the now well-documented list of the show's biggest defects remain stubbornly in place: warp-speed storytelling and the soul sucking semi-episodic structure continue to test the rapidly waning patience of the show's dwindling audience.
Having said that, it bears repeating that fans are a stubborn breed. We will praise shows, actors and performances we like, but we are quick to make our displeasure known when we feel things are not up to speed and falling apart. Once the latter narrative has been established it is very hard to turn the tide of opinion, even when a show starts to address its critics and make changes. Therefore, though the longstanding criticisms of ATWT are still valid, I think it is time to once again give credit where credit is due. READ MORE
By J Bernard Jones on May 22, 2009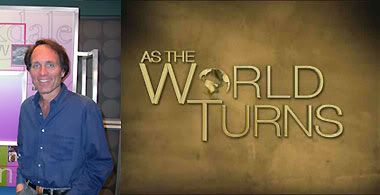 Dear Mr. Goutman,
If ever I was convinced there is a real world application of the phrase "an exercise in futility", this letter might qualify as proof of that concept. After all, you have been quoted in at least one now infamous interview that you do not listen to what fans have to say and that you follow your gut instincts about what you feel is best for As the World Turns as its executive producer. In many respects I applaud you for it. Vision, however forward thinking or flawed, indicates what might be called passion, which itself implies a belief in something. I think, in your own way, you really do believe in your show.
Savvy viewers (including those of moderate intelligence like myself) more than appreciate the fact that Procter & Gamble/TeleNext soap executive producers like yourself arguably have tougher rows to hoe than their counterparts. You have your corporate bosses at P&G to answer to, as well as another set of head honchos at CBS. Reports from the war front regarding the recent cancellation of ATWT's sister show Guiding Light exposed that often these two factions have differing agendas, which can only make your job that much harder to do in a climate of increasingly draconian budget cuts and free falling ratings amidst an ever shrinking — some openly say dying — genre with roots that can be traced back to Charles Dickens and beyond. No wonder you tune out the noise, if I may, to concentrate on one of the hardest jobs in all of television: producing 350+ hours of television every year. READ MORE
By Jillian Bowe on March 17, 2009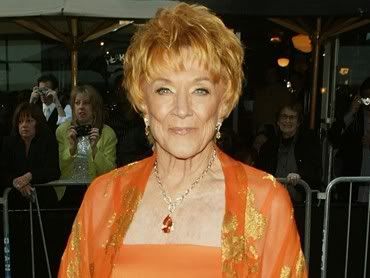 Now before you ask, no Aunt Maria and Uncles Hogan and Scott aren't channeling the late
James E. Reilly
. According to
TV Guide
, on March 26,
The Young and the Restless
will dedicate a special show around the hustling hash slinging waitress Marge (
Jeanne Cooper
). Marge will be exhumed for DNA testing. Kudos to the fab four over at
Y&R
for showing that young bucks in the industry aren't the ones that fans are clamoring to see and should be centered upon. Remember folks, do as our Uncle Jamey says:
"VOTE WITH YOUR REMOTE,"
because this is going to be a episode you will not want to miss!