Jeanne Cooper
By Jamey Giddens on May 09, 2013
Since 1982,
Kate Linder
has portrayed Katherine Chancellor's bumbling housekeeper Esther Valentine on CBS Daytime's
The Young and the Restless
. The flight attendant's TV gig allowed her the opportunity to work closely with the late
Jeanne Cooper
for over 30 years.
"My heart is breaking for Jeanne Cooper's wonderful family and for all of us who truly loved Jeanne through the years," said Linder in a released statement. "Jeanne was my mentor and an amazing actress and friend. We've been through so much together and I loved her like family. She and Bill Bell were the two people most responsible for my career on Y&R. and the world is a darker place without them. When Jeanne welcomed you into her life, you knew it and it was a fantastic feeling. This is truly the end of an era, not just for fans of The Young and the Restless, but for all of the people she touched throughout her long and distinguished career and life. She's always been larger than life and an inspiration to me and so many others. I can't imagine a world without Jeanne Cooper -- it won't be the same without her fighting spirit and lust for life and to say she will be missed is an understatement for what we are all feeling today."
By Jamey Giddens on May 09, 2013
Before he was ruthless, publishing mogul Bill "Dollar Bill" Spencer on CBS Daytime's
The Bold and the Beautiful
,
Don Diamont
spent the better part of two and a half decades on
The Young and the Restless.
Diamont played pool boy-turned-exec Brad Carlton. He credits the late
Jeanne Cooper
(Kay) with helping him out when he was a newbie actor back in 1985.
"I just love Jeanne and have so much respect for her," said Diamont in a released statement on Cooper's passing. "She was such a supporter of mine when I started at Y&R as a young, green actor. That always meant so much to me. She was truly one-of-a-kind. This next saying is used far too often but is truly applicable in her case: when they made Jeanne Cooper they broke the mold." READ MORE
By Jamey Giddens on May 08, 2013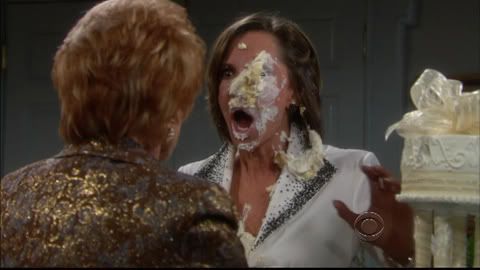 In 1987, an actress from the newly-defunct series Capitol had the unenviable task of recreating the insanely-popular role of schemer Jill Foster Abbott on CBS Daytime's The Young and the Restless. Unlike most soap opera recasts, where success or failure depends on chemistry with an opposite sex romantic lead, newcomer Jess Walton would sink or swim, based on her ability to connect with fellow female powerhouse Jeanne Cooper, who played Jill's bitter rival Katherine "Kay" Chancellor.
To say Walton swam alongside Cooper would be an understatement. The two women did a backstroke even Ryan Lochte and Michael Phelps would have to admire, during their 26 years as acting partners.
By Jillian Bowe on May 08, 2013
Bravo executive and
Watch What Happens
Live host
Andy Cohen
took to his
Twitter
account to voice his thoughts on
The Young and the Restless
' grand dame
Jeanne Cooper
's passing. Cohen, a huge fan of soaps, tweeted
By Jamey Giddens on May 08, 2013
Classic TV channel
Me-TV
will be paying homage to the late
Jeanne Cooper
on Thursday, May 9, by airing back-to-back episodes of
Bonanza
and
The Big Valley
with the legendary actress featured as a guest star.
READ MORE
By Jamey Giddens on May 08, 2013

The Young and the Restless executive producer Jill Farren Phelps has issued a statement on the passing of the sudser's matriarch, Jeanne Cooper (Katherine). Said Phelps, "It is with immeasurable sadness and our deepest condolences to her family, that The Young and the Restless mourns the loss of our beloved Jeanne Cooper."
READ MORE