Jennifer Bassey
By Luke Kerr on April 25, 2013
Former All My Children star Jennifer Bassey (ex-Marion Colby Chandler) begins a multi-episode arc on Grey's Anatomy tonight in "Sleeping Monster." Bassey recently teased the episodes on Twitter and recounted reuniting with her former AMC co-star Justin Bruening (ex-Jamie Martin).
On tonight's episode, the investigation into Bailey's (Chandra Wilson) medical actions strains her relationship with fellow doctors and friends.
Watch a promo for Grey's Anatomy's "Sleeping Monster" after the jump! READ MORE
By Luke Kerr on June 14, 2011
Even more good news for All My Children fans hoping to see the return of familiar faces to Pine Valley before the soap goes off the air. According to TV Guide, Melissa Claire Egan, Kate Collins and Jennifer Bassey will be reprising their roles as Annie Chandler, Janet "From Another Planet" Green and Marian Colby the week of July 25. Reportedly, the three characters–currently confined in Oak Haven–will break out of the facility and return to Pine Valley.
By Jamey Giddens on January 29, 2011
Been wondering what
Jennifer Bassey
has been up to since her scene-stealing character Marian Colby was sent off the funny farm on
All My Children
? I'll tell ya what, the hilarious thesp has been playing
another
diva-rrefic mom, this time in an indie gay flick called
The Brothers Sinclair
.
Starring The Real World D.C. alum Mike Manning and Steven Helmkamp, The Brothers Sinclair is the story of Scott (Helmkamp) and Jeffrey (Manning), a pair of gay brothers, who are pumped when they learn they've inherited their uncle's men's gym, that is until they learn it's a straight gym and a front for the mob! The low budget project is the brainchild of Ronny Jay and looks pretty funny. Watch the teaser, featuring Bassey as the bois' campy Mama, Vivian Sinclair, after the jump. I hope they make this into a weekly web series, I'd watch! READ MORE
By Luke Kerr on February 05, 2010
Last summer
All My Children
fans watched as
Jennifer Bassey's
Marian Colby Chandler suffered a meltdown and was written off the show. In an
interview
with
Fancast's
Sara Bibel
Bassey talks about her time at AMC, Marian's exit and Stuart's (
David Canary
) death.
How did you feel about the way Marian was written off?

They replaced our head writer recently because everything was not the way they thought it should be going. I think it was the writer. Everything seemed to go like bang bang bang. Everybody's gone.

What do you think of the decision to kill Stuart off? READ MORE

I thought it was very sad because he's one of the few characters that everybody loves. He's kind of like the heart of the show. I could think of other characters it would have been better to kill off than Stuart. But, again, it was the headwriter's choice. People asked him to please build up Stuart before it happened because Stuart hadn't been on a lot and neither had I. You don't get impact if you haven't seen anybody for a long time and then suddenly they come out and they're shot. So you're like, [shrug] "Stuart was shot", rather then really crying and getting emotional about it.
By J Bernard Jones on June 02, 2009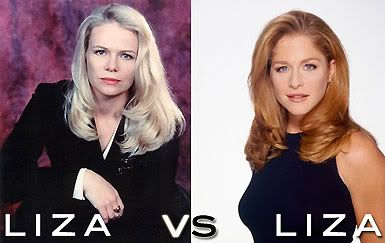 By now, it should be a shock to no one that the near unanimous consensus among most of us who watch All My Children here at Daytime Confidential, the casting of Jamie Luner as Liza Colby Chandler has been a huge bust as of this writing. We know that opinion could change in the future with a knockout performance by Luner, an engaging storyline for the character, or a relationship of any kind that could revitalize Liza and make us see her with new eyes. Unfortunately, none of those three things have happened yet.
The collective criticism of this "new" Liza has centered mostly around the (mis)casting of Ms. Luner, an actress who has her fair share of fans from her days on Melrose Place, Savannah and other shows. On AMC, however, Ms. Luner is delivering the kind of performance that might described as, if I may be permitted to coin a phrase, pseudo-catatonic. Sure, some of the dialogue sounds a little like what Liza might say, but not after three tablespoons of Nyquil.
As a result, at first I was convinced that the problem with Liza was mostly the fault of the actress. That opinion changed with a couple of scenes that aired on Monday's episode that revealed the fundamental reason this character isn't working is because of head writer Chuck Pratt's fundamental misunderstanding about the nature of Liza. READ MORE
By Luke Kerr on December 27, 2007

I just got out of Katherine Heigl's new movie 27 Dresses and though it is probably one of the best romantic comedies of 2007 I couldn't help but be happy for Brian Kerwin (Charlie, One Life to Live), Ronald Guttman (Alexander Cambias, All My Children), Jennifery Bassey (Marion Colby Chandler, All My Children) and Alexa Havins (f. Babe Chandler, All My Children) who all had roles in the movie. Kerwin was Heigl's on screen father, Guttman was a wedding cake baker, Havins was a bride and Bassey plays the mother of the groom. If you are in the mood for a great romantic comedy be sure to check it out.