Jennifer Finnigan
By Luke Kerr on January 29, 2013
If you watched the blockbuster two-hour second season premiere of Dallas Monday night, you may have caught the promo for TNT's upcoming medical drama Monday Mornings. The Bold and the Beautiful favorite Jennifer Finnigan stars as Dr. Tina Ridgeway, alongside Battlestar Galactica's Jamie Bamber as Dr. Tyler Wilson and Alfred Molina as Dr. Harding Hooten, in the series about doctors who push the limits.
Monday Mornings premieres on February 4. Watch Monday Morning's promos after the jump! READ MORE
By Luke Kerr on February 09, 2010
The Bold and the Beautiful alum Jennifer Finnigan has landed a comedy pilot starring opposite of Joanna Garcia, according to The Hollywood Reporter. Since leaving B&B Finnigan starred for two seasons on the CBS crime drama Close to Home and had short stints on NBC's Crossing Jordan and USA's The Dead Zone.
The untitled Goldberg-Meehan multicamera comedy, from WBTV, revolves around sisters at different stages of their romantic relationships: one (Finnigan) is in a happy, long-term relationship but isn't married, the other (Garcia) gets pregnant and winds up marrying her boyfriend.
By Luke Kerr on March 04, 2009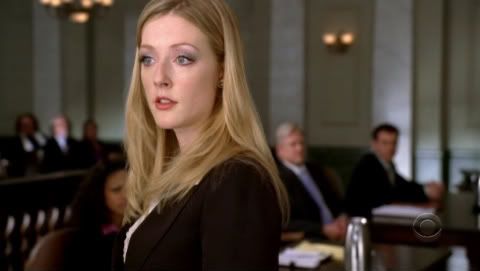 Jennifer Finnigan
(ex-Bridget Forrester,
The Bold and the Beautiful
) is returning to primetime. According to
The Hollywood Reporter
, Finnigan
has
landed
the ABC pilot
Inside the Box,
a series set at a Washington network news bureau
.
By Brian Peel on July 15, 2008
I really hope that mental asylum Bridget is headed for is big enough for two. I think Stephanie Forrester is headed straight for the four rubber walls as well. Rocking in a chair? In the dark? Depressed? Glaring at family photos like it's all about to come to an end? What is going on?
We didn't even see Eric pay her a visit-a promise he made to Felicia. Eric even had the key to the beach house. Where are Bold and the Beautiful going with this? A little creepy? Maybe. Especially since Susan Flannery's portrayal as Laura Horton on Days of Our Lives many moons ago had her end up in a loony bin. Is this depression starting to surface or is there something more to what we are witnessing? It's confirmed, Felicia Forrester is the best possible stand in to help bring her mother back from the brink or take over the complete dynasty.
As always in true soap fashion a wedding is held up because there is a need for another member of an opposing family wishing to confess their undying love for the groom. Was anyone else' guts turning when Nick told Stephen Logan that it was 'something the Logan woman do for him'? What's with that? It's like saying – I've had your daughter, her daughter and I want your other daughter. Come off it! READ MORE