Jerry Douglas
By Jillian Bowe on October 11, 2012
Great news,
The Young and the Restless
fans.
Jerry Douglas
(John) announced on
Facebook
he is set to make a couple of upcoming appearances! Douglas posted:
By Jillian Bowe on May 30, 2012
The Young and the Restless fan favorite Jerry Douglas is coming back to Genoa City. Douglas announced on his Facebook fan page that he will reprise his role as the ghostly Abbott patriarch. Douglas posted:
By Jillian Bowe on December 25, 2009
The Almighty isn't too thrilled with Billy's antics, so John decides to help his youngest offspring out.
READ MORE
By Jillian Bowe on May 26, 2009

It's about to get really interesting....
By Jamey Giddens on May 15, 2009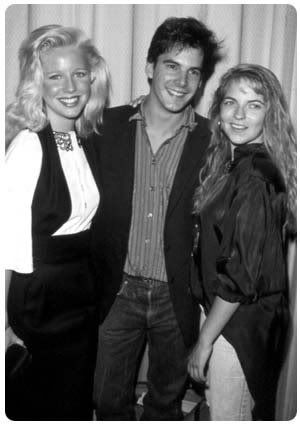 WIth the red hot CBS soap
The Young and the Restless
making waves by bringing back the wildly popular
Thom Bierdz
, some newer or casual Y&R viewers are probably wondering what the significance is of having the actor who played the original adult Phillip Chancellor III back on the canvas. One DC regular
Blackjack21
emailed us with a request for Phillip's backstory. Since I was only a mere, randy thought in my teenage parents minds when they storyline began back in the 70's, I had to break out the trusty
Y&R Anniversary Scrapbook
, as well as pay a visit to online soap opera encyclopedia
Soap Central
to make sure I hit all the high notes.
READ MORE
By Jillian Bowe on April 30, 2009
Happy Thursday people! Some interesting developments are headed to The Young and the Restless.

Sharon: Like we've been saying all along, Sharon is knocked up and doesn't know who her baby daddy is! After she takes a pregnancy test due to feeling the symptoms of being with child, Sharon finds out she's knocked up. At first she's in shock and knows since her life is so screwed up she's in no position to have a baby. The irony of Sharon's situation is that she was judging Phyllis a few years ago when she became knocked up with Summer and didn't know who the father was and now Sharon has taken her place. Sharon heads to the GCAC to contemplate her current situation when she sees an unkempt Jack coming down the stairs and, puts the pieces together and realizes that Jack slept with another woman.The other woman is Mary Jane. In a funk, Sharon tells her mom about her pregnancy and she also has to break down and tell her that its between three men. Sharon's mom Doris has no clue about the trysts with Billy and her mom is not too happy about this revelation. READ MORE