Jerry Douglas
By Luke Kerr on February 05, 2009
Now that Brad has bit the big one I thought I'd post some clips from
Don Diamont's
time on The
Young and the Restless.
We have Brad's infamous speedo clip. There is a clip with
Brenda Dickson's
Jill Abbott. I've included his kiss with Sharon (
Sharon Case
). For all those
Heather Tom
die hard fans among us I have a clip of him with her Victoria. There is also a clip with Brad opposite John Abbott (
Jerry Douglas
). Enjoy.
READ MORE
By Luke Kerr on November 10, 2008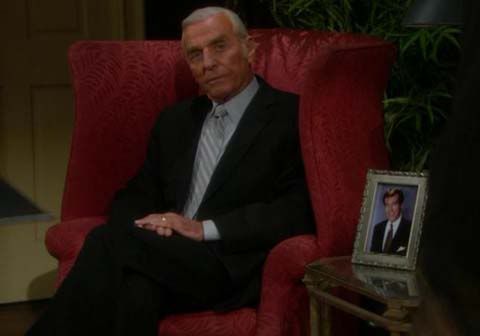 Ever wish that you could be the voice of John Abbott (
Jerry Douglas
)? Take your best shot in this Caption This.
By Jillian Bowe on September 26, 2008
Its about to get really juicy!
By Jillian Bowe on September 04, 2008
It looks like the guest list for the Abbott Family Reunion appears to be growing on
The Young and the Restless,
as
Jerry Douglas
will be back onscreen Sept. 11. No word yet on if Douglas will portray the ghost of Abbott patriarch John or John's lookalike Alistair. As previously reported, ex-
All My Children
star
Billy Miller
has been cast as the youngest Abbott son Billy,
Beth Maitland
has been tapped to reappear as novelist daughter Traci and
Eileen Davidson
is returning as Ashley.
Last week Soap Opera Digest reported Davidson, whose character has been on Y&R's sister soap The Bold and the Beautiful, would be returning to Genoa City for good however, Digest's sister publication Soap Opera Weekly is now reporting Davidson will only be back in a recurring capacity. Both magazines confirm Davidson will be part of the upcoming Paris location shoot this October.
By Jillian Bowe on August 04, 2008
TV Guide is reporting that
Billy Miller
(ex-Richie;
AMC
) has been cast as John and Jill Abbott's son Billy on
The Young and the Restless
. The former
All My Children,
star was let go from last month from the ABC soap.
Last seen in Genoa City, the youngest Abbott heir was at his father's funeral shortly before moving to Hong Kong with big sis Ashley and his niece Abby who have both since relocated to Los Angeles.
No word on the actor's first airdate.
By Jamey Giddens on April 01, 2008
Okay, here's definitely hoping the awful rumor that All My Children is planning to sacrifice the wonderful Jill Larson and her wackilicious character Opal at the altar of May Sweeps is NOT I repeat NOT true, but if it is and TPTB at ABC are wanting to mimic a General Hospital-style Vets-for-Ratings Sweeps Stunt, why not kill off the long missing Ruth Martin?
The original Ruth, Mary Fickett retired what, a decade ago? Maybe more, and the replacement hasn't been seen in months. Why not kill off Ruth and use it as the storyline that brings Jake back to Pine Valley? AMC could also bring back popular characters like Phil, Tara, Charlie, Kelsey and Brooke for a memorial service complete with rich flashbacks and powerful scenes for Joe, Tad and the rest of the clan.
It boggles my mind that soaps these days will kill of characters played by actors who aren't yet ready to retire i.e. Stuart Damon (Alan, GH), Frank Parker (Shawn, Days) and Jerry Douglas (John, Y&R), instead of writing dramatic endings to the stories of legacy characters played by actors who have chosen of their own free will to retire.

It would have made so much more sense for Days of Our Lives to kill off Mickey Horton rather than Shawn Brady. The orignal Mickey, John Clarke has retired from show business and has made it clear that he has no plans of ever returning to Days. The show could have received just as much dramatic punch out of Mickey's death, possibly more and it could have led to a great new storyline for his leading lady Maggie (Suzanne Rogers). But instead of going that route they decided to kill off Shawn Brady, played by Frank Parker, who was still happily serving chowder at The Brady Pub after almost 30 years.
Now we have a recast Mickey coming on board in the form of Knots Landing vet Kevin Dobson, whom I love, but from the spoilers I've been reading this is all to give EJ the Rapist a storyline where he goes to work for Mickey as a lawyer. If it's one thing I hate more than a vet being put out to pasture, it's one being used to pimp a newbie character that's being forced down fans' throats. Note to writers: When you have a legacy role that has been vacant for years and you are looking to kill off a character for dramatic emphasis, go with the ones who have already left the building!