Jess Walton
By Jamey Giddens on June 11, 2010
The Young and the Restless
is serving up a nice, heaping, helping serving of Snapper
(David Haselhoff
) at a Foster Family Reunion next week. As previously reported one of Genoa City's first superhunks returns for a sad occasion.
SPOILER ALERT
: Ma Foster is not long for this world, bless her heart. Will she tell poor, Lil' Orphan Jill (
Jess Walton
) who she got her eyebrows and the shape of her toes from before she goes to the Great Roast Beef Sale in the Sky? Check out the preview after the jump!
READ MORE
By Jillian Bowe on April 19, 2010

David Hasselhoff is making his way back to Genoa City. According to Entertainment Weekly, the actor will reprise the role of Willian "Snapper" Foster, younger brother of Jill (Jess Walton) for a storyline that will appear onscreen in June. Says Hasselhoff,
In 1976, Bill Bell, creator of America's No. 1 soap opera, took a chance on a young and very green actor," Hasselhoff said in a statement given exclusively to EW.com. "Playing Snapper in 850 shows during the six years I appeared molded my craft, my attitude and my work ethic. Being asked to come back to appear in several episodes gives me a chance to say thanks, as I have an amazing amount of respect and heartfelt emotion for Bill, his family and my time on Young and the Restless. I just hope I can remember all those lines.
Along with Hasselhoff, Wings Hauser will also return to The Young and the Restless as big brother Greg Foster. READ MORE
By Jillian Bowe on January 26, 2010
MICHAEL: So we can safely assume that the conflict and confrontations between Katherine Chancellor and her son, Tucker, will continue? He is out for revenge on his mother!

STEPHEN: Yes, he is out for revenge on his mother. I mean any kid that was put in an orphanage at birth, and whose mother put him there and never looked back, would feel resentful of that. So yeah, I am going to get her.
By Brian Peel on October 15, 2009
Whether you are a crazy woman on the loose firing 3 bullets into the heart of a Genoa City villain, a woman admitted to a loony bin and giving birth to a child at the same time, or an Abbott family member on life support,
The Young and the Restless
has had it all over the last month. Ratings might not be proving favorable for Y&R, but the writing quality, and the acting, is outstanding. If you had to ask me who I thought deserved the chocolates, I'd have two words -
Beth Maitland
portraying Traci Abbott.
READ MORE
By Luke Kerr on August 26, 2009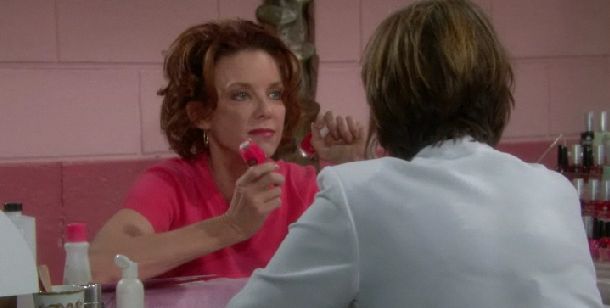 It was only a matter of time before Gloria discovered Jill's little nail salon secret on
The Young and the Restless
. Watch Gloria gloat over Jill after the jump
By Jillian Bowe on July 15, 2009
Take a quick peek at Phillip IV, aka Chance (
John Driscoll
) onscreen debut.