Jesse Lee Soffer
By Mark on October 07, 2008
Check out this clip from last night's
CSI: Miami
featuring
Jesse Lee Soffer
(Will Munson).
Jesse isn't the only former As the World Turns star on CSI: Miami this season. On October 13th you will be able to see Mark Collier (Mike Kasnoff #2) on the show. Mark wrote a message about his experience working on CSI: Miami on his official website www.markcolliersite.com:

I had a great time working on CSI: Miami. When I got there one of the actors told me what a good experience I was about to have working on the show. That statement turned out to be 100% accurate! I enjoyed everyone I worked with both actors and crew a like; their professionalism, talent and willingness to embrace my work made my time there truly exceptional! I hope you will all tune in. Enjoy the episode!
By Luke Kerr on April 30, 2008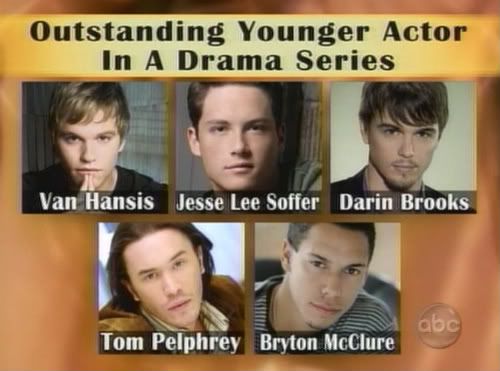 Congrats to the Oustanding Younger Actor Nominees Van Hansis, Jesse Lee Soffer, Darin Brooks, Tom Pelphrey and Bryton McClure! May the best man win.
Now that we finally have our five nominees for the Younger Actor category lets discuss who didn't make it. This category sort of played out as I expected it with the exception of Darin Brooks and that like all the other Days of Our Lives nominations has nothing to do with Days of Our Lives' talent as much as the fact I didn't expect anyone from the show to get nominations. So much for me being able to predict nominations.
Looking at the Pre-Nominations list below and comparing it to the nominees above is there anyone who you feel is missing from this list or who should be on it instead of someone else?
Outstanding Younger Actor Pre-Nominees
ATWT: Van Hansis, Jake Siberman, and Jesse Lee Sofer
DAYS: Blake Berris, Darin Brooks, and Matthew Florida
GH: Dylan Cash and Josh Duhon
GL: Lawrence Saint-Victor, Tom Pelphrey, and John Driscoll
OLTL: Brandon Buddy, Edward Alderson, and Jason Tam
Passions: Adrian Bellani and Blair Redford
Y&R: Hunter Allen and Bryton McClure
Be sure to tune in for our Daytime Emmy Nominations podcast episode with should air on Thursday or Friday.
By Luke Kerr on March 25, 2008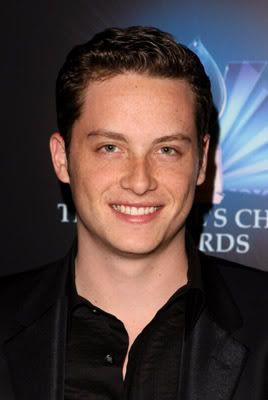 Growing up as a child did your mother or father tell you to be careful what you wish for because you may just get it? Well I think it's safe to say that is the growing sentiment of many General Hospital fans as the "Shocking Dylan Cash Online Rumors" we reported over the weekend continue to gain steam as more and more details come out.
How does this play into be careful what you wish for, you may be asking? Well only a few short weeks ago, fans across the internet and even some of us General Hospital fans here at Daytime Confidential (no names mentioned) were bemoaning the fact that February's sweeps were the most boring thing since, well, uh, er, um, er, the last giant explosion, catastrophe, virus outbreak, train crash, burning hotel, Guza inspired ratings booster.
As Tina pointed out to me, "Why does Michael need to be in another gun storyline so soon? The kid just shot someone by accident and now he gets shot?" How many "life lessons" do Carly, Sonny, and Jason really need to finally wake up and smell the imported coffee beans that they do in fact lead dangerous lives? A lifestyle that puts everyone around them in real danger and that they aren't going to be able to control things forever?
If these rumors of Michael being shot are true, supposedly this is all going to go down at the grand reopening of the Haunted Star as part of May Sweeps, which leads to a few additional questions. Why is a minor at a casino? If this is all some giant scheme to get Dylan Cash off screen (another big rumor) wouldn't it make more sense to punish him for shooting Kate and send him off to boarding or military school? Or why couldn't he just disappear like Lucas? Why does yet another Quartermaine heir have to bite the dust?
Speaking for myself, I've always hoped that we'd get to see Michael end back up at the Quartermaine mansion. If they kill off Michael what is the chance we'll ever see that day?
Oh, and if TPTB have mind to SORAS and recast the role might I suggest hugely talented Jesse Soffer (leaving As the World Turns in early April) as a "teen/young adult" Michael? He has that acting chops and the preppy look that Michael could have if he were to return to the Quartermaine fold but he is also greatly talented and as As the World Turns' fans know could do some of the darker stuff that being the son of a mobster might require.

By Daytime Confidential on March 25, 2008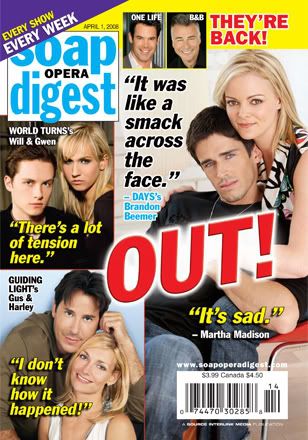 This might as well be the "So long, farewell, auf Wiedersehen, Goodbye!" edition of Soap Opera Digest. Granted they do have Tuc Watkins return on the cover but look at who has the major page space Brandon Beemer, Martha Madison, Jesse Soffer, Jennifer Landon, Ricky Paull Golden and Beth Ehlers. Ouch. Let's hope that next week's cover isn't so darn depressing.
By Daytime Confidential on February 04, 2008
On today's show Luke, Foxy, and Jay discuss Bill, Lizzie and Jonathon on Guiding Light. Jesse Soffer and Jennifer Landon leaving As the World Turns and what this means for the character of Barbara Ryan. Where Lauren Koslow could go if she were to leave Days of Our Lives. Jared Banks on One Life to Live and Taylor on Bold and Beautiful.
Listen to Daytime Confidential by clicking on the Daytime Confidential Player at the top of the page or Download us for FREE via iTunes. Vote for us on Podcast Alley. Add us as a Friend on MySpace. Drop by our sister site TV Fan Online and visit with other soap fans in the TV Fan Online Forums.
By Luke Kerr on February 04, 2008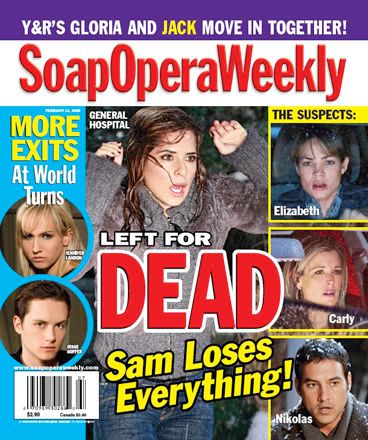 Well its time to take a look at this week's magazine covers. I'll probably end up regretting saying this but the moment I saw the cover of Soap Opera Weekly I inadvertently started humming "Grandma got ran over by a reindeer" except it was more along the lines of "Sam got ran over by 4x4". I know, I know, such fantasies are futile but I'm just being honest.
Moving on to more somber topics. 2007 may not have been Jesse Soffer or Jennifer Landon's most stellar year in terms of storylines but they will be missed if they do leave As the World Turns.
Of course I can just imagine how many emergency rooms filled up when Young and Restless fans had coronaries from the thought of Gloria moving back into the Abbot mansion. Let's hope that they and she has medical insurance because for some reason I have a feeling she's going to be in for a bumpy ride (no puns intended) living with Jack.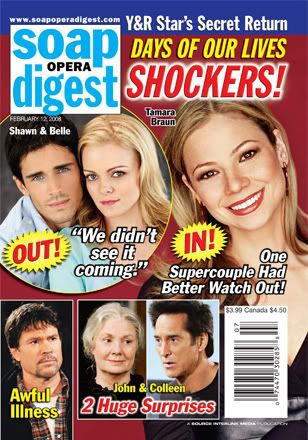 Soap Opera Digest may quite possibly have the understatement of the year on their cover in the form of the quote from Martha Madison and Brandon Beemer. "We didn't see it coming." No shitaki mushrooms Sherlock. No one saw that coming. In fact I'm not sure that anyone could have predicted last November when Martha Madison put in her best work to date that she'd be fired the following January. Days of Our Lives is getting an ugly reputation for renewing actor contracts and then firing those same actors a short time later.
So what is everyone thinking of Shirley Jones so far? Personally, I'm impressed but John's fingering the knife in every other scene is a bit much if you ask me.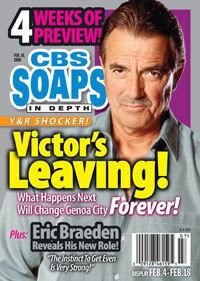 "Victor's Leaving!" Sure he is. Probably because Eric Braden is going on vacation or has a side role in the works. Not really so shocking when you think of it that way is it? Personally, I'd be more interested to see a cover with Jeane Cooper on it to help clear up these rumors about whether or not Katherine Chancellor is going to be killed off we're hearing. Now that would be a headline.