John J. York
By Jillian Bowe on June 27, 2012
BEST - Anderson Cooper: The Silver Fox was definitely ready for a night on the town. Cooper could have literally gone from interviewing heads of states, right to the red carpet with this look. READ MORE
By Jamey Giddens on March 03, 2012
It looks like we can finally start planning Felicia Jones Scorpio's (
Kristina Wagner
) welcome home party! After weeks of rumors (and one fake Facebook post), veteran soap journo
Carolyn Hinsey
is
now confirming
General Hospital
is set to bring half of one of the soap's most popular 80's supercouple's back to Port Charles. Tweeted Hinsey:
Hey GH fans! They're clearing the decks for Kristina Wagner. Sssshhh... you heard it here first. #soapsstillmatter
By Regan Cellura on September 23, 2009
Some quick hits on what's coming up on GH. Here's the Scoop! 09.23.09
More Mac? I always love it when John J. York gets a little more screen time. Of course with the Spixie almost nuptials he'll be on and it looks like Maxie's dad finally accepts Spinelli. He's even impressed with the mob employee for realizing marriage isn't the only answer for him and Maxie. But will Mac get a little storyline all of his own? It COULD be some very wishful thinking on the fan's part but there are RUMORS that Mac helps Alexis get her job back as the DA and that this MAY lead to a possible romance for the pair.
I'm still not a fan of Nikolas and Elizabeth. I'm not sure why, it just doesn't seem to work for me but there is more coming. Will they get caught? Elizabeth doesn't want to hurt Lucky again and despite feeling he can finally move on, Nikolas knows Elizabeth is the one girl he can't have. READ MORE
By Regan Cellura on February 20, 2009
On February 24th,
General Hospital
is revisiting one of its most memorable and literally heart breaking storylines ever penned. Maxie's dream will ask the question how life in Port Charles would have turned out if it had been Maxie Jones (then portrayed by
Robyn Richards
) who died that fateful day rather than her cousin Barbara Jean (BJ). Above is a clip of that great storyline that got Frisco's (
Jack Wagner
) butt back in PC at his daughter's side. More clips after the jump.
READ MORE
By Regan Cellura on February 11, 2009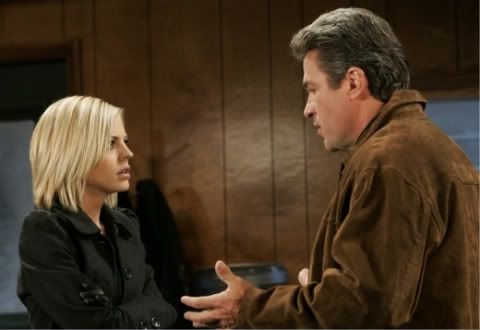 Here's the Scoop! 02.11.09
Another dream episode? This time it's Maxie in the starring role. What if BJ never died? What if Maxie was the one who died back in 1994? How would Maxie's death all those years ago affect the residents of Port Charles if BJ hadn't been in that accident giving her heart to a failing Maxie? Kirsten Storms becomes BJ for the special dream episode. Will Bobbie make an appearance? Good news for Spixie fans, this special episode is said to be "very Spixie heavy." Mac will make an appearance as an alcoholic, Patrick and Carly are married and having affairs, Robin has pledged a love-less life after Stone's death, and Frons is finally getting his Storms - Jason Cook reunion. BJ is a medical student engaged to Dr. Hunter. Maxie wakes up from her dream and wants to be a better person, realizing she's lucky to be alive. A. Bobbie better be involved B. I can't wait to see John J. York flex his acting chops and C. Great concept but in the end is this more lazy writing? Haven't we seen (countless times) Maxie's health in dire straits and her realization that she has to do more with the gift BJ gave her? READ MORE
By Regan Cellura on December 18, 2008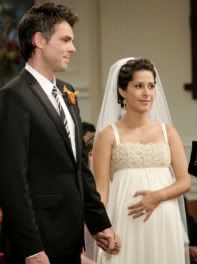 Here's the Scoop! 12.18.08
Robin and Patrick's Wedding... Mac tells Robert this is his moment to walk Robin down the aisle. So we'll get to see John J. York and Tristan Rogers in a brotherly scene. Epiphany, Kelly, Lainey, The Q's, Mac, Robert and Anna will all be there. Matt and Maxie will stand up for the Bride and Groom (although one source says Anna is asked to be Matron of Honor). Patrick makes it there on time although Maxie is stressed about Patrick taking his time to get ready.
Is the Post Partum storyline over? Not sure as it seems it MAY go into the New Year. Patrick and Robin have work, married life and baby to balance. There is also that little hospital tragedy coming.
Calling out Carly? Is that how Sonny sees his son for Chritmas? Carly never ended her friendship with Jason but she keeps Morgan away from Sonny. Will Sonny point that out to his hypocritical ex? We thought this MAY be a one time deal for Sonny and Morgan but some are SUGGESTING that Sonny will get more access to his son. Sonny and Carly are still SPOILED to be running into each other when they go visit Michael and the former spouses MAY be working out a plan for future visits for Sonny and Morgan. READ MORE