Jon Hensley
By Luke Kerr on August 25, 2008
I submit to you, oh soap fans, that no one and I mean no one, looks better in a white gown than As the World Turns' Maura West. Seriously. West looks amazing in almost anything, but white seems to be her color.
In other Carly Snyder news, take a Caption This shot at this picture of Jon Hensley's Holden seeing Carly in the afore mentioned white gown.
If you ask me Holden's thinking, "I'm going to eat you alive." That or something like "I'm just going to throw in the towel now. Do with me what you will."
By Mike Jubinville on July 22, 2008
Today's best quote came from the weary Emma Snyder. She returned from a long absence to find out that Holden's marriage is in shambles, Meg was shot (sorry Luke, she lived) and she married Paul.
Holden: "You need to try and relax."
Emma: "You know today what I think I need is a whoooole new set of children!"
Truer words were never spoken.
By Jamey Giddens on July 19, 2008
It's official,
As The World Turns
is BACK! I just caught up on last week's episodes and to borrrow from the
Gossip Girl
viral media campaign, OMFG. It is been so long since I've been glued to my seat by a rich, complex, character-driven helping of heaping good daytime drama.
Carly and Holden: An Affair to Remember
The explosive climax (te he he) of Carly and Holden's affair spun off several believable story threads featuring characters we know and love like Brad and Katie, Jack and Janet, Luke, Noah, Parker and Janet. Who knew soaps still knew how to do umbrella stories that don't involve serial killers, explosions or memories on a disk?
Giving props where props are due
There are so many people to give kudos to for these amazing episodes that it's hard to know where to begin. Maura West is arguably the best actress on her network as she continues to prove day in and day out. READ MORE
By Luke Kerr on July 08, 2008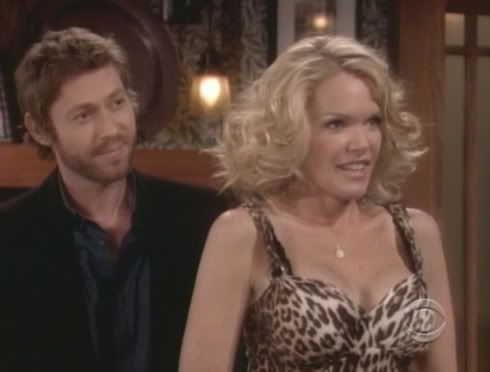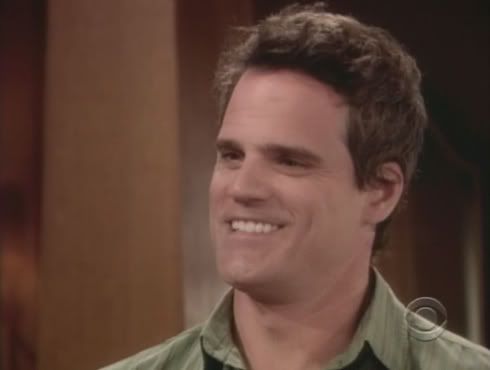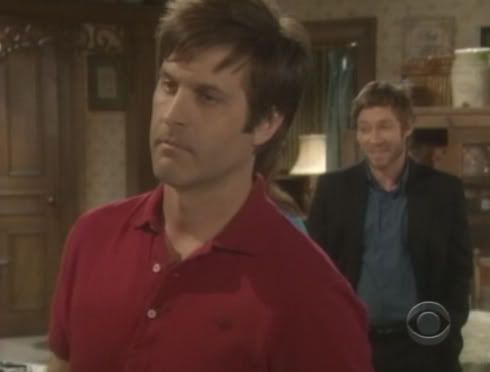 Who knew that stoking the Snyder family fires could be so entertaining? Seriously, just when I thought the Jack/Carly/Holden triangle would prove explosive, all of a sudden As the World Turns decides to fan the flames of this potentially dangerous storyline by throwing fuel on the fire and adding a third man to the mix, Neal Stokes (Michael E. Rodgers).
Neal is decisive and knows exactly what he wants, Carly. It's obvious he wouldn't mind "stoking" her fire all night long and maybe even all day, given the opportunity. Unlike the beer swilling, chest thumping Snyder boys he is unregrettably honest which has Jack trying to mark his former home and wife like a territorial tiger and Holden bristling like a puffer fish in panic. READ MORE
By Luke Kerr on April 30, 2008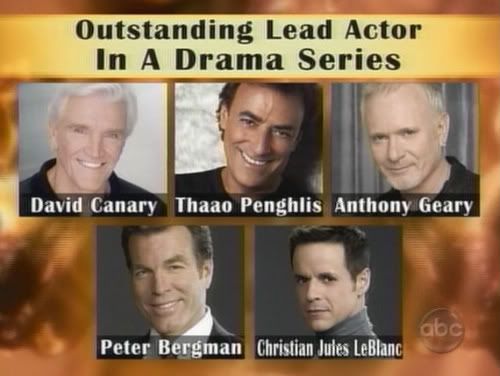 Congrats to David Canary, Thaao Penghlis, Anthony Geary, Peter Bergman and Chistian Jules LeBlanc. May the best actor out of this talented category win.
I'm not sure if there's to much to say about these nominees other than how great it is for Days of Our Lives to have a lead actor nomination for Thaao Penghlis. I am a bit surprised that As the World Turns' Michael Park didn't receive a nomination this year. He's had some great work. Many had said that this was As the World Turns' Jon Hensley's best year in years so it wouldn't have surprised me if he got a nomination. Unfortunately for him he didn't.
What is there to say about General Hospital's Tyler Christopher. He had the best work of his career last year and after having spent years in the Supporting Actor category it is understandable that he would want to try and break into the Lead Actor category with his best work. Unfortunately for Christopher breaking into the Lead Actor category isn't easy. The last actor to successfully make the transition from Supporting Actor to Lead Actor was the Young & Restless' Christian LeBlanc who won his first Lead Actor award in 2005 and then again last year. LeBlanc is nominated this year.
After the death of Asa on One Life to Live I fully expected Robert S. Woods to get a nomination. His scenes with that cowboy hat in the barn were heart wrenching and should have made him a shoe in for a nomination.
Looking at the prenominations list below and comparing it to the nominees above is there anyone who you feel is missing from this list or who should be on it instead of someone else?
Outstanding Lead Actor Pre-Nominees
AMC: David Canary, Thorsten Kaye, and Michael E. Knight
ATWT: Scott Bryce , Jon Hensley , and Michael Park
B&B: John McCook, Ronn Moss, and Jack Wagner
DAYS; Stephen Nichols, James Scott , Thaao Penghlis, and Peter Reckell
GH: Steve Burton, Tyler Christopher,and Anthony Geary
GL: Ricky Paull Goldin, Robert Newman, and Ron Raines
OLTL: Michael Easton, Robert S. Woods, and Jerry verDorn
Y&R: Peter Bergman, Eric Braeden, and Christian LeBlanc
By Jamey Giddens on March 16, 2008
Exiting As The World Turns actress Martha Byrne (soon-to-be ex-Lily) revealed it was her asking that she work the same guaranteed amount of days this year as she had last year that brought her contract negotiations with the Proctor and Gamble soap to an impasse. Byrne, whose last day at ATWT was this past Friday, March 14, answered her fans questions during a live chat on her website. The following is an excerpt from the chat transcript where Byrne discusses what happened, how her last day on set went, what she thinks of Cowboy Jack and how she feels about how women are portrayed on daytime:
Chat Question: Martha hello! I will miss you and I hope to see you elsewhere. You will be missed; I have watched you since you started on the show!
Martha Byrne: Thank you so much. The hardest part of all of this is saying goodbye to the most amazing fans in the world!
CQ: Hello, Martha! How are you & your guys? Is there anything we can do to keep from losing you at World Turns?
MB: Any letters should go to P&G...
CQ: Are you really okay with this break from ATWT?
MB: No.
CQ: Are you getting any feelers from other daytime shows? If yes, are you interested?
MB: I'm open to anything!
CQ: Did you really quit because of a lack of storyline control?
MB: NO.
CQ: Hi Martha! What was your last day on the ATWT set like?
MB: Very sad. Ellen Dolan brought in bagpipes from the NYPD when my scenes were finished and Vivian Gundaker gave a beautiful speech and I cried a lot.
CQ: There is a bit of inconsistency in the press. ATWT/P&G are saying you got a "generous offer" which you refused. You're press release says you offered to continue at a cut rate of pay, but when negotiations stalled and a recast was ordered, you quit negotiations. True?
MB: I know there have been a lot of inconsistencies in the press. I did not quit negotiations. I made a request to work at least the same number of shows that I was in last year and was told no - that day is when the recast call went out.
CQ: What was your favorite scene or memory?
MB: Anything in the Snyder kitchen or with Elizabeth Hubbard.
CQ: There have been a lot of rumors about what happened between you and the producers. Can you share now what caused the breakdown in negotiation? Also, best of luck in whatever you decide to do.
MB: I did not want storyline approval-No one gets that. I had already taken a substantial pay reduction last year. The only thing I wanted was to work at least the same amount of episodes this year as last year. This was denied and that is when I heard about my recast.
CQ: Lily's last scenes are with whom? I hope she at least gets to say goodbye to Lucinda and her kids.
MB: My last scenes were with Jon, Michael, and Maura. Michael Park was my hanky when the scenes were done.
CQ: Is CBS lobbying with P&G on your behalf? I'm sensing disagreements between P&G and CBS on several issues.
MB: P&G owns ATWT. They are the final say regarding actors contracts. CBS is involved on many levels, but they don't deal with the actors contracts.
CQ: Do you know when your last day is supposed to be?
MB: I taped my final scenes this past Friday and it will air the end of April.
CQ: One of favorite storyline was when Luke came out. How did you feel about playing that?
MB: I thought it was well written and very honest.
CQ: Are "the powers that be" even listening to the fans anymore? Dusty, Craig, and now this?
MB: I truly believe that the fans voice is the most important. Without the fans daytime wouldn't exist. I am a fan myself and I understand your frustrations. You should know that every person behind the scenes appreciates your voice.
CQ: I'm sure you're happy to move out of the Snyder farm hotel. WAAAY too many people living there. LOL
MB: I agree. LOL
CQ: I know it has to be insulting they are recasting so quickly, any thoughts on a new Lily?
MB: I only wish whoever it is the best of luck. She will be working with an incredible group of people.
CQ: What is your favorite storyline on ATWT right now?
MB: Cowboy Jack...just kidding-LOL
CQ: I am glad to hear that, some were calling you a diva but I defended you and said to wait and hear what MB has to say about things!
MB: Thank you. I'm sitting in my sweat pants with pizza sauce on my shirt after giving my kids dinner...I'm no diva! LOL
MB: According to your press release, when the recast call went out, you withdrew from negotiations. But that seems a normal course the show would take under these circumstances. Why not stick out negotiations and see where they went?
MB: I can't tell you all the details, but after the call went out things went from bad to worse...
CQ: Industry-wide (not just ATWT specific) what are your thoughts on the genre of soaps and their future?
MB: I think soaps DESERVE a future. How to go about that has been debated often. My feeling is with good story and great actors you will find success.
CQ: Any thoughts on if the portrayal of women on soaps has gotten better or worse?
MB: I have always felt that daytime is a female medium. It upsets me when women are portrayed in a negative fashion. We have a great opportunity on daytime to tell stories about strong women and the men who love them...those are the kind of stories we should be telling.
CQ: Would you work for CBS again--or go to another network?
MB: I've worked for CBS since I was eleven years old and would work for them anytime!