Jon Hensley
By Jamey Giddens on March 06, 2008
Recasting a beloved soap character is never easy. Especially when much of the show's current story and rich history revolves around the character in question. That being said, when a soap faces the dilemma of having to replace a wildly popular actress like Martha Byrne (Lily Snyder), the powers that be have to tread very carefully.
Sure daytime is full of examples of successful recasts. Peter Bergman took over for the legendary Terry Lester on Y&R and made the role of Jack Abbott his own. Ditto Bergman's co-star Jess Walton who made fans ask "Brenda who?" when she inherited the role of man-eater Jill Foster Abbott from Brenda Dickson. But for every Trevor St. John (who successfully replaced Roger Howarth as Todd on OLTL) there's a Christina Chambers (the recent painful-to-behold incarnation of Susan Haskell's signature role Marty Saybrooke also on OLTL). So if ATWT does decide to temp fate and recast Lily, here are a few prospective actresses I'd like them to give a look-see:
READ MORE
By Lisa K. on January 29, 2008
Wow! Talk about a LOT of online speculation and backstage buzz about two big As The World Turns actors and the status of the show itself! First off are RUMORS making its way around the net about Jon Hensley who plays Holden Snider...
So far this is what has been posted online:

"According to setsiders, Jon Hensley (Holden) will most likely leave when his contract is up later this year. Although Hensley was encouraged when TPTB came to him with the Holden/Bonnie story, that story's fate was sealed with the writers' strike, as the replacement HW Chris Goutman is scrambling to return to "familiar" stories for fear of ratings decreases. One of those "familiar" stories, of course, is Holden and Lily. Of course, Goutman and his staff are also feeling tension because of the rumor of ATWT being pulled from the airwaves this year. Hensley, on the other hand, is apparently looking at several other career avenues, including television writing. Hensley was studying at New York University for a couple of years during his previous run on ATWT in the 1990s, where he took creative writing courses."
This whole story with Holden & Lily seems rushed into and not all that interesting unfortunately. Holden & Bonnie really haven't had that connection on screen as a pairing and haven't had the proper time to develop any real chemistry. Their timing has been off and because of that they have failed before they even got the chance to really start something...all thanks to Lily's overdose and the writer's lack of judgement!
Next comes more RUMORS about Hunt Block (ex-Craig Montgomery) who is currently working on
One Life To Live
as Ramsey. This is what is being mentioned by online sources:

"Hunt Block has been let go at OLTL supposedly and speculation is that Goutman might try to hire him back because of the huge "Bring Craig Back" uproar"
Now ever since ATWT fired the original portayer of Craig Montgomery, Scott Bryce, rumors have circulated that perhaps the show fired him in the first place in order to get Hunt Block back. I myself much prefered Block's version of Craig a lot more than Bryce's version especially when he was paired up with Rosanna. However Bryce's version of Craig was starting to grow on me with this baby story involving Meg & Paul until its crappy ending. It will be interesting to see if indeed Hunt Block will return to the role of Craig Montgomery especially since his departure from the show was filled with sour grapes!
As for the rumor the show will be pulled from the airwaves and cancelled....well lets just say that CBS would more likely kill off Guiding Light than As The World Turns at this point just based on ratings alone! Please note this is all speculation however you can't help but wonder that perhaps some BIG changes are happening behind the scenes at As The World Turns!

By Lisa on January 02, 2008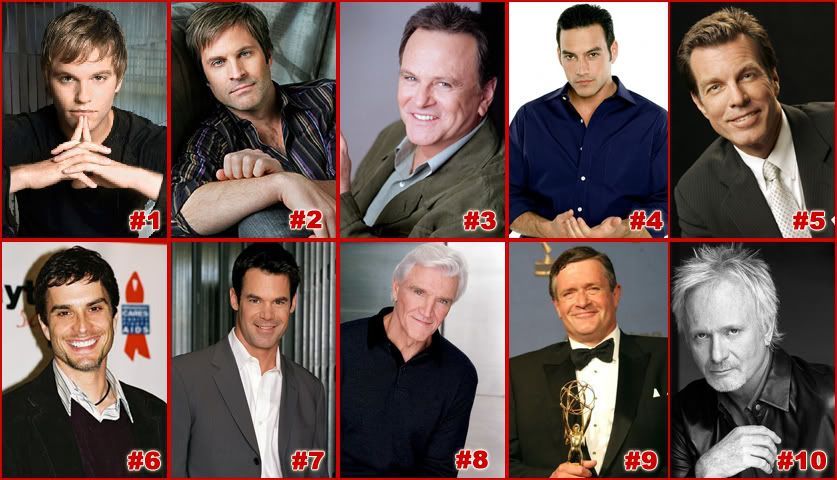 Top 10 Actors
1. Van Hansis
2. Jon Hensley
3. Robert S. Woods
4. Tyler Christopher
5. Peter Bergman
6. Rick Hearst
7. Tuc Watkins
8 David Canary
9. Jordon Clarke
10. Anthony Geary
Van Hansis, ATWT (Luke Snyder)- what do you say about his amazing young man? He can do it all- anger, vulnerability, weeping, physical pain and love. Why can't all the soaps have ATWT's cast director?
Jon Hensley, ATWT (Holden Snyder) – Yes, I know- 2 ATWT actors topping the list. Sue me.
Going back to the beginning of the year, his performance as a man who felt abandoned and felt guilty about it during his wife's coma was outstanding. He is a staunch supporter of his gay son and can switch from angry to vulnerable on a dime. Watch for Hensley at Emmy time.

Robert S. Woods, OLTL (Bo Buchanan) - was there a better single performance this year than Bo grieving his father in the family barn? I don't think so.
Tyler Christopher, GH (Nikolas Cassadine)- if anyone can tell me that they didn't feel every bit of Nik's grief when Emily died, I will eat this laptop. Excellent Emmy reel for the talented Mr. Christopher.
Peter Bergman, Y&R (Jack Abbott) - He's consistently awesome.
Rick Hearst, GH (Ric Lansing) - see #5.
Tuc Watkins, OLTL (David Vickers) - Get this man on contract. NOW.
David Canary, AMC (Adam and Stuart Chandler)- much like Alicia Minshew, poor David was given so many horrible scenarios to play this year and still infused Adam and Stuart with lvitality, vulnerability and bite.
Jordan Clarke, GL (Billy Lewis) - watching his tearing grief at Reva's bedside to his continuing struggle against alcoholism, Billy is always fascinating because Jordan always hits the right notes.
Anthony Geary, GH (Luke Spencer)- Because he's Anthony Freaking Geary. Enough said. No? How about he shines with Kin Shiner and Jane Elliott? No? He can do it all and when he's gone you want him back? Yes, that's it.