Jon Prescott
By Daytime Confidential on March 03, 2010
All My Children's Shannon Kane glammed up the red carpet at the premiere of her new movie Brooklyn's Finest at the AMC Lincoln Square Theater in NYC on Tuesday. The film, in which she stars opposite Richard Gere, Ethan Hawke, Don Cheadle and Wesley Snipes, tells the story of three unconnected Brooklyn cops who "wind up at the same deadly location after enduring vastly different career paths." The premiere brought out current and former daytime stars Sherri Shepherd, Star Jones, Tobias Truvillion and Jon Prescott. See more Brooklyn's Finest premiere photos after the jump.
Brooklyn's Finest hits theaters March 5.
By Jamey Giddens on May 21, 2009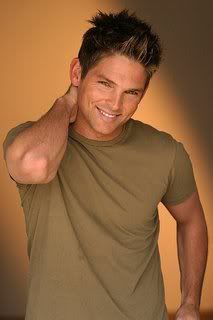 No need to let one actor's reported
homophobia
on the set of
The Young and the Restless
stop the show. Since TPTB are said to be planning to recast the role of Adam Newman after
Chris Engen
allegedly
bolted rather than kiss
Yani Gellman
(Rafe), I figured I would attempt to help the busy execs out.
I would love to see Port Charles alum
Brian Presley
(ex-Jack) make a return to daytime— especially if he brought his wife
Erin Hershey Presley
(ex-Alison, PC) with him—Presley possesses that perfect mixture of marvel and menace that would serve him well as a character like Adam. Meanwhile, Hershey Presley could step into the strappy sandals of Walnut Grove Academy's ultimate mean girl Brittany Hodges!
READ MORE
By Jamey Giddens on November 23, 2008
It appears Soap Opera Mafia Don/
Days of Our Lives
executive producer
Ken Corday
had three name actors lined up to replace
Jay Kenneth Johnson
as Philip Kiriakis had Corday's strong arm tactics to scare the actor not worked. Reliable sources reveal
Dylan Bruce
(ex-Chris, ATWT),
Jon Prescott
(ex-Mike, ATWT) and
Josh Duhon
(ex-Logan, GH) all tested for the role of Philip Kiriakis. However, Johnson did indeed sign a new contract.
"They had to have already had these actors lined up," says the source. "No work is done in Hollywood on the weekend, so the Days execs must have already had them ready just in case." READ MORE
By J Bernard Jones on September 26, 2008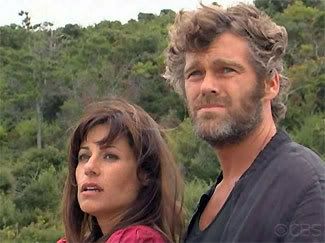 It is absolutely wonderful to see Grayson McCouch back as Dusty Donovan! Oddly enough, he looks much younger than when he left World Turns. And maybe my eyes are playing tricks on me but with that mop top of curly hair Grayson looks like a slightly older version of his character Morgan Winthrop on the late Another World.
However as much as I've been enjoying the return of James Stenbeck, there is a problematic element with how Dusty's return has folded into the larger narrative. READ MORE
By Jamey Giddens on April 21, 2008
Anyone looking for a really good romantic comedy to tide them over until Sex and the City: The Movie premieres on May 30 need look no further than As The World Turns. The Proctor and Gamble soap was firing on all cylinders this past week as Katie Peretti (Terri Colombino) prepared to walk down the aisle for a fifth time. This time the lucky guy was Brad Snyder (Austin Peck), brother to Katie's most recent ex-hubby Jack (Michael Park), who served as best man for the ceremony. The return to town of yet another former groom Mike Kasnoff (Jon Prescott) only complicated matters more for Katie who had to try and convince Brad, Margo, Lisa and most importantly herself that Brad really is "the one".
Lisa my dear, even with a shaky camera you look mah-ve-lous!

How great was it to see the legendary Eileen Fulton (Lisa Grimaldi), daytime's first vixen, doing what she does best, scheme her little Southern fried heart out? And doesn't Eileen look great? Not even that silly, annoying hand held camera crap could ruin the hilarious scenes with Lisa luring Mike to Fashions under the guise of a termite inspection, while all the while orchestrating his run in with Katie. Brad of course was having none of that when he arrived just in time to keep his lady love from wavering, or so he thought. Later a wedding gift from Mike, one of those gaudy, Dollar Store angels you buy for that aunt who comes home for Christmas at the last minute, caused Katie to become all confused and confumbled (word awaiting copyright), which of course led her straight to Snyder Farm to confront her ex.
How do you talk to an angel?

After falling in Emma's pond and telling Mike she was no longer his angel, our plucky heroine was finally ready to marry Brad, on live TV no less. Not even a spat with mother hen/big sis Margo (Ellen Dolan) could keep a determined Katie from taking Brad to be her lawfully wedded goof. Unfortunately the hiccups, make that nerve-ups, could. Luckily Margo had an attack of sisterly conscience and arrived in time to yell "cellulite" ending Katie's dilemma. She was finally ready to go, then she fainted!
After it was all said and done, Katie finally managed to marry her guy, complete with a hilarious sermon from fill-in Minister Henry (also a Katie ex) that basically summed up the ups and downs of making a marriage or a TV series a hit. While all involved added to their Emmy reels last week, it was Terri Colombino who deserved the most kudos. This actress is without a doubt the Reese Witherspoon of daytime and its great to see TPTB at ATWT realize that.
By Luke Kerr on February 22, 2008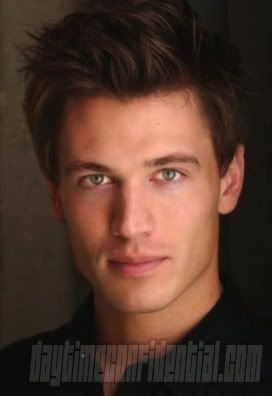 CBS.com
announced that Jon Prescott is joining the cast of As the World Turns as Mike Kasnoff. Apparently Mike returns to Oakdale "with a new business venture and the hopes of reuniting with Katie."
Thanks to Daytime Confidential reader
MarkDutchViewer for the tip!