Joseph Mascolo
By Jillian Bowe on November 16, 2008

For years every single Forrester kid had to compete
with the shining glory of their big brother Ridge. No matter what the rest of Eric's children did, they could never hold a candle to their elder brother.
When it was discovered that Ridge was the biological son of Massimo Marone, Eric continued to fawn over him as if he were The Second Coming, as did Stephanie, Brooke and Taylor. Sure, Eric and Stephanie have always tried to deny their favoritism, but Ridge has never denied his status as The Chosen One. Hell, he's even bragged about it and reveled in his standing as the favorite Forrester spawn. The Dressmaker has always seemed to get a kick out of knowing that he can never do any wrong in the eyes of his parents and the women who obsess over him.
Over the years, it's been Thorne who has had the hardest time dealing with living in Ridge's shadow, but this time it's Rick who has finally had enough of the scraps his parents have thrown his way, while Ridge gets a feast fit for a couture king. Unlike Thorne, who failed in futile efforts, like whining to Eric and Stephanie or going to work for the competition, over his Ridge-based frustrations, Rick has decided go after the one thing Ridge loves more than himself, Forrester Creations. More after the jump! READ MORE
By Brian Peel on November 10, 2008
November 8 marked 43 years of Days of Our Lives on our screens. I know lately we have been less than satisfied at what the show has had to offer, but to celebrate the rich history of the show, I felt the need to take a trip back down memory lane. Soaps have that effect on people. You get carried away to a place filled with fantasy and nostalgia - after all this is where it all began soaps. We hope one day our favourite shows will return to the landmark it once used to be. Big Sigh.
There are so many characters in this clip, too many to mention, but it's actually worth the 9 or so minutes. The scary thing about this, at the halfway mark, you actually begin to think of your age. I know I did anyway - a frightful experience. Ok, so I've just turned 30, but why in God's name can I remember things like Kimberly giving birth to Andrew in a stable just like it was yesterday. See, that's nostalgia for you. READ MORE
By Jamey Giddens on October 14, 2008
Here's a clip from the infamous "Buried Alive" storyline from
Days of Our Lives
. The Reilly-penned tale, featuring
Crystal Chappell
(Olivia,
Guiding Light
) as Dr. Carly Manning,
Robert Kelker-Kelly
as Bo Brady,
Michael Sabatino
(Vince,
Guiding Light
) as Lawrence Alamain,
Erik Von Detten
as a young Nicky Alamain and the incomparable
Louise Sorel
as Vivian Alamain, helped catapult
Days
from Number 7 to Number 2 in the Nielsen Household ratings where it stayed for much of Reilly's first run as head writer of the NBC soap. The storyline saw heroine Carly being buried alive by a psychotic Vivian to prevent Carly from "stealing" Vivian's nephews Lawrence and Nicky away from her. It was also the culmination of the wildly popular Bo/Carly/Lawrence triangle that carried
Days of Our Lives
during the early 90's.
READ MORE
By Jillian Bowe on August 18, 2008
For years, whenever Stefano DiMera would refer to Marlena as his "Queen of the Night" I'd snicker because I thought someone at
Days of Our Lives
or the peacock network were closet Whitney Houston fans. Every time Stefano uttered the phrase I would wait for Whitney to jump out and start singing her smash hit - along with Deidre Hall as a backup dancer.
Even though it's late in the game, I want to give a shout out to Days for the return of Stefano DiMera. The iconic supervillian proves time and time again he knows how to make a grand entrance and that revenge is best served cold...

By Brooke on August 13, 2008
"GOTCHA!"
At least, that's what it looks like Steve is saying to John in this screencap from Tuesday's episode of Days of Our Lives. I can just hear Stefano saying 'I would help you Steve, but I have DiMinions for that."
LOL - what is your first reaction when you see this screencap?
Screencap from Chit Chat Haven.
READ MORE
By Luke Kerr on July 30, 2008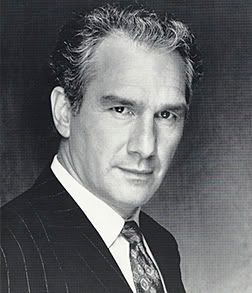 We Love Soaps
is reporting that
Anthony Hererra
is returning to
As the World Turns
as the dastardly
James Stenbeck
. He will first appear on August 27.
Personally, I cannot wait. For me James Stenbeck is right up there with Constance Towers' Helena Cassadine and Joe Mascolo's Stefano DiMera. I never watched any of the Roger Thorpe era so for me these three my favorite daytime villains.
I've posted a classic James Stenbeck and Lucinda Walsh clip below for everyone to enjoy. It really doesn't get much better than watching these two actors together.