Josh Griffith
By Jamey Giddens on June 23, 2009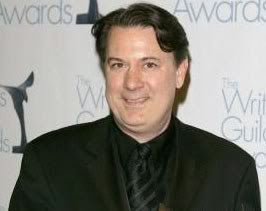 Ah nothing like the taste of old blood!
General Hospital
has added a new scribe to its stable of writers. Word is veteran producer/scribe
Josh Griffith
, who co-created the late
Aaron Spelling'
s short-lived NBC guilty pleasure soap
Sunset Beach
with current GH head writer
Bob Guza
, has been offered a trial script writing deal with the ABC sudser. When we last heard from Griffith, who also wrote for
One Life to Live
,
As The World Turns
and my beloved
Santa Barbara
, he was being bounced from his executive producer gig at
The Young and the Restless
for allegedly
tangling
with
Auntie Ri Ri
(aka
Maria Arena Bell)
. Josh is alright and all I guess, but when is someone gonna hire
Sri Rao
?
By Jillian Bowe on September 11, 2008
The Young and the Restless Head Writer Maria Arena Bell can add another title to her resume. The scribe has been promoted to the role of Co-Executive Producer at CBS's number one daytime drama. This means that a member of the Bell family is once again at the head of The Young and the Restless.
Dual roles is familiar territory for Y&R. Bell's predecessor, Lynn Marie Latham, wielded two hats while working on the sudsers before being given the axe. News of Bell's promotion comes on the heels of former Y&R Executive Producer Josh Griffith being replaced by consultant Paul Rauch.
By Luke Kerr on August 25, 2008
By Jamey Giddens on August 20, 2008

While Soap Opera Digest Online is reporting that Josh Griffith wasn't fired from The Young and the Restless, inside sources are saying the executive is still indeed on his way out.
"Josh quit," says a source. "He decided not to renew his contract."
Griffith, who was allegedly re-writing Maria Arena Bell's scripts, reportedly stopped after being warned by the CBS sudser, however the damage to his working relationship with Bell was already done.
"It was too little, too late," says the source. Keep checking back to Daytime Confidential as the story evolves.

By Luke Kerr on August 20, 2008
SoapOperaDigest is reporting that Josh Griffith is still at The Young and the Restless.
Griffith, who has been Executive Producer of The Young and the Restless since January, status at the No. 1 rated soap came into question over the weekend.

Thanks to Gush900 for the heads up!

By Luke Kerr on August 18, 2008
Sarah Bibel has written an excellent piece called Unhealthy Dialogue about the recent firings of Ed Scott and Josh Griffith and how it cut close to home for her since she worked for both Scott and Griffith in the past. She also points out how only in daytime writers are considered interchangeable and expendable. Here is an excerpt.
"It seems like the writers' strike ushered in a new era of nastiness in daytime. While the rest of the entertainment industry shut down, daytime, as it has during every other strike, kept going...Daytime writers were the only writers forced to choose between their union and their job, the only ones with anything to gain by leaving the union. If a couple of primetime writers went financial core, NBC wouldn't have handed them Heroes. It's only in daytime that writers are considered to be interchangeable and expendable."


Read Unhealthy Dialogue.