Joss Whedon
By Jenna Dorsi on May 31, 2013
Geek God Joss Whedon is no stranger to death. Whether it's Marvel's The Avengers or Buffy the Vampire Slayer, death (and killing off his characters) is always a recurring element of the "Whedonverse."

Recently, Whedon delivered the commencement speech for Wesleyan University. The message he had for recent grads was, "You're all going to die."

Whedon expanded on this point by discussing the contradiction between the desires of one's body versus their mind:

[Y]ou are at your physical peak. Your bodies have just gotten off the ski slope at the peak of growth and potential! And now comes the black diamond mogul run to the grave.

And the weird thing is… your body wants to die. On a cellular level that's what it wants. And that's—probably?—not what you want. I'm confronted by a great deal of grand and worthy ambition from this student body. You want to be politicians, social workers, you want to be artists. Your body's ambition? Mulch. Your body wants to make some babies and then go in the ground and fertilize things. That's it!
By Sean on July 15, 2008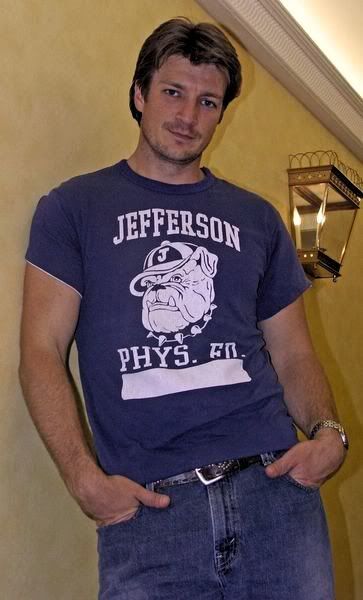 OK so this isn't all about Nathan Fillion (ex-Joey OLTL, ex-Dr Mayfair DH) but i needed him to post this here. :)
So Joss Whedon, genius behind Buffy, Angel, Firefly and the upcoming Dollhouse. had an idea that he thought would be fun to do. He called his brothers and his friends Nate Fillion and Neil Patrick Harris (Doogie Howser, M.D, How I Met Your Mother) and talked them into doing this short project called "Dr. Horrible's Sing Along Blog"
From Sci-Fi.com : "Whedon (Buffy the Vampire Slayer) wrote the musical series during last year's Writers' Strike. Co-writers for the Internet feature are Whedon's brothers, Zack and Jed, and Jed's fiancee, Maurissa Tancharoen. The story centers on a low-rent supervillain (Neil Patrick Harris), the hero who keeps beating him up (Nathan Fillion) and the cute girl from the laundromat he's too shy to talk to (Felicia Day). READ MORE