Justin Bruening
By Luke Kerr on September 25, 2008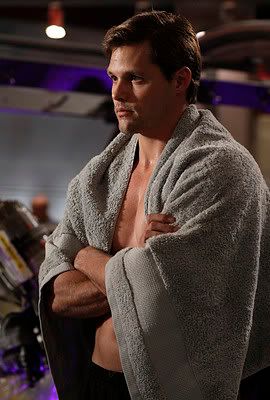 Justin Bruening's
Knight Rider
premiered as a TV series last night on NBC and I was wondering if anyone's impressions may have changed for the good or bad about the show?
Personally, I view Knight Rider as another Baywatch or Las Vegas. It isn't "high concept" TV like LOST, or even this season's Fringe. It has action like Alias but nowhere near the layers of intrigue. Knight Rider is Cotton Candy TV, enjoyable to watch but not a lot of depth.

I'll be tuning in for a few more episodes but here are a few of my problems with it.
Val Kilmer does a terrible KITT voice.
Several of the supporting actors can't act.
Most of the supporting characters don't have any layers or depth.
RELATED: In Knight Rider ratings news Live Feed is reporting that "Despite having the highest level of viewer awareness of NBC's new fall shows, "Rider" (7.3 million viewers, 2.4 preliminary adults 18-49 rating and a 7 share) opened in third place in the 8 p.m."
By Luke Kerr on September 24, 2008
Justin Bruening
is having a good day. In addition to celebrating his birthday today, tonight
Knight Rider
, the series he stars in, debuts on NBC.
Here are some reviews of the Knight Rider premier from around the web.
There is much to despise in Knight Rider, a shockingly incompetent, barely coherent, ad-driven rip-off about a shape-shifting autobot that owes more to Transformers than it does to the cheesy '80s original that shares its name.

But if we must settle on just one low point, choose an out-of-the-blue scene midway through, in which the sexy villain suddenly cuts off a man's thumb. Let's hope when NBC and its partners at Ford get around to selling little toy KITTs, they come complete with a tiny finger in the glove compartment. - USATODAY
In these difficult times, NBC wanted to supply America with some laughs. A scene in which Michael (Justin Bruening) and his fellow undercover agent, Sarah (Deanna Russo), speed along quite some time in the high-tech, talking KITT car while it is on fire is nonsensical. But the fact that they spend much of that fiery journey wearing only their underwear — that, my friends, is comedy. - Chicago Tribune
Note: A Presidential speech on the economy may delay Knight Rider's debut.
By Sean on July 26, 2008
I'm back again. So one of the biggest entertainment conventions is going on right now in San Diego. It is called Comic-Con. Why does this matter? Well there are lots of reasons but for the moment I'll stick to this one.
Justin Bruening.
The Knight Rider panel was a success, and they showed a preview clip from the upcoming season. Take a look, they cleaned him up a little he is even in there wearing a tux.
I am keeping an eye out and if i see anymore daytime crossovers at Comic-Con I'll be sure to let you know.
By Luke Kerr on April 29, 2008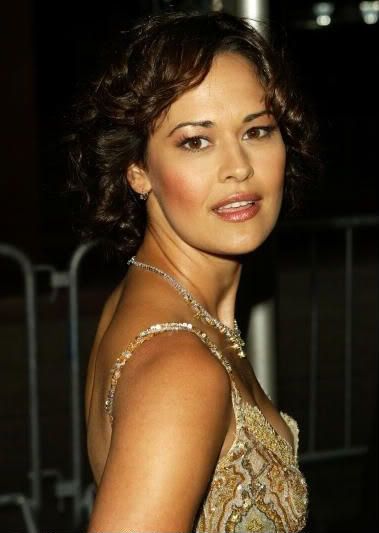 Online rumors have it that Sydney Penny may be out at All My Children and that it should be confirmed in the next issue of Soap Opera Digest.
Penny returned to the role of All My Children's Julia Santos Keefer in 2005. Unfortunately, shortly after her return it became apparent to fans that All My Children wasn't sure exactly what to do with the character of Julia without the love of Julia's life Noah Keefer, portrayed by Keith Hamilton Cobb, on the show.
The character of Julia floated in and out of several storylines and was paired for a short time with Tad Martin's son Jamie Martin. The pairing was brought to an abrupt halt when Justin Bruening decided to leave the east coast sudser and pursue primetime opportunities, landing the lead role in the upcoming TV show Knight Rider.
A small controversy erupted amongst online fans when the show's writers had Julia allow Jonathon Lavery, the murderer of her brother-in-law Edmund, to move into Wild Wind mansion along with a bunch of other "homeless" characters in need of a place to live.
Word has it that Julia's departure from Pine Valley will coincide with the revelation that the young child Kathy she cares for is in fact Tad and Dixie's long lost daughter.
By Jamey Giddens on April 22, 2008
We're in trouble Kitt.Young and the Restless alum David Hasselhoff checked himself into the UCLA Medical Center over the weekend after reopening a wound from a recent surgery to remove something from his eye, according to Hollyscoop.com. Hasselhoff's assistant checked him in after noticing he was bleeding profusely from his eye. Hasselhoff played Jill Foster Abbott's brother Snapper on the Bell soap, before going on to star-making turns on Night Rider and Baywatch. He reprised his role as Michael Knight in the recent Knight Rider TV-movie which introduced All My Children's Justin Bruening as the franchise's possible new hero.
By Luke Kerr on February 07, 2008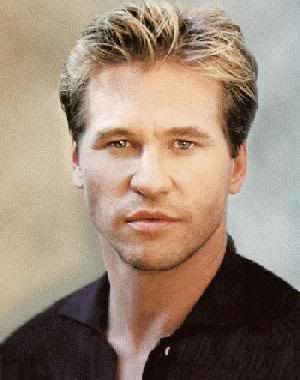 Zap2it
is reporting that Val Kilmer is joining Justin Bruening's (f. All My Children) "Knight Rider" as the voice of KITT. Apparently General Motors asked that Will Arnett step down from the role because he has done commercial voice-overs for GMC Trucks for several years and "Knight Rider" is partnering with Ford Motors on the show.