Justin Deas
By J Bernard Jones on September 15, 2009
The second in a highly personal, non-objective series highlighting various aspects of the last episodes of Guiding Light, which will end its 72 year run on September 18th.
Let me begin by making an audacious claim. In my opinion, the September 15, 2009 episode of Guiding Light — the fourth from its last broadcast ever — may just go down as one of the series' greatest episodes of all time. This is not hyperbole; maybe not top five, but certainly top twenty.
Picking up immediately after the magnificent double wedding, the expertly paced episode had everything: the heartfelt engagement of Phillip & Beth; Josh's bittersweet decision to leave Springfield and find himself; the advancement of the romances of the teenaged James & Daisy and the smoking hot Mel & Cyrus; the ongoing tease of a courtship between Frank & Blake; and the long overdue reconciliation of Lizzie and Sarah, as Jonathan gave the Spaulding heiress shared custody of their daughter.
Every actor was spot on, including the sometimes over-the-top Tom Pelphrey. However, if Monday's episode belonged to Tina Sloan (Lillian), Tuesday's honors were split between Robert Newman (Josh) and Ron Raines (Alan). READ MORE
By J Bernard Jones on September 15, 2009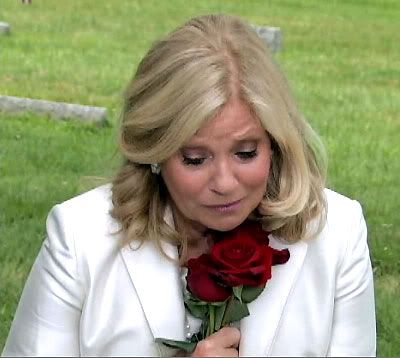 The first in a highly personal, non-objective series highlighting various aspects of the last episodes of Guiding Light, which will end its 72 year run on September 18th.
These final weeks of Guiding Light have been pure torture to watch. I don't mean "the new production model" (a phrase I never hope to hear again in my lifetime) or Bonnie Dennison's (Daisy) futile attempts to remember her lines. No, what has been extraordinarily difficult for me as a viewer — who vividly remembers when Roger (Michael Zaslow) kidnapped Holly (Maureen Garrett) in the Caribbean and Ed (then Mart Hulswit) threw him off a cliff — is watching the series' stories come to their inevitable conclusions. READ MORE
By Jillian Bowe on September 14, 2009

Damn it! This just makes me teary eyed – and pissed at a certain executive producer... Thanks to beautreal for the tip and tvobsessive2008 for the clip!
By J Bernard Jones on August 14, 2009
For the first time in ages, and certainly since I've been blogging for Daytime Confidential, I am absolutely furious and utterly appalled over a bit of business that happened on today's episode of Guiding Light in scenes involving Buzz (Justin Deas) and Cyrus (Murray Bartlett) set on location in New York City.
While tracking down a lead to a clue that the late Jenna (Fiona Hutchinson) left in a hotel room, Buzz and Cyrus wound up at the real CBS Broadcast Center in Manhattan. Once inside the building, they spoke to a page (think 30 Rock's Kenneth) who awkwardly and painfully informed them that The Price is Right films in California and gave them the actual phone number to would be contestants in the studio audience. Things didn't stop there. The page then told them As the World Turns tapes in Brooklyn and airs at 2PM. I am not making this up. READ MORE
By J Bernard Jones on July 15, 2009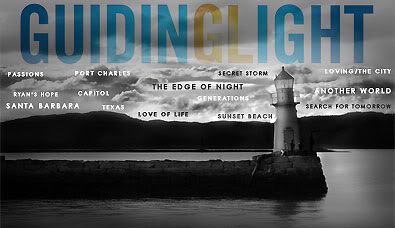 One of the hardest tasks in all of television must be bringing a daytime drama to a close. In other realms of entertainment, plays and musicals can be resurrected through countless revivals. Primetime TV shows can come and go, yet have the potential to be re-imagined or rebooted for the small or big screen. The biggest box office disasters can live on via countless direct-to-DVD sequels. Radio hosts and their dubiously talented sidekicks can be fired for the most hateful commentary, yet live on with the same formats other stations to be spiteful for another day.
With the exception of Dark Shadows, once a soap opera is canceled it is gone forever. During my time I've watched some of my favorites disappear: The City, Port Charles, Generations, Texas, and — in my opinion — two of the genre's titans, Santa Barbara and The Edge of Night. Many of you are still missing your own beloved shows over the last three decades as well. Fans of Capitol, Love of Life, Sunset Beach, Passions, Search for Tomorrow, and the still mourned Another World among others express their loss as if there yet remains a certain kind of grief that has not yet abated after all these years. Soon we will lose another giant among soaps: in less than ten short weeks, Guiding Light will shine for the last time on CBS. READ MORE
By Luke Kerr on July 09, 2009
Fiona Hutchison
is returning to
Guiding Light
as ghost Jenna on July 29, according to
PGP Classic
blog. Take a trip down memory lane with more clips of Jenna after the jump. My favorite quote from the clips is when Buzz (
Justin Deas
) tells Jenna "Honey, you don't know what I've done for you."
READ MORE