Katherine Heigl
By Jamey Giddens on October 07, 2013
It only took 200 episodes for series star
Ellen Pompeo
to start spilling the IV fluid about what really went down on the set of ABC's hit medical soap
Grey's Anatomy
. In an interview with the
New York Post
, TV's Dr. Meredith Grey revealed, among other things, ex-castmate
Isaiah Washington
was originally set to play Derek "Dr. McDreamy" Shepherd.
"You know they wanted Isaiah Washington to be my boyfriend," Pompeo says, calling from her home a few days later. "Shonda really wanted to put a black man in the mix. I didn't think they were really going to put an interracial couple on the show and I didn't want him. It was too close to home." READ MORE
By Jillian Bowe on December 10, 2012
Don't expect Katherine Heigl to return to Seattle Grace anytime soon. Grey's Anatomy showrunner Shonda Rhimes spoke with Oprah Winfrey Sunday night to discuss her latest primetime drama Scandal, featuring Kerry Washington. The Mighty O asked Rhimes about Heigl's controversial 2008 decision to pull her name from Emmy nominations. Fans of the series recall Heigl told the press she wasn't submitting since the writing for her character wasn't up to snuff. Ouch. Rhimes has kept mum on Heigl's diss until now. Said Rhimes on Oprah's Next Chapter:
On some level it stung, and on some level I was not surprised. When people show you who they are, believe them. I carry that with me a lot. It has served me well. READ MORE
By Jillian Bowe on July 20, 2010
Variety is reporting The View's Sherri Shepherd will star alongside former Grey's Anatomy star Katherine Heigl in the crime thriller, One For The Money. Shepherd will play dual roles as kind-hearted prostitutes. The movie is based on the popular bestselling novel series by Janet Evanovich.
By Regan Cellura on May 15, 2009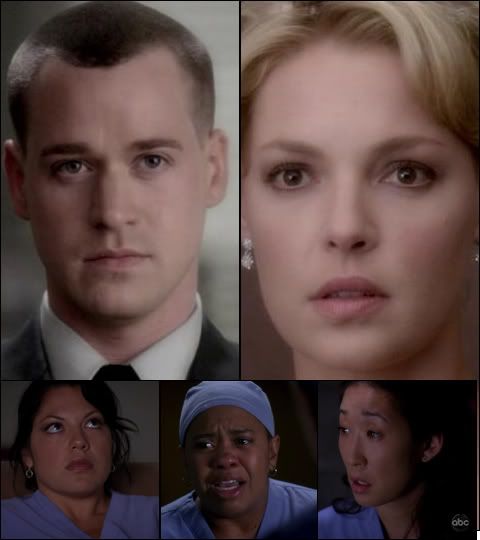 I won't spoil it for anyone who has last night's
Grey's Anatomy
finale still sitting in their DVR but for those of you who have seen it, whatcha think? If you haven't had the chance to sit through the 2-hour season ender, I highly suggest grabbing a box of tissues and watching it as soon as possible. I loved it and what a cliffhanger!
By Regan Cellura on February 10, 2009
It had been widely reported that
Grey's Anatomy
's
T.R. Knight
had asked to be released from his contract with the show. When Dr. Izzie Stevens started seeing her dead fiance due to an illness, many speculated that
Katehrine Heigl
would be following Knight out the door. Heigl and Knight's co-star,
James Pickens Jr.
has confirmed to
Us Weekly
that both actors are indeed leaving Seattle Grace behind.
"Yes, she is," Pickens told Us Weekly when asked if Heigl is leaving the ABC hospital drama. "Wherever Katherine goes, I wish her nothing but the best."

Her outspoken BFF, Knight, 35. "He's going too," Pickens told Us at the NAACP Awards luncheon in Beverly Hills. "He just wanted to pursue other career paths."
By Regan Cellura on December 05, 2008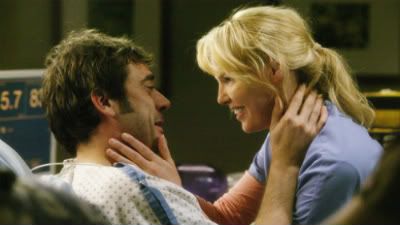 I'm not talking about
General Hospital
's very dated opening but
Grey's Anatomy
does seem to be pulling a few pages from GH's storybook. It's ok, GH recycles all the time, another show might as well benefit from their stellar example.
Michael Ausiello is giving readers a little insight into the ghostly storyline that is going on with Dr. Izzie Stevens (Katherine Hiegl) and her dead Fiance Denny. Grey's Shonda Rhimes, who is a General Hospital fan, had said that Izzie is not suffering from a brain tumor ala Nikolas Cassadine (Tyler Christopher). Nikolas was able to carry on with his dead Fiance, Emily Quartermaine (Natalia Livnigston), thanks to his tumor. So what has Izzie seeing dead people? READ MORE