Kathryn Hays
By Luke Kerr on October 13, 2010
The rivalry between As the World Turns' Kim (Kathryn Hays) and Susan (Marie Masters) was one of the show's signature feuds and in aninterview with We Love Soaps, Hays looks back on Susan's ability to get under Kim's skin.
WE LOVE SOAPS TV:

I especially liked how that side of Kim came out of Susan. She was Kim's Achilles heal for patience. No matter how cool and calm Kim tried to be, Susan could always push her buttons.

Kathryn Hays: [Laughs] Oh yes. One of my favorite shows we did was when Chris married Alison. Marie and I had a scene where I went to her house, we were talking about our kids Chris and Ally. Kim was trying to make peace, trying to be reasonable, and Susan was having none of it. We got down to the floor and were getting ready to tape. In rehearsal, Marie had added a line at the end, "Be sure to say hello to Bob for me." It was a real dig at Kim. At the end of rehearsal it made me so mad, as Kim. I knew what I felt like doing, and I didn't do it at rehearsal. But I knew that if she said that during the taping that I would was going to let it fly. So we're taping this thing, it had gone well. Kim was going to the door, and Susan said, "Be sure to hello to Bob for me." I yelled, "Oh go to hell!" and slammed the door. Apparently in the control room they were hysterical [laughs]. But they left it in the show. I was so glad they did. After they called yelled cut we just laughed so hard.
Read part two and three of We Love Soaps' interview with Kathryn Hays. READ MORE
By Mark on September 19, 2010
The Dutch RTL News was on the set of As the World Turns during one of the last days and talked to Don Hastings, Kathryn Hays and Marnie Schulenberg. You can watch it after the jump. READ MORE
By Mark on September 10, 2010
On the last week of As the World Turns Noah (Jake Silbermann) tells Luke (Van Hansis) that he'll wait for him, Kim (Kathryn Hays) supports her husband Bob (Don Hastings) when he retires as chief of staff, Carly (Maura West) and Jack (Michael Park) get married and Dusty (Grayson McCouch) is there for Janet (Julie Pinson) when she's about to give birth to her baby. Watch the promo after the jump. READ MORE
By Mark on September 09, 2010
After 54 seasons and one unforgettable journey As the World Turns comes to an end. Watch the series finale promo after the jump.
By J Bernard Jones on September 07, 2010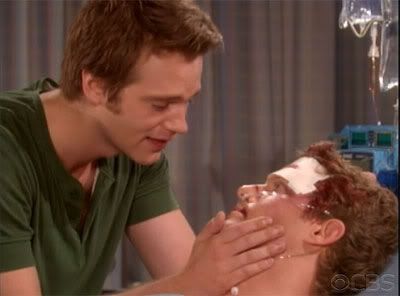 Before I get to today's stunning episode of As the World Turns, in which Dr. Reid Oliver dies and donates his heart to his professional nemesis/colleague Dr. Chris Hughes, I have a few thoughts about not only the serial's final days on the air, but also —in a broader sense—fan perceptions about what a soap's last days should be like, themes that will be carried forward as we look toward ATWT's final hours.
First, with less than two weeks to go before its final fade to black, ATWT is ending its 54 year history in perhaps better dramatic shape than almost any serial since the cancellation of NBC's Texas in 1982, a specific observation I will expand upon in a few days. Of course, there is lots to gripe and nitpick about the woulda-coulda-shoulda's of how the show might have wrapped things up. Many of those ideas are quite good and some are downright ludicrous, but in the final turn of events, all of that stuff is moot. The last scenes were shot, the sets have been struck, and the actors all went along different paths weeks ago. READ MORE
By Daytime Confidential on August 24, 2010
The Paley Center bid As the World Turns and its cast a fond farewell on August 18 in New York City. Executive producer Chris Goutman and head writer Jean Passanante were joined by ATWT stars Don Hastings, Kathryn Hays, Eileen Fulton, Colleen Zenk, Terri Colombino, Van Hansis, Trent Dawson, Mick Hazen and former ATWT star Austin Peck (pictured above). Former Guiding Light star Robert Newman also attended the event. See more photos from The Paley Center's As the World Turns fairwell after the jump!