Kathryn Joosten
By Jillian Bowe on January 05, 2011
Desperate Housewives scene stealer Kathryn Joosten talks with TV Guide's Michael Logan on her upcoming guest starring gig on The Bold and the Beautiful. The actress explains what motivated her to take on the role and what viewers can expect.


TV Guide Magazine: Sight unseen, this sounds like great and valuable TV! Talk about the decision to play yourself, rather than playing a character who has cancer.

Joosten: I don't think it would have been as successful if I'd played somebody else. I've been very open about my experiences with lung cancer — no big secret there — and the show is set in Los Angeles, so it made sense to do it this way. It was easy playing myself because I'm so familiar with the subject matter and so passionate about lung-cancer advocacy. Susan (Flannery) and I have some great scenes together, discussing the disease very realistically. We get to talking about the fear of death and how it feels when you wake up in the morning and think, "I may die from this." We talked about so many things — the depression and the anxiety and the importance of getting into therapy. It got a little heavy at times, and I'm sure they're not going to use all of it, but it's still an incredible opportunity to talk about stuff you don't hear on TV.

By Jillian Bowe on December 06, 2010
Entertainment Weekly is reporting that Desperate Housewives star Kathryn Joosten will make a special appearance on The Bold and the Beautiful. According to the site, the actress will star as herself and interacts with Stephanie (Susan Flannery) and Nick (Jack Wagner). Joosten, along with real-life lung cancer survivors and patients, will speak with Stephanie about their diagnosis and treatments. This episode will mark B&B's 6000th episode. Joosten's scene will air on Feb. 7.
By Luke Kerr on September 11, 2008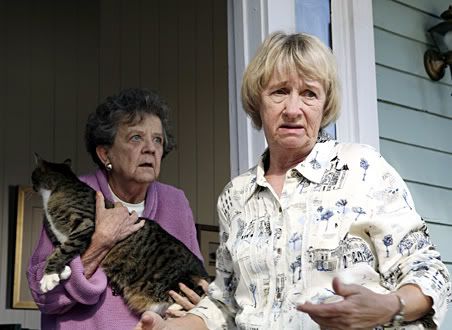 Ida Greenberg & Ida (aka Karen McCluskey)
For years General Hospital fans have wondered who killed Ida (Kathryn Joosten)? Turns out we may have got a hint at Logan Hayes trial. It seems that a one Ida Greenberg (Pat Crawford Brown) of Wysteria Lane, is the juror sitting behind Edward and Epiphany. Contrary to initial reports, she was not killed in the tornado that swept through Wysteria Lane earlier this year.
Daytime Confidential is proud to report that Ida Greenberg survived being carried away by the tornado, but after learning that her twin sister, a one Mrs. Torch, died on General Hospital: Night Shift. She returned to Port Charles to handle her sister's estate and did not return to Wysteria Lane.
According to Ms. Greenberg, while visiting the courthouse to get her sister's death certificate, she spotted a missing poster for a woman she recognized as her dear friend Karen McCluskey (Kathryn Joonsten), only on the poster Karen's name was Ida. Having contacted the Port Charles Police Department to no avail Ida Greenberg asked Daytime Confidential to investigate the mystery. READ MORE