Kevin G. Schmidt
By Luke Kerr on February 02, 2009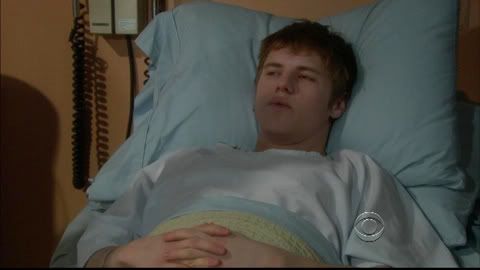 Noah Newman (
Kevin Schmidt
) almost bit it in a near death experience. Now you can take your best Caption This shot at the lucky little Newman.
By Luke Kerr on December 03, 2008
The Young and the Restless'
Kevin Schmidt
is a busy boy these days. Check out the latest episode of
Poor Paul
, the new web series he co-stars in. To watch previous episodes visit
Poor Paul
on You Tube and for more information check out the
Poor Paul
official website
.
Related: Schmidt Lands New Gig
By Jillian Bowe on October 12, 2008
Sources have indicated
The Young and the Restless
star
Kevin Schmidt
(Noah) will be out and a recast has been tapped to play the teenage son of Nick Newman and Sharon Abbott. As
reported
earlier this month, Schmidt landed a role on an upcoming show staring
Valerie Bertinelli
on TBS.
RUMORS are also surfacing that Abby Carlton will be aged to a teenager when she makes her way back to Genoa City, along with a grown up Ricky Williams, who is the son of Isabella and Paul Williams. Viewers may recall the last time Abby was seen in Genoa City was during biological dad Victor's funeral er wedding, to his late wife Sabrina.
With this information swirling around, it makes fans wonder if Y&R is trying to bring a new generation of teenage angst our way.
By Jillian Bowe on October 01, 2008




The Young and the Restless star Kevin Schmidt (Noah) has snagged a new role opposite Valerie Bertinelli (Touched by an Angel, One Day at a Time) on TBS. The untitled comedy is based around a newly single mom (Bertinelli) running her own lumber business while raising her two children.
Schmidt will play Bertinelli's son, who is said to be a sharp-witted, but insecure teen. No word yet on when the series is set to air.
Fans who can't get enough Schmidt on Y&R can also see him online. The actor is staring in Poor Paul, a series about three college roommates that are navigating through life. Schmidt plays Justin, who is called "annoyingly smart." The shows are five minutes long and air every Tuesday at 1 P.M. EST on KoldCast.TV, MySpace and YouTube.