Kim Zimmer
By Jillian Bowe on December 16, 2010
In an interview with
TV Guide's
Michael Logan
,
One Life To Live's
bad girl
Robin Strasser
shared her thoughts regarding her alter ego's newfound friendship with her arch enemy Viki (
Erika Slezak
).
TV Guide Magazine: Will this Viki-Dorian friendship endure or are they just biding time between blow-ups?

Strasser:

I don't think it makes for as exciting a show when they get along. I guess we could both go off and do a very funny Thelma and Louise thing — "Viki and Dorian: the Road Trip." But heaven forbid this new friendship becomes permanent! Those two ladies being at odds has always been my bread and butter. Robin Strasser will be out of a job if Viki and Dorian ever truly have a meeting of the minds! READ MORE
By Daytime Confidential on October 13, 2010
One Life to Live's stars, including Hillary B. Smith (pictured above), turned out for the One Life to Live Fan Club Luncheon on October 9 at The New York Helmsley Hotel. Check out photos from the event after the jump! READ MORE
By Melodie on October 02, 2010
Kim Zimmer
made her grand return to the soap opera world Friday as Echo DiSavoy on
One Life to Live
and if you blinked you missed it. La Zimmer was on screen for a total 10 seconds with no background story to reintroduce the character, leaving everyone who wasn't watching the show 27 years ago a little confused. At least, that was the feeling in my case. I would have been a little less confused if the character's name was mentioned in passing in the last week or two. That way, I could have had a chance to possibly research her. Also, I would have benefitted from
One Life to Live
promoting the return of an actress the caliber of
Kim Zimmer
.
If you weren't involved in the soap opera community beyond watching on television, then you had no clue Kim Zimmer was going to show up on One Life to Live. I honestly don't understand the lack of promotion for this actress. The show really missed a chance to get some of those old Guiding Light fans still watching soaps to come over to One Life to Live and see their starlet. READ MORE
By Jillian Bowe on September 21, 2010
Spitfire
Kim Zimmer
dished with
TV Guide's
Michael Logan
on what viewers can expect to see when she hits town and resumes the role of Echo on
One Life To Live
.
TV Guide Magazine: So what's Echo really up to? Cough it up, doll.

Zimmer: She comes to town with a juicy little secret I can't talk about but it should shock a few people. She's also flat broke and hasn't been able to find another sugar daddy so she comes seeking employment. She used to be a fashion photographer, so she wants to shoot for The Banner and Viki says, "Are you out of your mind? Why would I ever hire you? You tried to convict my husband on murder charges!" Echo also claims she's back to visit her old boyfriend, who happens to be Charlie Banks [Brian Kerwin], but she's really doing it to make Viki bristle. And then she tries to get Dorian to side with her because, after all, Dorian hates Viki too — but Dorian tells Echo she has a newfound respect for Viki, which of course makes Echo laugh. Robin and I had so much fun giggling our way through our scenes. She calls me a slut, so that's fun. Listen, if I'm only here to be a vehicle for these great actors to get some more good story, I'm fine with that. I got a job! READ MORE
By Daniel Pearce on September 03, 2010
Boy, Kim Zimmer sure is busy. Along with rejoining One Life to Live as Echo DiSavoy, the Guiding Light alum is starring in "Lost Boy Found in Whole Foods", a play to help raise Darfur awareness for the Darfur Rehabilitation Project. She recently sat down with MSNBC to discuss her work with them, as well as the Human Rights Institute at Kean University and the play itself. READ MORE
Q: How did you find out about the play, "Lost Boy Found in Whole Foods," and why did you decide to become involved?

Zimmer: I have worked with John Wooten, who is the artistic director of Premier Stages located at Kean University. I've worked with him at Montclair State University, which was several years ago. I knew nothing about this play until I got a phone call from John. They had lost the actress playing my role, and they were in a bit of a bind. He called and asked if I would be interested. He e-mailed me the script and five minutes after I finished reading it, I picked up the phone and called him to say, "I would love to be a part of this." The play moved me. I couldn't even speak to him to tell him I could do it because I was just … I was so moved by the writing that Tammy Ryan had done in this piece of theater.
By J Bernard Jones on August 25, 2010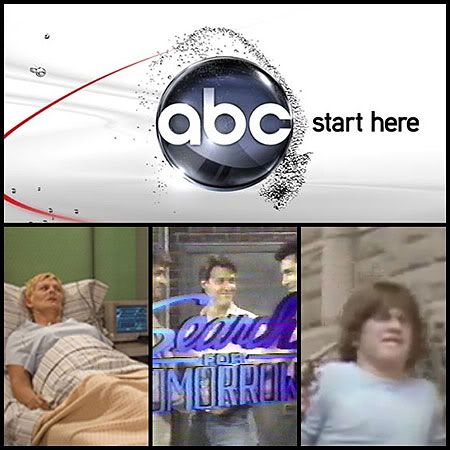 Watching the ABC daytime lineup lately has been a little déjà vu for this old time soap viewer. Perhaps "copying" is too strong a term. Maybe "homage" would be a better word or, perhaps, "sticky fingers." On the other hand, the stories in question here are different from either classic soap opera tropes (boy/girl-meets-hates-falls-in-love-with-girl/boy stuff) or classic soap cliches (supervillain-returns-from-the-dead-with-an-evil-twin shenanigans) because of their very specificity.
All three of the ABC's daytime dramas currently are airing stories or arcs that have been a little too close to the mark of several cancelled Proctor & Gamble shows, begging the question "Does Brian Frons really admire those old, now defunct serials as much as he loves pilfering CBS soap stars?" Let us count the ways: READ MORE