Kyle Chandler
By Regan Cellura on June 10, 2013

This Friday Night Lights fan has been on the edge of my bleacher seat waiting for the official word that a movie is coming to a theatre near me. Until then, I'll take the updates from the field.
The ATX Television Festival in Austin, Texas this past weekend had some of the cast members reuniting, including a surprise visit from Coach (Kyle Chandler) and Tami Taylor (Connie Britton). Find out if there will ever be a reunion movie after the jump! READ MORE
By Regan Cellura on March 10, 2009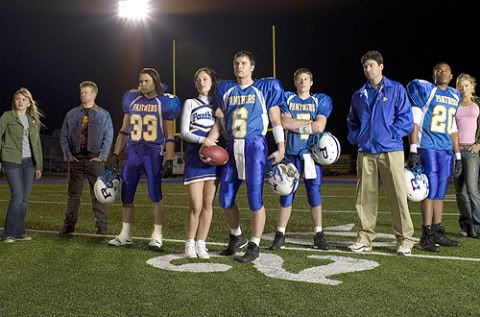 I know I am not the only DC'er in love with the critically acclaimed
Friday Night Lights
so I will spread the hopeful news that has me smiling from ear to ear:
FNL
may be getting a two season pick up! According to
Michael Ausiello
(EW.com), who has the
exclusive news
, it's looking good that
FNL
will get a fourth season as NBC and DirecTV try to work out a deal. Season three, airing now on NBC, had its first run on DirecTV.
Sources confirm to me exclusively that NBC is engaged in active talks with DirecTV to extend their unique shared-window experiment with Friday Night Lights. But there's a catch -- and it's a good one. According to an insider close to the negotiations, DTV and NBC might only seal the deal if they can get – holy Connie Britton Taylor! -- a two-season pickup.
By Regan Cellura on January 08, 2009
Friday Night Lights returns to NBC on Friday, January 16th! Even if you were one of the lucky ones to catch Season Three on DirecTV or by other means, Jason Katims (Executive Producer, FNL/Roswell) wants fans to know that you should still tune in on the 16th.
"Even though there might be people who saw the show on DirecTV," executive producer Jason Katims says, "I'm not sure they won't come back. There's going to be additional material now that we're going to be able to put up on NBC.com.We'll be able to put up deleted scenes and additional material, new things for them.

"We have a tremendous amount of scenes that, over the course of the season, that we've had to take out, really good material. That's always been the case with the show.

"That's something that has not been made available before. That will be made available as we start airing on NBC." READ MORE