Laurence Lau
By Mark on December 29, 2008
Check out this preview clip from Tuesday's episode of As the World Turns where Luke (Van Hansis) and Noah (Jake Silbermann) celebrate New Year's Eve at Metro. A really sweet scene... before all the drama that's coming their way.
By J Bernard Jones on December 16, 2008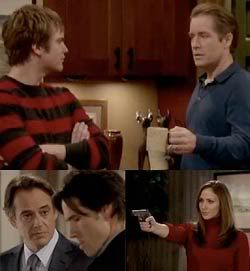 We like to joke about how As the World Turns is a schizophrenic show but today it really did seem as if ATWT had at long last rounded the bend to multiple personality syndrome or, as fans of One Life to Live know it all too well, dissociative identity disorder.

BAD DADDY #1
On one hand, we had a series of terrific scenes between Luke (Van Hansis) & Brian (Laurence Lau). The Gay Snyder finally had a heart to heart with his step grandfather about The Kiss. Not only did Brian finally admit to kissing Luke after weeks of trying to convince Luke that he'd misinterpreted what had happened, Brian even went so far as to admit that he found Luke attractive. "Who wouldn't?," added Grandpa Down Low. READ MORE
By Mark on December 15, 2008
Check out this preview scene from Tuesday's As the World Turns where it seems like Brian (Laurence Lau) finally stops denying what happened between him and Luke (Van Hansis).
By Mark on November 26, 2008
Laurence Lau (Brian Wheatley, As the World Turns) will star in the play Breaking Legs from January 9 until February 1. The play is at the Riverside Theatre in Vero Beach, Florida. Visit the Riverside Theatre website for more information.
Is Lau going to do double duty in New York and Florida? Or is Brian going to leave Oakdale soon? Time will tell.
By J Bernard Jones on November 19, 2008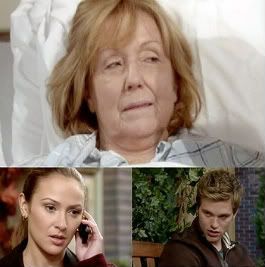 While
The Young and the Restless
and
One Life to Live
are the two must see soaps on daytime right now, our schizophrenic
As the World Turns
is firing on most of the right cylinders and can't be counted out of the fight. The last time I posted about ATWT, I had a great many concerns about the direction of the show and it's storylines given the supersonic speed by which they are told. In the last week however, the show has made me sit up and take notice with some interesting developments.
READ MORE
By Jamey Giddens on November 13, 2008

File this one under too creepy for words
. While it took
We Love Soaps
'
Roger Newcomb
to organize a campaign to get daytime's one-time hottest couple Luke and Noah to kiss for a second time, it seems all it really required for the young Snyder lad to get his tongue wrestle on was for the Proctor and Gamble soap to hire an actor old enough to be his father and have him plant one on him.
TV Guide's Michael Logan is reporting that Brian (Laurence Lau) will kiss Luke next week, shortly after marrying the boy's cancer-stricken grandmother Lucinda (Elizabeth Hubbard) on As The Stomach Churns. Oh wait, that was the much more traditional and realistic Carol Burnett show version of a soap opera, forgive me, As The World Turns. READ MORE