Leann Hunley
By Daytime Confidential on April 30, 2010
Alison Sweeney and Kristian Alfonso (pictured above) were among the many Days of our Lives stars who lit up the red carpet at the book launch for Ken Corday's new book, The Days of our Lives: The True Story of One Family's Dream and the Untold History of Days of our Lives. See photos of your favorite Salemites after the jump, and go pick up your copy of Corday's book, which hits bookstores today!
By Brooke on December 10, 2009
SPOILER ALERT
: The online rumor mill is abuzz with news of
Leann Hunley
reprising the role as Anna Brady DiMera on
Days of Our Lives
. The actress has reportedly been secretly filming upcoming scenes in which Anna is revealed to be Sydney's kidnapper.
Anna was last seen on DAYS back in April, angrily slapping Stefano (Joseph Mascolo), blaming him for the death of husband Tony (Thaao Penghlis). So why take Sydney? While Tony failed to reveal Sydney's true parentage to brother EJ (James Scott) before his death, he may well have shared what he knew with Anna. What better way to exact revenge on the DiMera family than by targetting one of their own? Either way, I'll be tuning in to watch!
By Brian Peel on October 26, 2009
Fancy a bit of a giggle? Stumbled upon this old video, which houses a few of Days of Our Lives' best bloopers. It just goes to show how funny Matthew Ashford and Melissa Reeves are in real life, plus the gorgeous Leann Hunley and Thaao Penghlis. This clip also sports a potty mouth from Frances Reid, as well as Stephen Nichols and Mary Beth Evans caught in a couple of hard positions. My pick of the bunch is Leann Hunley's comment about the split in her dress. Flawless! Watch for Alice Horton dropping the 'F' bomb? It sounded like it. Well who knew?
By Jillian Bowe on July 16, 2009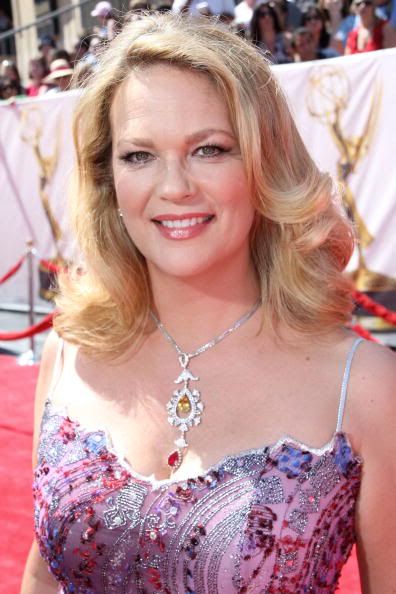 Leann Hunley (Anna) has bounced back from getting the boot at Days of Our Lives. The actress will guest star on the new season of Law and Order: SVU. Hunley will play the crazy ex-wife of Will and Grace star Eric McCormack, who's also guest staring. Hunley makes her appearance Sept 30.
By Jillian Bowe on March 05, 2009
Looks like another one bites the dust over at Days of Our Lives. Soap Opera Digest is reporting that Leann Hunley (Anna) has been let go by Ken Corday and Co. The actress, who reappeared on our screens back in June 2007 from a 21-year sabbatical, posted in her website's guest book:

Hello Darlings! I worked my last day on DAYS today ... Anyway, THANK YOU for all your sweet wishes and support over the last year and a half. I had a wonderful time bringing Anna back to life and will miss 'her' more than just a little.
The only positive thing about her departure is that it will be around the same time that co-star Thaao Penghlis is slated to leave his role as Tony DiMera. In other news, DAYS leading lady Molly Burnett (Melanie) has just received an entire wing at the DAYS studio for her dressing room.

By Brian Peel on February 03, 2009
Extra! Extra! Read All About It! -
Thaao Penghlis
is out as
Tony DiMera
on
Days of Our Lives
. One could now ask where this would leave several Days storylines - a show of drama, surrounded in drama. Does this spell the end of the true authentic DiMera empire? We have been privileged to see Tony and Stefano opposite eachother on screen for many years in the 80's and have since been reunited on screen in recent times. Rumour has it that Tony will leave the show in a 'blaze of glory' or big Salem murder mystery. I see the potential of this being a major sweeps storyline, but the question now arises as to where
Leann Hunley
fits into the
Days of Our Lives
equation. Will Anna stay in Salem and find herself a new beau? Or will the almighty Executives at NBC further chop the cast list and send Leann packing - just like they have
Drake Hogestyn
and
Deidre Hall
?
READ MORE