Lesley-Anne Down
By Jillian Bowe on August 10, 2009
The battle begins for the best fashion house on
The Bold and the Beautiful
this week. That Bill Spencer (
Don Diamont
) is one nosy, little sucker isn't he?
Thanks to beautreal for the tip!
By Jamey Giddens on July 30, 2009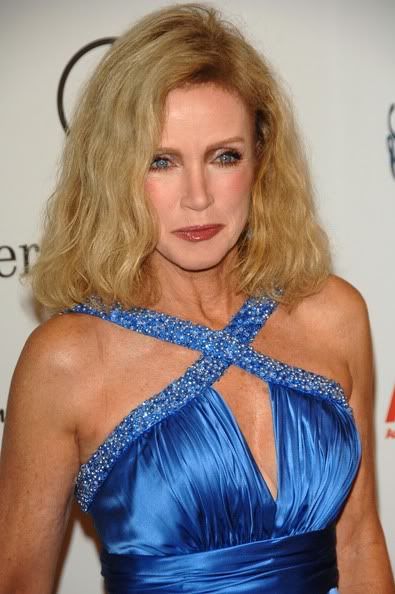 Okay, I know what you're thinking. This boy isn't gonna stop until he gets
Knots Landing
's
Donna Mills
on a daytime soap opera. Well, you're right. I need my Abby fix and by the power of Greyskull I am gonna keep coming up with scenarios for her to join a soap until the last one goes to the Great Television Museum in the Sky!
My latest storyline idea to facilitate my fav-or-ite former cul-de-sac dweller's arrival on daytime involves the liquid hot cougar storyline featuring Brandon Beemer (Owen) and Lesley-Anne Down (Jackie) on The Bold and the Beautiful. With a snoretastic retread of Brooke/Ridge/Taylor currently eating up B&B's precious 20 minutes of airtime, the dirty, sexy fun storyline which has Owen married to Jackie, much to her son Nicky's (Jack Wagner) chagrin is pretty much the only thing that keeps B&B on my DVR these days. Beemer and Down could teach Susan Lucci and Cameron Mathison a thing or three about how to put a fresh spin on Mrs. Robinson, which is why I think it's time B&B ramped this story up a notch. READ MORE
By Darren Lomas on July 26, 2009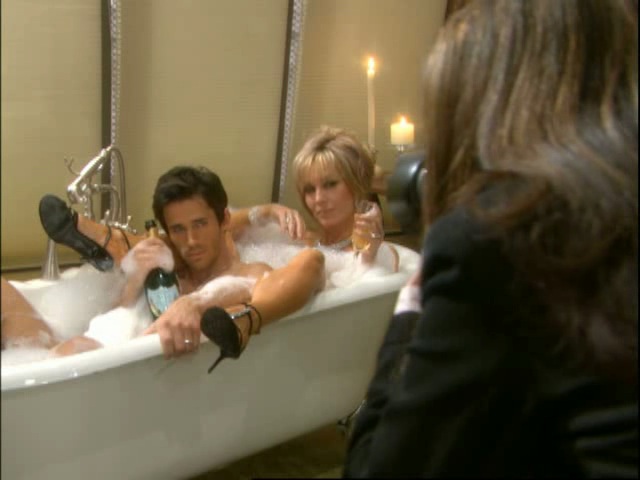 Steffy saw Brooke and Ridge hugging and got a little verklempt. Brooke went home to snivel over pictures of Ridge again, but Steffy was hot on her heels. Brooke said she'd "made a mistake" in ditching Ridgiculous. Steffy slammed Brooke for causing her father pain and was adamant that Ridge needed the peace and stability of Taylor/Steffy/Thomas.
Stephanie gave Whip the lowdown on Brooke's current situation and sent him over there to try and keep her away from Ridge. Brooke was surprised to see Whip in LA. Of course, there was some reminiscing and the two of them had a pretty fun smooch. Brooke yanked his chain by pretending she was ready to get fresh in the bedroom: "take me upstairs." Alas, she once more confessed she would always love Ridge, and she wasn't ready for humpy-pumpy yet.
Meanwhile, back at the crypt, Ridge told Taylor she was "stuck with him." How true. Then Taylor had to go and spoil it all by saying that he was "the best thing that ever happened to either one of us," meaning Brooke or Taylor. Seriously, we're expected to buy that, despite the fact that he keeps pawing them both? Ugh. They both look pathetic trying to "win" that jackass. Ridge didn't look too thrilled at Taylor's marriage proposal, although their grown children clapped and whooped. Good ol' daddy Ridge. READ MORE
By Jillian Bowe on July 23, 2009
By Luke Kerr on July 20, 2009
By Darren Lomas on July 19, 2009
The aftermath of the honey fiasco was quite silly really. Pam told Stephanie that she'd been behind Donna's gunging, but denied it to Donna, Eric and Ridge. She resigned from
Forrester Creations
before she could be fired, and later in the week went for a job interview at Jackie M. Hilarity ensued. (Note to B&B writers, CCed to Alley Mills: a little campiness goes a long way.) She talked about her brain tumor, she offered them lemon bars and she got the job. That probably means more Pam hi-jinks with wild animals, honey, or both, very soon.
Katie took on damage control for Forrester. Bill convinced her to have a "business dinner" with him, on the understanding that she'd put forward a case to keep the Donna-drenched-in-honey pictures off the front page. Bill made it clear that he wanted to take Eric down and get control of Forrester. She was intrigued by him and wanted to dig deeper. He was drawn to her, but warned her off getting too close. This is the stuff I love - finally, some sparks on B&B. There was a moment I thought they were gonna get fresh on his office desk. They sure beat the dead-on-arrival pistachios and mini-hoops "romance" Katie had with Nick. READ MORE