Lesli Kay
By Darren Lomas on August 19, 2009
Emmy winner
Lesli Kay
is returning to
As The World Turns
, according to
Soap Opera Digest
. However, Kay will not be quitting her current role as Felicia Forrester on
The Bold and the Beautiful
. She'll be pulling double duty and working on both soaps at once, commuting between LA and New York.
Kay portrayed Molly Conlan on ATWT from 1997 to 2004, winning a Daytime Emmy for Best Supporting Actress in 2001.
By Luke Kerr on August 14, 2009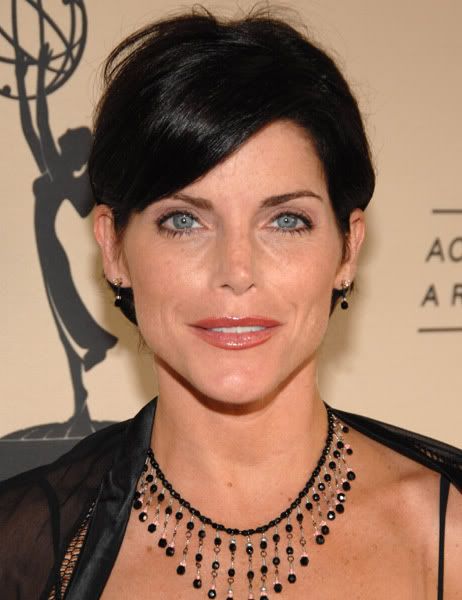 Lesli Kay
is will be appearing on TNT's legal drama
Raising the Bar
, according to
TV Guide Canada's
Nelson Branco
. Last season
The Bold and the Beautiful
actress appeared on
Ghost Whisperer
. Watch a trailer for next week's episode of
Raising the Bar
after the jump.
READ MORE
By Darren Lomas on July 05, 2009
Nick and Bridget honeymooned in Hawaii, but Jackie and Owen kept them awake with their red hot monkey love in the next room. Initially, both couples had no idea the other was there. Bridget and Owen were the first to realise what was going on, and subsequently tried to keep the oldsters from finding out. What followed were hilarious hi jinks B&B style (i.e. pretty lame comedy). The youngsters kept smooching their partners to stop the oldsters catching a glimpse of the other couple, or dragging their partners into their respective bedrooms. The rest of Nick and Bridget's honeymoon revolved around him being a grouch about one thing or another.
Owen and Jackie were much more fun. Who doesn't enjoy watching the Jackster get her cougar on? Lesley-Anne Down sparkles and Brandon Beemer has come alive opposite her. By the end of the week, Bridget fessed up to Nick, realising Owen and Jackie planned to marry. Nick threw another mantrum and raced to the beach to try and prevent the wedding. Tough luck... they'd already said their vows and were driving off as he arrived. So, he'll probably spend all next week being a grumpy old curmudgeon again. READ MORE
By Luke Kerr on June 26, 2009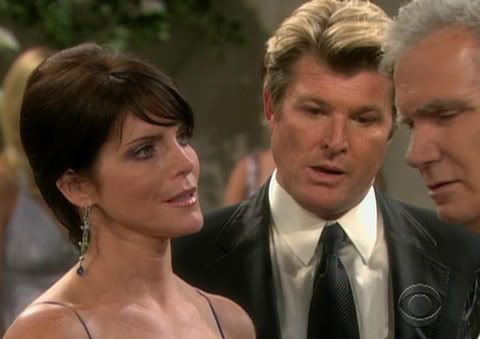 The day many fans have been waiting for finally took place today on
The Bold and the Beautiful
. No it wasn't Bridget and Nick's wedding. It was Felicia and Thorne telling their Logan seduced father to take their jobs at Forrester Creations and shove them. Considering both characters are routinely ignored, I view this a type of "independence day" for the characters, an opportunity to do or try something new.
Unfortunately, I'm not getting my hopes up. This development could just mean we'll be seeing even less of these two characters. If The Bold and the Beautiful doesn't want to use Lesli Kay, I say send her to The Young and the Restless. Felicia could really stir some things up over there.
What would you like to see Felicia and Thorne do now that they've told their dad they won't work for him anymore? READ MORE
By Jillian Bowe on May 17, 2009
It looks like
The Bold and the Beautiful
is really trying to implant Bill Spencer, Jr. (
Don Diamont
) as a true fixture to the show. According to sources, the show is casting a son for the newest Spencer and he will become a love interest for Steffy (
Jacqueline MacInnes Woods
). How many love interests will this girl get? Poor Felicia (
Lesli Kay
) is in a severe drought and Thorne (
Winsor Harmon
) couldn't get a woman if he went down Skid Row and paid for it!
By Jamey Giddens on May 16, 2009

Michael Fairman
spoke
with
Brad Bell
on the heels of
The Bold and the Beautiful
being nominated for the Daytime Emmy Award for Best Drama Series and Best Writing Team. The writer revealed his feelings over sister soap
The Young and Restless
being snubbed, and previewed storylines for
Don Diamont
's Bill Spencer and
Rick Hearst
's Whip Jones, the latter of whom, yours truly
broke the news that he was returning to B&B
.
MICHAEL FAIRMAN: Were you shocked there were only three nominees in the category?

BRAD BELL: Totally shocked! Maria Arena Bell (head writer and co-executive producer, "Y&R") sent me a nice email already. It is a shock because "Y&R", in the ratings, is by far and above the top show. It's a brilliant show and deserves to be nominated. So, it's hard to understand. But, it's great to be nominated and it's great that a show from each network is represented in the finals, and it's great for all the networks." READ MORE